A mesmerizing tale of art and passion in Belle Epoque France
As a woman, aspiring sculptor Camille Claudel has plenty of critics, especially her ultra-traditional mother. But when Auguste Rodin makes Camille his apprentice and his muse their passion inspires groundbreaking works. Yet, Camille's success is overshadowed by her lover's rising star, and her obsessions cross the line into madness.
Rodin's Lover brings to life the volatile love affair between one of the era's greatest artists and a woman entwined in a tragic dilemma she cannot escape.
(From cover copy)
The Author: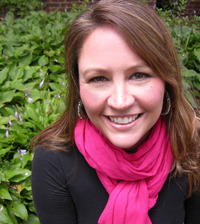 Heather Webb is an author, editor, and popular blogger. This former French teacher regularly contributes to blogs such as Writer Unboxed and Romance University, and she is all over social media with her helpful comments, support, and good humor every day. (I often wonder when she has time to actually write—but does she write!) Last year's debut historical novel Becoming Josephine
was translated into three languages and earned acclaim in publications such as the Wall Street Journal, Cosmopolitan, All You Magazine, the Huffington Post, and The Portland Book Review.
Find Heather at: Her Website * Twitter * Facebook *Goodreads
The First Lines:
"Camille dropped to her knees in the mud. Her skirts absorbed last night's rain and the scent of sodden earth. She plunged a trowel into the red clay and dug furiously, stopping only to slop hunks of earth into a wooden trough. She needed one more load to mold the portrait of Eugenie. The maid would sit for her again, regardless of her protestations."
The Good Stuff:
I have a weakness for novels that can educate me while captivating me with an entertaining story. I'd heard of Camille Claudel, and knew she had something to do with the art world, but RODIN'S LOVER formally introduced me to this provocative woman and her passionate, often obsessive struggle for love and art.
Camille is far from the typical nineteenth century lady, and she can be rather intense she's focused on her art…and her lover, who happens to also be her mentor, the famed Rodin. (If you're not familiar with Camille's works, you'll surely recognize some of Rodin's sculptures such as The Thinker.) Throughout the tale she fights to be a modern woman, not forced into marriage or the restraints of her time. Though she knows what her place in her family and society should be, she rebels against the norms imposed against her, instead following her passion for sculpture and her beloved Rodin. Yet no amount of fervent devotion can give her what she truly desires. Rodin don't posses the the strength to leave his companion of many years to be with Camille. And as the fiery Camille battles to gain the the recognition she deserves for her "scandalously" sensual pieces, she slowly descends into madness.
This book feels meticulously researched, making it easy for readers to slip inside the Parisian art scene of the late 1800s. Notable characters of the time such as Monet, Debussy, Zola, and Hugo infuse the story with pinpoints of veracity. From the affluent salons to the dingy art studios, you'll be immersed in the details of this colorful world.
If you enjoyed Becoming Josephine
, you'll be enthralled by Heather Webbs's sophomore success Rodin's Lover
. The books shines a well-deserved spotlight on a talented artist and somewhat tortured soul who craved "to leave a mark of beauty on the soul of humanity."
The Details:
Rodin's Lover: A Novel by Heather Webb

Print Length: 316 pages
Publisher: Plume
Release date: January 27, 2015