I am *not* a real foodie. I love to get my hands dirty in the kitchen. I prepare mostly homemade dinners 99% of the time. My family packs lunch every day and almost never eats out. Food is fun. And food should taste damn good.
I also have no shame stocking cake mixes in my cupboards.
Recipes should be easy and inexpensive. I favor meals I can fix in about 30 minutes without destroying the kitchen, my arteries, or my bank account. As I wrote, I'm not a *real* foodie, but I enjoy *real* food.
Need something easy and (relatively) healthy for dinner, brunch, an after-school snack? How about some homemade holiday treats or party cocktails? Check out some of my favorite featured recipes and enjoy!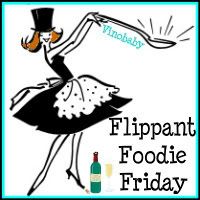 "/>






href="http://vinobaby.blogspot.com/search/label/foodie%20friday"><img
src="http://i1135.photobucket.com/albums/m640/vinobaby1/FlippantFoodiewinolinky.jpg"
border="0″ alt="Photobucket" /></a>"/></center>