When the air turns crisp and hints of cinnamon perk your nose when you step inside, it's usually apple season. While I have an apple pie recipe I absolutely adore, one dessert that always makes me think of home is my Mom's Apple Cake. Growing up, when the Florida temperatures dipped just enough to make if feel like Christmas (into the upper 60s—maybe), Mom would bake her old-fashioned apple cake for friends and family.
Honestly, I forgot about the classic for a few years. I'd been focused on trying out fancy Christmas dinner desserts, which were usually pies, and figuring out new Christmas cookie recipes—cake didn't come to mind. Then Mom made it for our annual family holiday luncheon, and the memories flooded back.
And I realized I'd had her handwritten Apple Cake recipe all along.
I made the moist, delicious cake for our very small Thanksgiving celebration this year. Since the recipe makes a 9 x 13 cake and there were only four of us, we had a week's worth of leftovers.
It was so good, I'm making it for our big Christmas shindig, too.
This cake is a keeper—not just because it's delicious, but because it lasts forever in the fridge. The flavors become richer and the cake moister. I'd definitely recommend making it at least a day ahead of serving, which makes it the perfect dessert for holiday planning!
You can serve it topped with whipped cream, a light dusting of powdered sugar, or some warm caramel sauce. Or you can spread a layer of rich cream cheese frosting on top. I've had it each way (and in varied combinations) and it's delicious even with no toppings. My current fav is caramel and whipped cream.
You can use any variety of apples you like—I usually go for Granny Smiths, but Gala's were on sale, and they worked beautifully. Raisins and walnuts are optional. (I know—people are either team raisin or not.) I added some golden raisins this year—perfect!. For my Christmas cake, I think I'll soak them in brandy before adding them for an extra kick!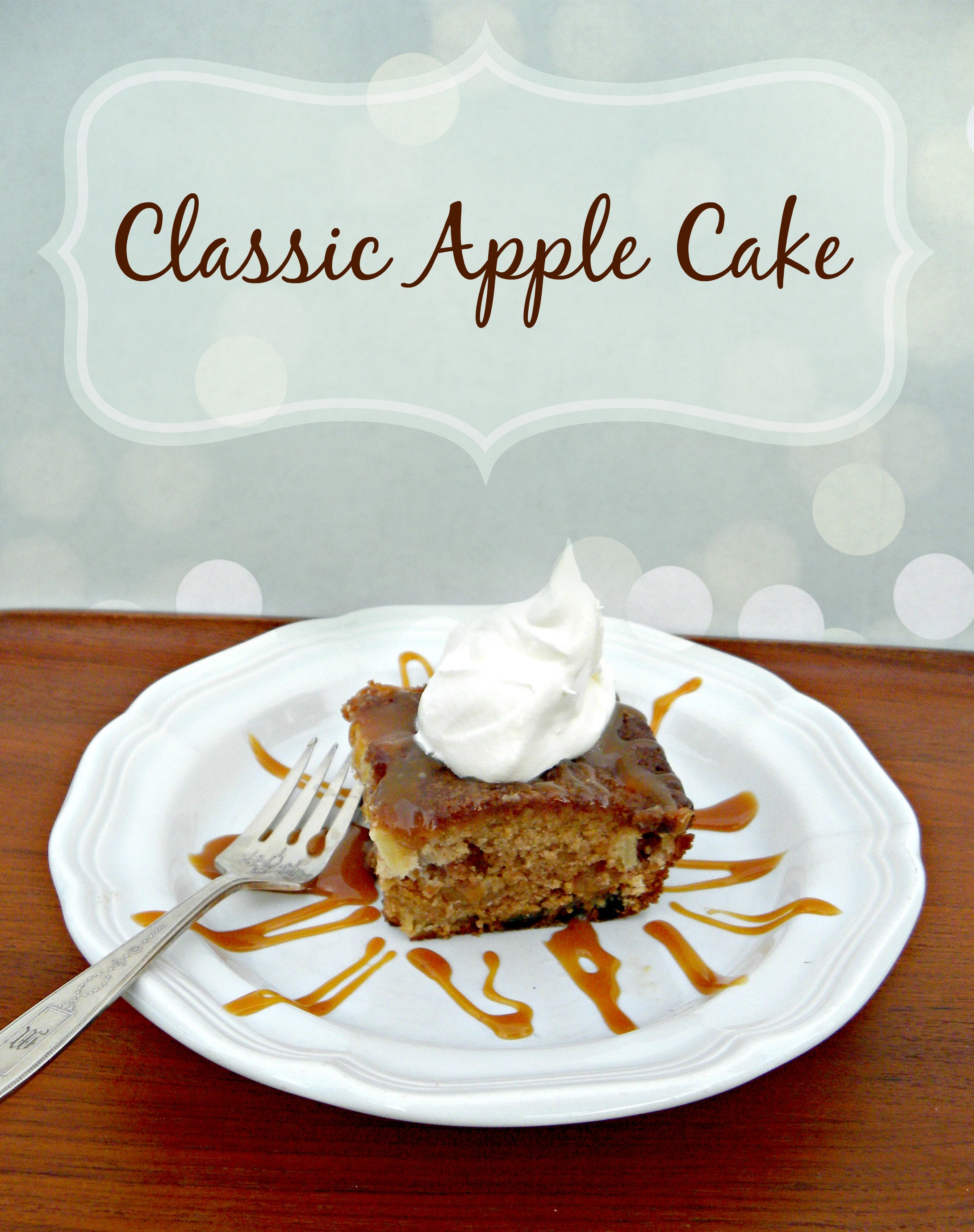 Mom's Classic Apple Cake
Ingredients:
3 eggs
1 3/4 cups sugar
1/2 cup vegetable oil
1/2 cup applesauce
1 tsp. vanilla
2 cups flour
1 tsp. salt
1 tsp. baking soda
1 1/2 tsp. cinnamon
pinch of ginger
2 cups peeled and diced apples (about 3-4)
*1 cup raisins (optional, but I always add)
* 1 cup chopped walnuts (optional)
Directions:
Grease and flour a 9x13x2-inch baking pan. Preheat oven to 350 degrees.
With an electric mixer, blend first four ingredients in a large bowl.
Add vanilla.
Mix next four ingredients (dry) in a separate bowl. Slowly add to wet ingredients, mixing by hand until thoroughly combined.
Add in apples (and optional raisins and walnuts). Fold into batter until well incorporated.
Pour into pan and bake for 1 hour.
Cool completely before covering and store in refrigerator.
Once cooled, you can frost with cream cheese frosting OR finish with a big dollop of whipped cream. It's absolutely divine with a drizzle of caramel sauce, too!
Cheers and enjoy!