In the mood for a fresh take on Southern comfort food? Have I got the cookbook for you.
Born of family, faith, and a passion for making the best blend of Southern barbeque around, one of Orlando's foodie delights is 4 Rivers Smokehouse. Home of the neon "Hot Brisket Now" sign and lines ringing the building on a nightly basis, the first location in Winter Park, Florida, had humble origins. Back in 2009, businessman and weekend chef John Rivers decided to open a sort-of commissary for his "Barbeque Ministry" in the oft chance locals might want to purchase leftovers from his charitable events, or maybe even order take-out. . .
Five years later, John Rivers runs seven ridiculously successful  locations in Central/North Florida (with a Tampa locale in the works). Though his restaurants are one of the only places my family and I eat out on a regular basis, most of y'all can't just drop by for a heaping portion of 4 Rivers tender smoked briquet, tangy pulled pork, or to-die-for baked beans (which my dad swears are second only to the beans his mom used to make). Lucky, John Rivers has kindly shared his delectable comfort food recipes in THE SOUTHERN COWBOY COOKBOOK.
The recipes are a bold blend of Deep-South specialties, traditional Texas BBQ, and Low Country cuisine. All of my favorite sides from the restaurant are in there: Smokehouse Corn, Baked Cheese Grits, Bacon-wrapped Smoked Jalapenos, and more.
The meat sections are the highlight of the book, as that's what draws customers to the casual 4 Rivers Smokehouses, even though they know they'll have to wait patiently outside in the Florida heat (sometimes an hour), salivating as whiffs from the smoker drift across the sizzling parking lot. (Don't worry, when the lines are long, the clean-cut and uber polite staff hands out samples to waiting customers.) Rivers includes recipes for all of his signature smoked meats, including the rubs, marinades, and finishing sauces. While these particular recipes might not be that useful unless you have a smoker, chances are you know someone who does. . . And you can share the book with them. . .
Most of the other recipes are much more approachable for the average home cook. The sandwich section reads like the restaurant menu board, highlighting creations that sound odd, but are oh-so-scrumptious, such as the Messy Pig (coleslaw, pulled pork, dill pickles, pickled jalapenos, & BBQ sauce slapped on a sandwich bun). Yes, you need many napkins.
Tossed in with the iconic recipes are some contemporary favorites, like Coffee-rubed Ribeye, Gruyere Herb Biscuits, and Krispy Kreme Bread Pudding. There are just far too many good ones to mention, and most are accompanied by drool-worthy photographs.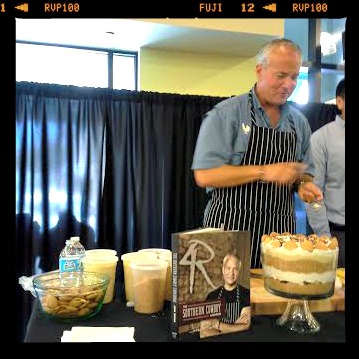 I had the pleasure of attending a cooking demonstration and cookbook discussion with John Rivers at the UCF Book Festival back in April. He chatted with the audience about his unlikely rises as a successful restauranteur,  why he'll never franchise (because he doesn't want the quality and service to waver), his nationwide search for the perfect barbeque, and the role faith, community, and family play in his business and his life.
Then he made Banana Dream Pudding Cups and passed out samples to the audience.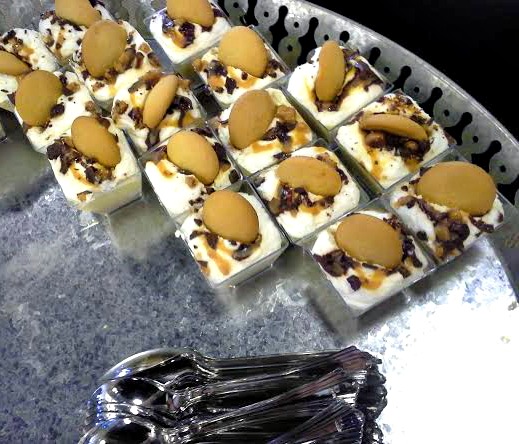 Banana pudding is a favorite in my house. The simple Southern specialty is a staple at our Easter potluck, and the bowl is practically licked clean by guests. But John Rivers added a twist I'd never thought of: roasting bananas to bring out the sweetness, pureeing them, then adding them to the standard vanilla pudding. Oh, and adding chocolate. And caramel. And Heath bar bits.
::Swoon::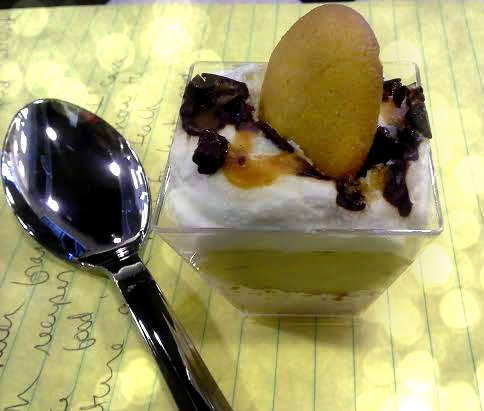 Of course I had to try the recipe at home.
And you can, too.
When you make the puree (I just used my good old mini food processor), blend until you have your preferred consistency. I tried leaving it a little bit chunky, and it added a nice texture to the pudding. Also, don't use room temp Hershey's syrup for the chocolate sauce–far too runny and not rich enough. A nice drizzle of hot fudge sauce (homemade or jarred) works much better. And use real whipped cream—it's worth the few minutes of work.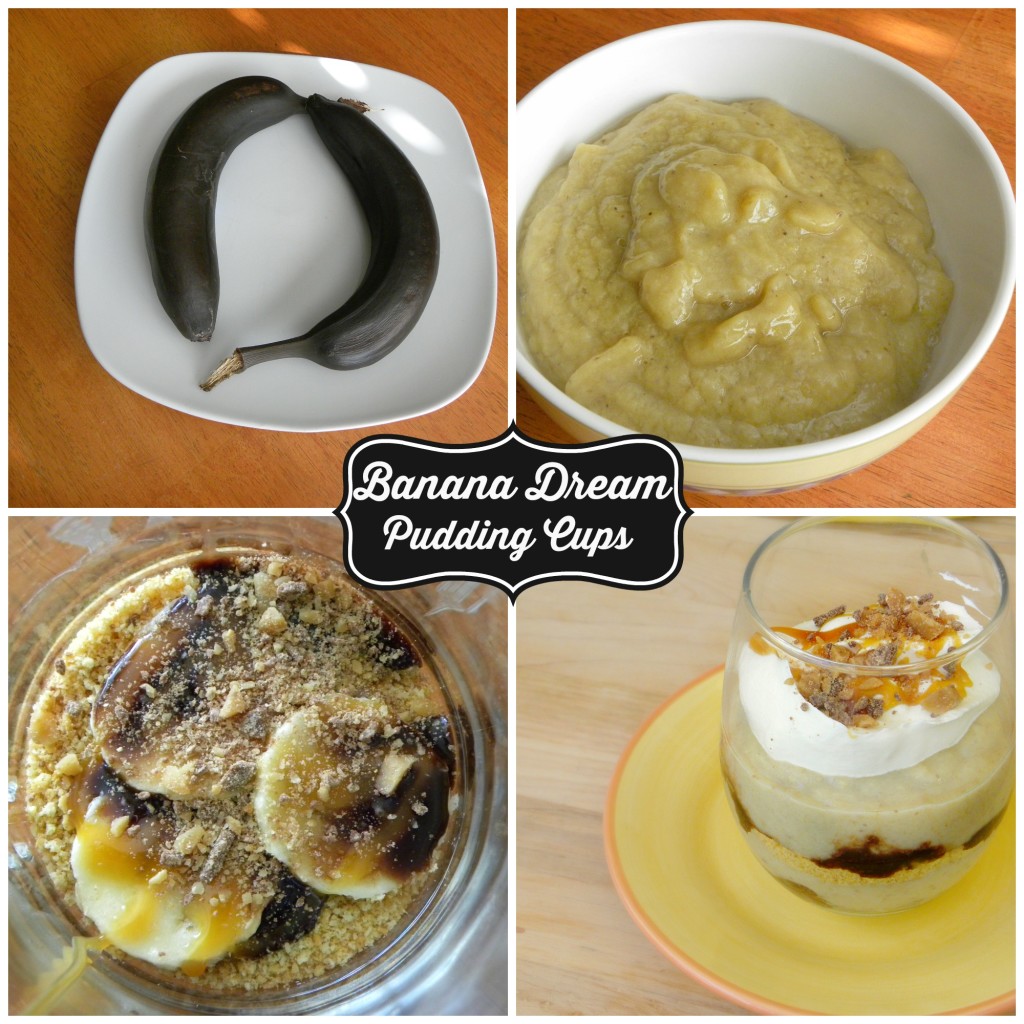 Banana Dream Pudding Cups
Serves 6
Banana Dream Puree
5 large bananas
2 tablespoons sugar
1 1/2 cups vanilla pudding (I used instant, but I'm sure homemade would be better)
Banana Dream Pudding Cups
1 cup graham cracker crumbs
1 tablespoon powdered sugar
1 tablespoon unsalted butter, melted
18 (1/4-inch-thick) banana slices
12 tablespoons toffee-chocolate bits (like Heath)
3 cups Banana Dream Puree, divided
1 3/4 cups freshly whipped cream, divided
6 tablespoons chocolate sauce, divided
6 tablespoons caramel sauce, divided
18 vanilla wafers
 Make Puree
Preheat oven to 375 degrees. Lay bananas, unpeeled on a baking sheet and bake for 10 to 15 minutes, or until bananas turn dark brown and go soft. Allow bananas to cool before peeling.
Peel bananas and place in the work bowl of a food processor along with the sugar. Pulse until desired smoothness.
Add pudding to bowl and mix by hand until combined. Refrigerate until cold.
 Make Pudding Cups
Combine graham cracker crumbs, powdered sugar, and melted butter in a bowl, and mix until well blended.
In each of 6 glass dishes (I used stemless wine glasses), place 2 tablespoons graham cracker mixture, then top with 3 banana slices and a tablespoon of toffee-chocolate bits.
Spoon in 1/2 cup puree, then top with 1/4 cup whipped cream.
Sprinkle with 1 tablespoon toffee-chocolate bits, and drizzle with 1 tablespoon chocolate sauce and 1 tablespoon caramel sauce. Refrigerate until ready to serve.
Place 3 vanilla wafers around each rim just before serving.
 *******
The Recommendation:
Buy it. The cookbook is worth the price just for the Thanksgiving menu, which I plan on making for my holiday celebration this year. (Potential guests, expect Prosciutto Brussels Sprouts, Southern Green Beans, and Smoked Turkey.)
Now that I've spent the hour salivating over the cookbook and dreaming of BBQ and banana pudding, I'm going to head off to the gym—possibly with a detour afterwards to pick up some 4 Rivers takeout.
The Details:
The Southern Cowboy Cookbook by John Rivers

Print Length: 223 pages
Publisher: Story Farm
Joining up again with Weekend Cooking hosted by www.BethFishReads.com. If you're interested in more food-related posts, drop on by!