1. I can make Bill Bryson laugh!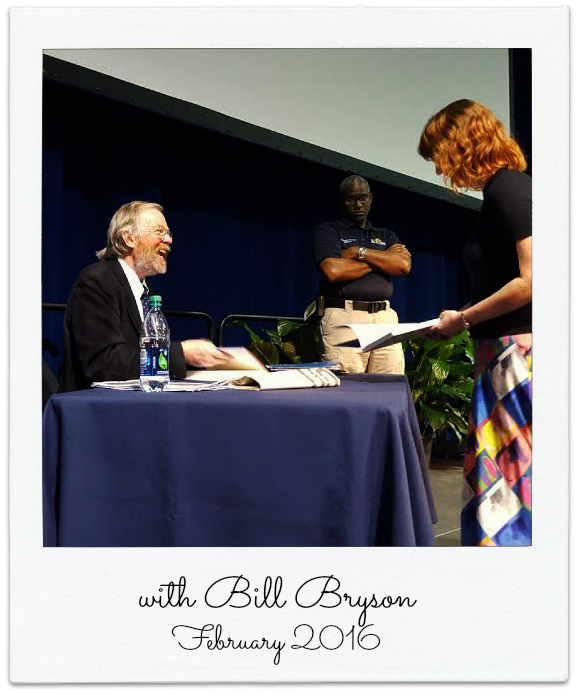 No, that doesn't count. To be honest, I simply cannot recall what witty quip I must have whipped out to cause the celebrated travel, science, and historical writer to chuckle, but I have the picture to prove I said something good.
During Notes from All Over: An Evening with Bill Bryson, the writer entertained the crowds with his renowned brand of cerebral yet homespun humor. Before a packed house at Rollins College in Winter Park, Florida, Bryson spun tales about his life between readings from some of his well known works, sparking alternating bouts of laughter and applause. I've binged on his audiobooks recently, so listening to him read passages from A Walk in the Woods, In a Sunburned Country
, and his new release The Road to Little Dribbling: Adventures of an American in Britain
truly brought the books to life. The evening proved that America and Britain's bastion of curmudgeonly wanderlust is just as charming, hilarious, and endearing off the page as he is on.
Some highlights:
1. On how to avoid a bear attack: wear bells so the bears know you're coming. And keep your eyes open for bear scat on the ground. It's easy to spot — it has bells in it.
2. When a British bookstore author questionnaire asked what he would like people to say about him 100 years from now: "Well, at least he was still sexually active."
3. He's never thought of writing fiction.
4. Reviewers of his new book,The Road to Little Dribbling: Adventures of an American in Britain
, have written that he's far grumpier than he use to be. He used this as a segway into reading a passage from the book, a cautionary tale regarding the horrors of ordering for a large family at McDonald's with grossly incompetent staff.
5. He profoundly curious and always does his own research. Writing is a difficult art, but through research, one gets to enjoy the joy of discovery. You never know what you'll find.
6. On embellishment in his writing: it depends on which of the two types of books he's writing. Ernest books of information have no embellishment. They're meant to be reliable sources of information. However, when writing of his personal adventures, he freely expands and uses hyperbole or it wouldn't be funny. He suspects his readers are intelligent enough to tell the difference.
7. He had nothing to do with making the movie version of A Walk in the Woods, having sold the rights to Robert Redford over a decade ago. The movie was supposed to reunite Paul Newman and Robert Redford for the first time since The Sting, but Paul got sick, and the movie was put on the back burner. When Redford decided to go forward with the production, Bryson wasn't involved with the script writing. Bryson watched the movie for the first time at the Sundance Film Festival. He sat between his wife and Redford, and found it insane because there was Redford on the screen answering to his name.
8. Bryson thought the film somewhat accurately reflected his book until one particularly awkward scene. "Bryson" on film began flirting with a hotel-keeper (portrayed by Mary Steenburgen) and there's obvious chemistry. He felt the strong need to lean over to his wife and swear this scene was not in the book and it never happened.
9. He sent his friend Katz (not his real name) the manuscript for A Walk in the Woods
because he felt a bit bad that he'd portrayed him as such a buffoon (even though he was a total buffoon). Katz read the manuscript and said it was funny, but all fiction. Bryson walked him through each scene, and Katz fessed up to each antidote. Then how was it fiction? According to his Appalachian Trail companion, the stories were all true, but it was just fiction in the way Bryson told them.
10. Bryson's greatest regret in life is not completing the (somewhere around) 2,200 mile Appalachian Trail hike. He never hiked or even saw Mount Katahdin, regarded to be the most difficult climb in the entirety of the A.T. Someday. Maybe.
Bonus: When asked what inspires him to write: bills.
And that, my friends, is the witty and wonderful Bill Bryson. If you haven't read his books, you absolutely must. I highly recommend the audiobooks.