"Some books should be tasted, some devoured, but only a few should be chewed and digested thoroughly."
*Please note: I am not longer accepting books for review. I am open to author interviews, author guest posts, and book promo if I feel it's a good fit. Please see my contact page for details.
Some of my book reviews: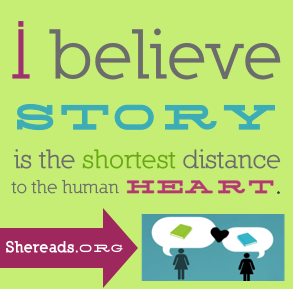 I'm  a member of the She Reads Blog Network. Each month fifty other brilliant book bloggers and I review the She Reads Book Clubs Featured selection. The monthly selections are mostly women's fiction, book club fiction, and/or literary fiction. She Reads also features author interviews and so much more. Check them out!


I also reviewed books  on Bookshelf Bombshells.com. If you haven't checked out that site you totally should. They review everything from steampunk to Broadway singer's memoirs. These lippy ladies hold nothing back. Go now. I'll wait.
The Perfume Collector by Kathleen Tessaro
The Firebird by Susanna Kearsley
One and Only: The Freedom of Having an Only Child and the Joy of Being One by Lauren Sandler
The Mermaid of Brooklyn by Amy Shearn
Someday, Someday Maybe by Lauren Graham
Orphan Train by Christina Baker Kline
And Then I Found You by Patti Callahan Henry
Betty Goes Vegan by Annie and Dan Shannon
Heart Like Mine by Amy Hatvany
Why Can't I Be You By Allie Larkin
The Possibility of You by Pamela Redmond
The Obvious Game by Rita Arens
Calling Me Home by Julie Kibler
How Do I Decide? Self-Publishing vs. Traditional Publishing by Rachelle Gardner
The Comfort of Lies by Randy Susan Meyers
The Art Forger by B.A. Shapiro
Fifty Shades of Chicken by F.L. Fowler

My Berlin Kitchen by Luisa Weiss
The Casual Vacancy by J.K. Rowling
The Serpent's Ring by H.B. Bolton
Man in the Blue Moon by Michael Morris
Blackberry Winter by Sarah Jio
On the Island by Tracy Garvis Graves
Wallflower in Bloom by Claire Cook
The Meryl Streep Movie Club by Mia March
Fifty Shades of Grey by E L James
Confessions of a Scary Mommy by Jill Smokler
There's a Puma in the Kitchen and Other Unexpected Tales of Motherhood by Heather J. Kelly
Bringing up Bebe: One American Mother Discovers the Wisdom of French Parenting by Pamela Druckerman
The Kitchen Counter Cooking School by Kathleen Flinn
Cook Like a Rock Star by Anne Burrell
The Book Club Cookbook by Judy Gelman and Vicki Levy Krupp
Cooking For Geeks: Real Science,Great Hacks, and Good Food by Jeff Potter
Slippery Tipples by Joseph Piercy
****************************************************************************************
I was keeping a list of all the books I devoured read here. Then I discovered GoodReads ::cue singing angels:: and my life was immensely simplified. If you want to know what I'm reading, what I loved, and what you should leave on the shelves, check out my GoodReads profile here.
March 2012
February 2012
When She Woke — Hillary Jordan
Skipping A Beat –Sarah Pekkanan
Happiness Sold Separately –Lolly Winston
Bringing Up Bebe –Pamela Druckerman
Kill Shot –Vince Flynn
Self-Editing For Fiction Writers –Browne & King
Red Mist –Patricia Cornwell
January 2012
The Tenth Circle–Jodi Picoult
Words Fail Me–Patricia T. O'Conner
The Playgroup–Nelsie Spenser
Getting the Words Right: How to Rewrite, Edit & Revise — Theodore A. Rees Cheney
Bright Lights, Big Ass –Jen Lancaster
A Vintage Affair–Isabel Wolff
Confessions of a Scary Mommy–Jill Smokler
Sweet Ruin –Cathi Hanauer
December 2011
Folly Beach–Dorothea Benton Frank
Bird by Bird–Anne Lamott
Beachcombers–Nancy Thayer
11/22/63–Stephen King
November 2011
The Kitchen Counter Cooking School–Kathleen Flynn
The Litigators–John Grisham
On Writing–Stephen King
Falling Together–Marissa de los Santos
Sarah's Key–Tatiana de Rosnay
Flash and Bone–Kathy Riechs
Micro–Michael Crichton
October 2011
From Barcelona, With Love–Elizabeth Adler
Cook Like a Rock Star–Anne Burrell
This is Where We Live–Janelle Brown
Demon Fish–Juliet Eilperin
Before Ever After–Samantha Sotto
Catching Fire–Suzanne Collins
Mockingjay–Suzanne Collins
September 2011
Cooking for Geeks–Jeff Potter
Heat Wave–Nancy Thayer
Little Bitty Lies–Mary Kay Andrews
Cold Vengeance–Preston & Child
I Don't Know How She Does It–Allison Pearson
Winter Garden–Kristin Hannah
Swamplandia!–Karen Russell
August 2011
Burnt Mountain–Anne Rivers Siddons
Summer Rental–Mary Kay Andrews
The Silent Girl–Tess Gerritsen
The Sixes–Kate White
Lunch in Paris–Elizabeth Bard
Kindred Spirits–Sarah Strohmeyer
July 2011
Protrait of a Spy–Daniel Silva
Slippery Tipples–Joseph Piercy
Smokin Seventeen–Janet Evanovich
Overbite–Meg Cabot
Then Came You–Jennifer Weiner
Dead reckoning– Charlaine Harris
Bossypants–Tina Fey
June 2011
The Violets of March–Sarah Jio
State of Wonder–Ann Pachett
Why I Write–Janet Evanovich
Sticky Fingers–Nancy Martin
Arm Candy–Jill Kargman
As Husbands Go–Susan Isaacis
Dreams of Joy–Lisa See
May 2011
Secret Lives of Husbands and Wives–Josie Brown
The Big Nap–Ayelet Waldman
One Day–David Nicholls
Crunch Time–Diane Mott Daivdson
The Poison Tree–Erin Kelly
April 2011
The Peach Keeper–Sarah Addison Allen
The Persian Pickle Club–Sandra Dallas
Mystery–Jonathan Kellerman
The Uncoupling–Meg Wolitzer
How to Bake A Perfect Life–Barbara O'Neal
Room–Emma Donoghue
A Discovery of Witches–Deborah Harkness
The Language of Light–Meg Waite Clayton
March 2011
13 Little Blue Envelopes–Maureen Johnson
The Four Ms. Bradwells–Meg Waite Clayton
The Wednesday Sisters–Meg Waite Clayton
The Weird Sisters–Eleanor Brown
Sing You Home–Jodi Picoult
Mama Rides Shotgun–Deborah Sharp
February 2011
Night Vision–Randy Wayne White
A Trip to the Beach–M. & R. Blanchard
To Have and To Kill–Mary Jane Clark
Tales From the Yoga Studio–Rain Mitchell
The Hunger Games–Suzanne Collins
Murder Melts in Your Mouth–Nancy Martin
Fatal Error–J.A. Jance
the one that i want–Allison Winn Scotch
January 2011
Backseat Saints—-Joshilyn Jackson
A Reliable Wife–Robert Goolrick
The Inner Circle–Brad Meltzer
The Solomon Sisters Wise Up–Melissa Senate
The Girl Who Kicked the Hornet's Nest–Steig Larsson
jemima j–Jane Green
The Girl Who Played With Fire–Steig Larsson
December 2010
The Confession–John Grisham
Remarkable Creatures–Tracy Chevaliar
Port Morturary–Patricia Cornwell
Dead or Alive–Tom Clancy
Gods in Alabama–Joshilyn Jackson
Compromising Positions–Susan Isaacis
November 2010
She's Gone Country–Jane Porter
The Jane Austin Book Club–Karen Joy Fowler
Painted Ladies–Robert Parker
American Assassin–Vince Flynn
The Reversal–Micheal Connelly
Hell's Corner–David Baldacci
October 2010
Fall of Giants–Ken Follett
Wicked Appetite–Janet Evanovich
Spider Bones–Kathy Reichs
Midnight Rainbow–Linda Howard
Little Bee–Chris Cleave
Santa Fe Edge–Stuart Woods
September 2010
Medium Raw–Anthony Bourdain
Savannah Breeze–Mary Kay Andrews
Sleeping Arrangements– Madeline Wickham
The Nanny Returns–McLaughlin and Kraus
The Poisonwood Bible–Barbara Kingsolver
Maybe This Time–Jennifer Crusie
August 2010
Star Island–Carl Hiaasen
The Girl with the Dragon Tattoo–Steig Larsson
The Society of S–Susan Hubbard
Savannah Blues–Mary Kay Andrews
Last Night at Chateau Marmont–Lauren Weisberger
Easy on the Eyes–Jane Porter
July 2010
Sizzling sixteen–Janet Evanovich
The Lion–Nelson DeMille
Ice Cold–Tess Gerritsen
Culture Shock Costa Rica–Claire Wallerstein
everything lovely, effortless, safe–Jenny Hollowell
In the Name of Honor–Richard North Patterson
The Short Second Life of Bree Tanner–Stephanie Meyer
Fly Away Home–Jennifer Weiner
The Hotel Riviera–Elizabeth Adler
The Rembrandt Affair–Daniel Silva
June 2010
The Rule of Nine–Steve Martini
Insatiable–Meg Cabot
The Burning Wire–Jeffery Deaver
Promises to Keep–Jane Green
Imperial Bedrooms–Bret Easton Ellis
May 2010
Island Beneath the Sea–Isabel Allende
Innocent–Scott Turow
Dead in the Family–Charlaine Harris
Heart of the Matter –Emily Giffin
All We Ever Wanted Was Everyt
hing–Janelle Brown
The School of Essential Ingredients–Erica Bauermeister
Fever Dream–Preston and Child
April 2010
Deception–Johnathan Kellerman
Flirting with Forty–Jane Porter
The Girl Who Chased the Moon–Sarah Addison Allen
Just Breathe–Susan Wiggs
The 19th Wife–David Ebershof
Deliver Us From Evil–David Baldacci
Odd Mom Out–Jane Porter
The Blonde Theory–Kristin Harmel
March 2010
Momzillas–Jill Kargman
Split Image–Robert B. Parker
Lamb–Christopher Moore
Bahamarama–Bob Morris
Every Day in Tuscany : Seasons of an Italian Life–Frances Mayes
House Rules–Jodi Picoult
February 2010
The Help–Kathryn Stockett
The Swan Thieves–Elizabeth Kostova
Bad Mother–Ayelet Waldman
Brava Valentine–Adriana Trigiani
Dirty Girls On Top–Alisa Valdes-Rodriguez
See Jane Write–Farrin Jacobs and Sarah Mlynowski
Baja Florida–Bob Morris
Testing Kate–Whiteny Gaskell
January 2010
The Art of French Kissing–Kristen Harmel
Impact–Douglas Preston
Good Luck–Whitney Gaskell
Her Fearful Symmetry–Audrey Niffengger
A Touch of Dead–Charlane Harris
The Gourmet Cookbook (yes, I read it cover to cover)
The Paris Vendetta–Steve Berry
Good Grief–Lolly Winston
Kisser–Stuart Woods