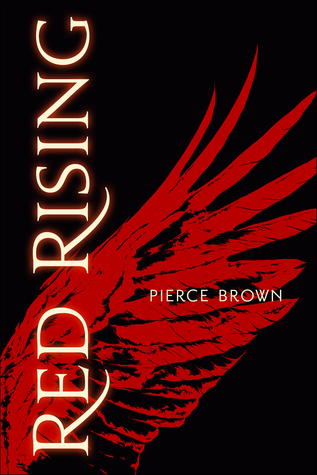 Darrow is a Red, a member of the lowest caste in the color-coded society of the future. Like his fellow Reds, he works all day, believing that he and his people are making the surface of Mars livable for future generations. Yet he spends his life willingly, knowing that his blood and sweat will one day result in a better world for his children.
*
But Darrow and his kind have been betrayed. Soon he discovers that humanity reached the surface generations ago. Vast cities and sprawling parks spread across the planet. Darrow—and Reds like him—are nothing more than slaves to a decadent ruling class.
*
Inspired by a longing for justice, and driven by the memory of lost love, Darrow sacrifices everything to infiltrate the legendary Institute, a proving ground for the dominant Gold caste, where the next generation of humanity's overlords struggle for power. He will be forced to compete for his life and the very future of civilization against the best and most brutal of Society's ruling class.There, he will stop at nothing to bring down his enemies . . . even if it means he has to become one of them to do so.
*************************
Okay, here's the deal: I shouldn't have even liked this book. I've always claimed that I don't do dystopian novels. I've gone so far as to use the *h* word on occasion. (I know, I know—one should not *hate* any books.)
I hereby proclaim that I was  ignorant  wrong. Terribly wrong. Red Rising is the most dystopian book I've  read—and I bloody loved this book. I couldn't put the damn thing down.
Seriously. On Christmas Eve, I sat beside the glowing tree totally ignoring It's a Wonderful Life because I just had to finish the damn book before I went to bed. No visions of Sugar Plums for me; instead I dreamed of the red planet Mars.
When I spotted the book on Netgalley, I didn't expect much. Though it had amazing early reviews,  I wasn't a big fan of the genre (except the Hunger Games trilogy, but everyone crossed the dystopian border for that series).  I assumed I'd give it a few chapters before inevitably tossing it aside. Dystopian books must wrap their warped tentacles around my neck pretty quick if I'm going to suspend my disbelief enough to get into their bleak worlds and weird names. While I couldn't put my finger on exactly why I pressed through the first few chapters, once Red Rising grabbed me, it formed a choke hold.
When readers first meet Darrow, an impetuous 16-year-old helldiver, he's striving to win The Laurel, the award won by drilling the largest amount of gas to supply to the builders of society on Mars. Winning means his Township will not be hungry and might accrue some basic supplies. He and his people are Reds, all but slaves, living underground and completely dependent on the ruling caste of Golds.
Darrow should have earned the Laurel. When it goes to the same clan as always, Darrow and his young wife, Eo, realize their lives are rigged. In a world where a simple song or dance can lead to execution, Eo stages a minor act of rebellion which leads to her death. When Darrow dares to break the strictly enforced rules he too is killed…maybe.
Instead he's smuggled to the surface by revolutionaries, to a world he and his people didn't know existed. He is "carved" into a Gold to become a spy, someone hopefully strong enough to infiltrate the Gold society and start a rebellion.
But first he must make it through The Institute and its game.
This story certainly clung to some familiar tropes: being chosen for different houses in the "school" rings of Harry Potter, the bloodthirsty battles students must survive to become champion is reminiscent of The Hunger Games. The dissolving of civilized behavior and morals when scrapping for survival echos Lord of the Flies. Brown even works in some odes to classical mythology.
But Red Rising is far more than just a rehashing of these eternal themes—it's a violent, cunning tale, a reflection the historical struggles for power that will echo into the future.
I dare not tell you more, except that I'm dying for the second book to come out. No spoilers here. But I will offer you an opportunity to win a copy of this bloody brilliant book.
Del Ray is hosting a RED RISING RELEASE DAY FLASH GIVEAWAY.  The winner will receive a signed copy of RED RISING and a Random House Publishing Group tote bag (US residents only). It's a special flash giveaway, RUN FOR ONLY 24 HOURS. The winner will be announced at 10AM EST on Wednesday, January 29.
RED RISING
by Pierce Brown
400 pages
Del Rey (January 28, 2014)
I received this book free from Netgalley. I was not required to write a positive review. The opinions I have expressed are my own. One link above is an "affiliate link." This means if you click on the link and purchase the item, I will receive an affiliate commission. Regardless, I only recommend products or services I use personally and believe will add value to my readers.I am disclosing this in accordance with the Federal Trade Commission's 16 CFR, Part 255: "Guides Concerning the Use of Endorsements and Testimonials in Advertising."