You can never have too many brownies. Or at least, I can never have too many brownies. Ever since I discovered the handy-dandy method of baking them in mini-muffin pans, I always keep some tucked away in the freezer for chocolate emergencies. (Don't laugh. Chocolate emergencies are a real thing.)
I actually came up with this recipe at Christmas time after I'd sworn I wasn't going to bake cookies from scratch. In the past, I've spent days making dozens of dozens of homemade treats for bosses, teachers, and friends, but this year I just didn't have the time. I aimed for the semi-homemade route, which if dressed up properly, can be just as tasty and ten times easier.  I wanted to do something with brownies…cherry cordial candies were my dad's favorite, and always under the Christmas tree…how about cherry cordial brownies?
I searched for a recipe to imitate that rich, creamy deliciousness with a gooey cherry inside, but I couldn't find exactly what I was looking for. I did find an intriguing Cherry-Merlot Brownie Bite recipe via Betty Crocker. Hmmm…not quite…  After a few tweaks, it was better than I dreamed!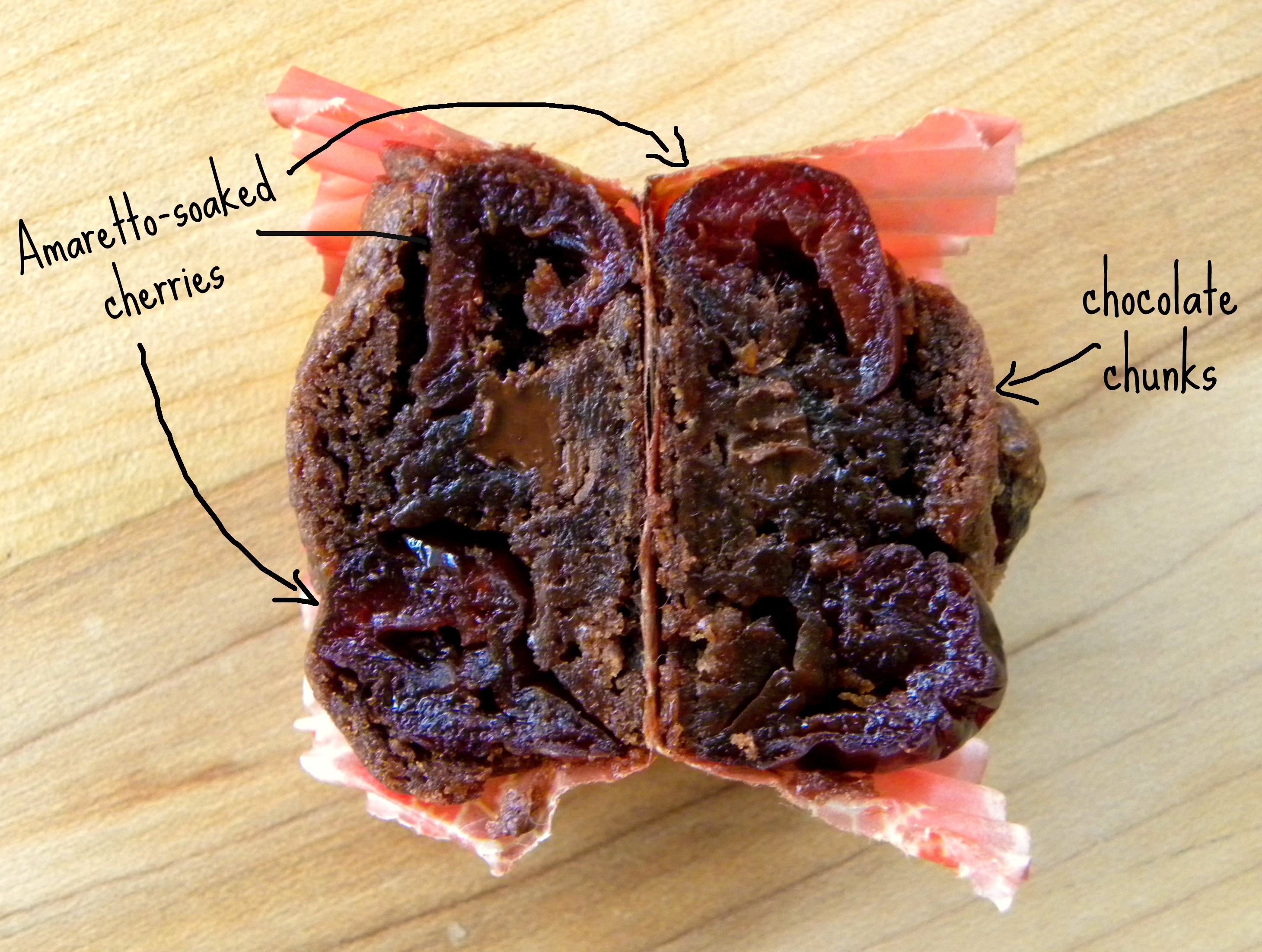 By switching out the Merlot for Amaretto, the brownies took on the creamy, cherry almond cream taste I was going for. These things are AMAZING!  Chewy, rich, and OMG good!  (Hold on a sec—I have to go eat one now!) They will make a perfect Valentine's Day treat for your Sweetie (or yourself!)
Can you tell I'm seriously in love with these?  And they are seriously easy.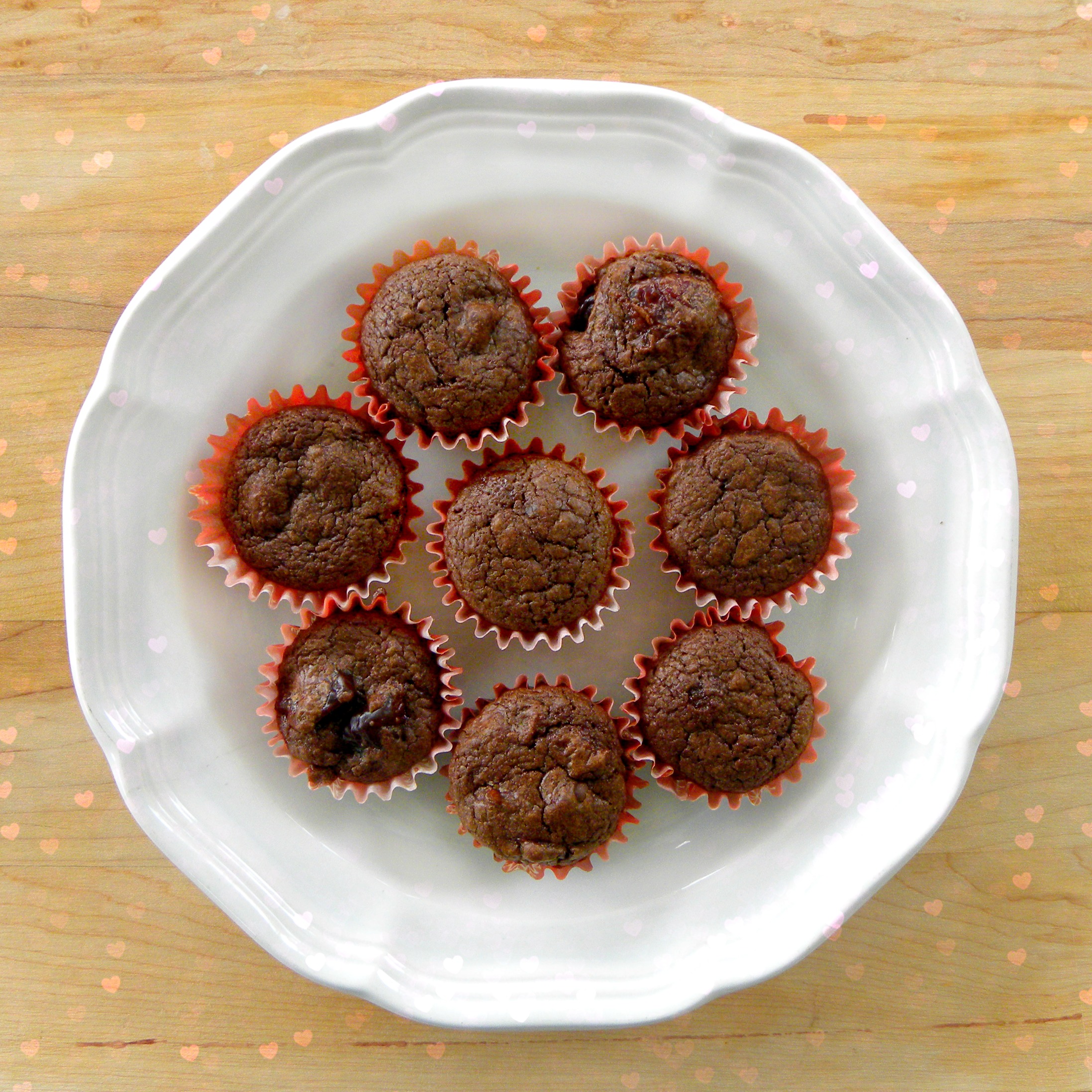 Cherry Cordial Brownie Bites

1 bag (about 5 – 6 oz.) dried cherries
about 1/2 cup Amaretto liqueur
1 box brownie mix (I recommend Betty Crocker Supreme Triple Chunk or Ghirardelli Triple Chocolate)
1 egg*
1/3 cup oil*
water to fill***
Place cherries in a microwave safe bowl. Add Amaretto so that it about covers the cherries (you can add a little more if necessary). Microwave on high for 90 seconds. Set aside and let cool about 10 minutes.
Heat oven to 350°F (325°F for dark or nonstick pan). (optional) Place mini paper baking cup in each of 48 mini muffin cups. (I have bake in two batches, so liners are easier for me.)

Strain cherries, pouring leftover Amaretto into a measuring cup. Check how much water your brownie mix box calls for (mine called for 1/4 cup of water). ***Use the Amaretto instead of the called for water. If you don't have quite enough, add water.
In a mixing bowl, add brownie mix, Amaretto/water, * EGG(S), AND OIL ON CALLED FOR ON BROWNIE MIX BOX. Stir until mixed.
Fold in the cherries. Mix.
Fill each muffin cup with about 1 tablespoon batter/about 3/4 full. (I use a cookie scoop.)

Bake 18-21 minutes. Let cool in pan a few minutes, then remove each brownie bite to a cooling rack.
*Tip from Betty Crocker: If a recipe yields more mini cupcakes than your pan will make, cover and refrigerate the rest of the batter while baking the first batch. Cool the pan 10 to 15 minutes and then bake the rest of the batter, adding about 1 minute to the bake time.
*Since the cherries make them a little gooey, the paper wrappers may stick. Optional.
Happy Valentine's Day
&
Cheers, my friends!