Florida is not all about its beautiful beaches. Our enticing waters come in many forms, and hot days locals flock to our crystal-clear springs—even though we may have a perfectly good swimming pool in our own backyard.
Locals know the best way to celebrate the first day of summer is at one of the  more than 900 natural springs scattered across the state. The clear waters remain at a chilly (for us) 72 degrees year round—refreshing enough to make you gasp when the air hovers in the 90s, but cool enough to keep the gators away—most of the time.
Our favorite local spring is Rock Springs Run at Kelly Park and State Reserve. The park is so popular with Central Florida residents in the know that there is always a line of cars trying to get in, and it's often filled to capacity by 9 a.m. (And holidays. . .forget about it.) Deer sometimes drop by to entertain the throngs of families patiently waiting. Before mid-morning, picnickers fire up every one of the dozens of grills and fill the pavilions, saturating the humid air with the aroma of grilled meat.
But when you arrive early, you can sometimes spot some of the river's locals.
Rock Spring bubbles up from a cleft in the rocks beside a cave that looks like something the Spanish explorers would have believed was the Fountain of Youth. Swimmers jump in at the spring head or awkwardly plop into a tube while it bobs in the swift current. From there the water slows, and its a lazy 25 minute drift down the river, winding under mossy oaks and feather-leaved cypress trees.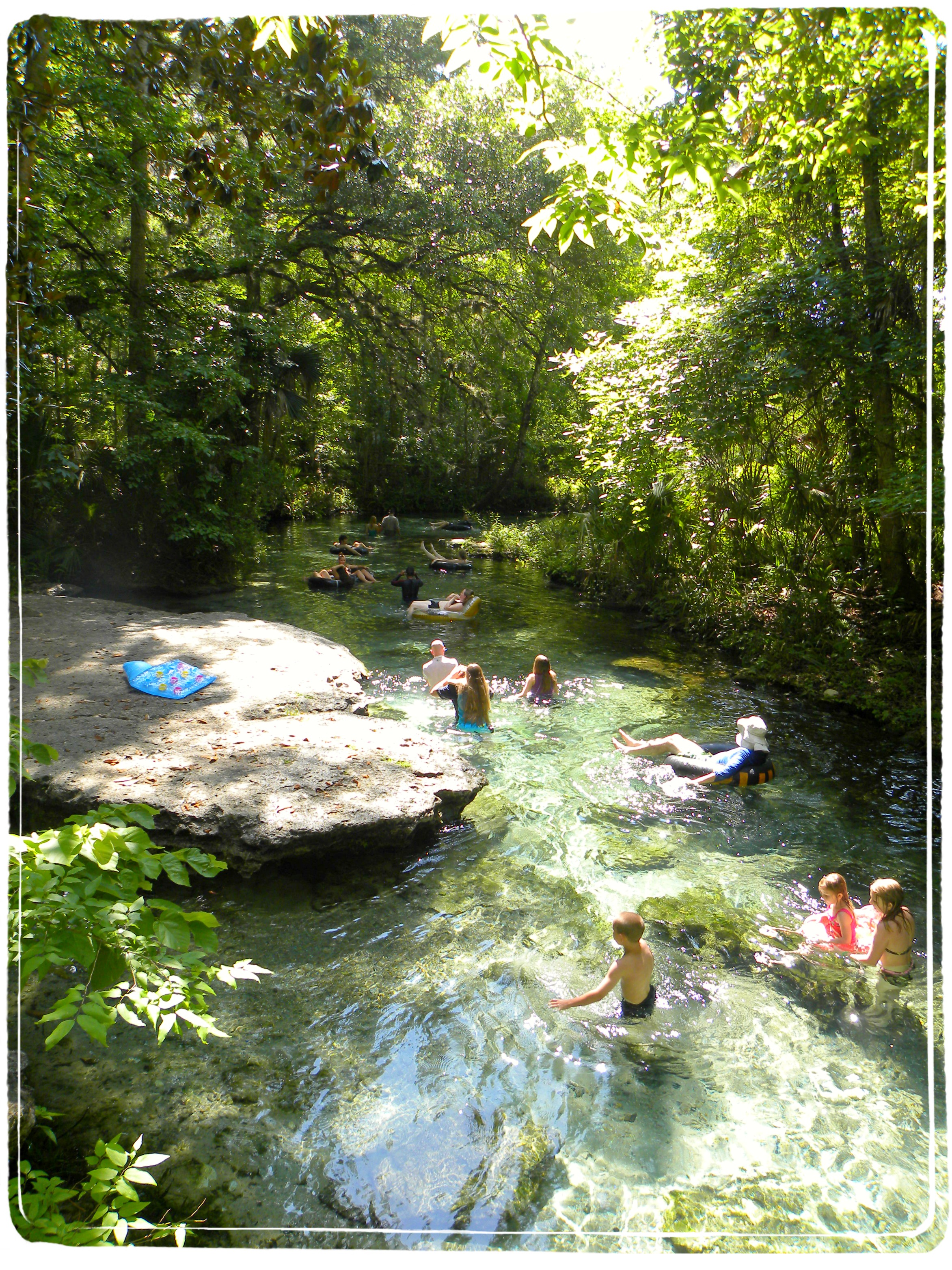 Some try to walk along the rocky bottom, stopping to sift through pebbles for fossilized sharks teeth. Others snorkel down the river, spotting fish and an occasional turtle.  I go for the tube. That water is COLD.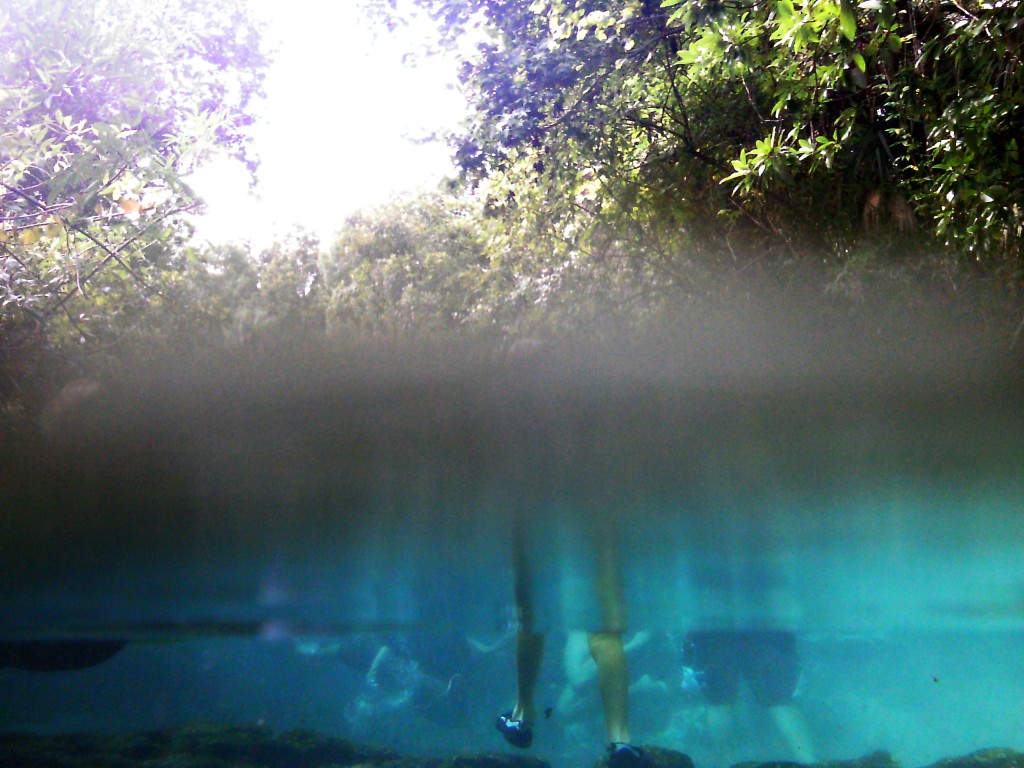 While the river run and the swimming holes are the draw for most, my kid spends the majority of his day along the sandy shore. There's always a swarm of kids there, and it's easy to pick up some friends for water blaster fights or sand castle building.
Which means the hubby and I get to spend the day lounging in the shade with a book. HEAVEN.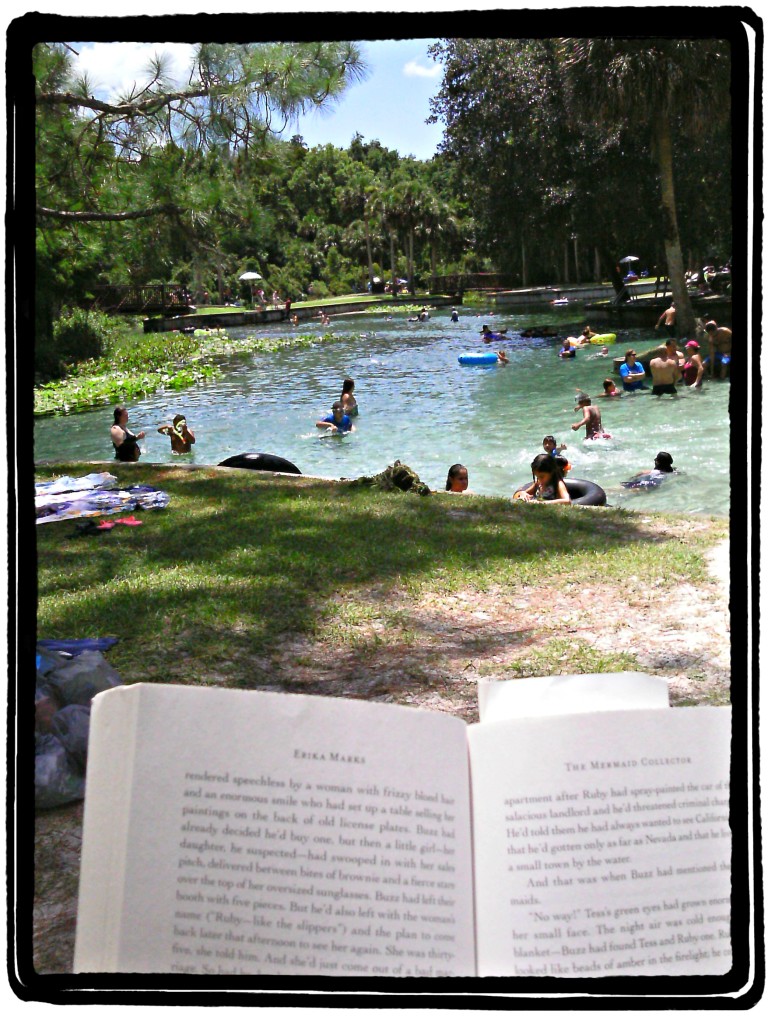 And I have to admit, one guilty pleasure there is people-watching. Locals didn't affectionately dub the place the "Redneck Rivera" for nothing. Folks from 8-months to eighty don their bikinis and sunbathe beside the ole swimmin' hole. Tattoos are the norm, and I don't mean the funky hipster variety. (Imagine Stewie from The Family Guy tattooed on a middle-aged could be an ex-biker chick's inner thigh.)  It's a great place to jot down character studies—I consider it research. But people are friendly, and the real wildlife is usually of the furry, finned, and feathered variety.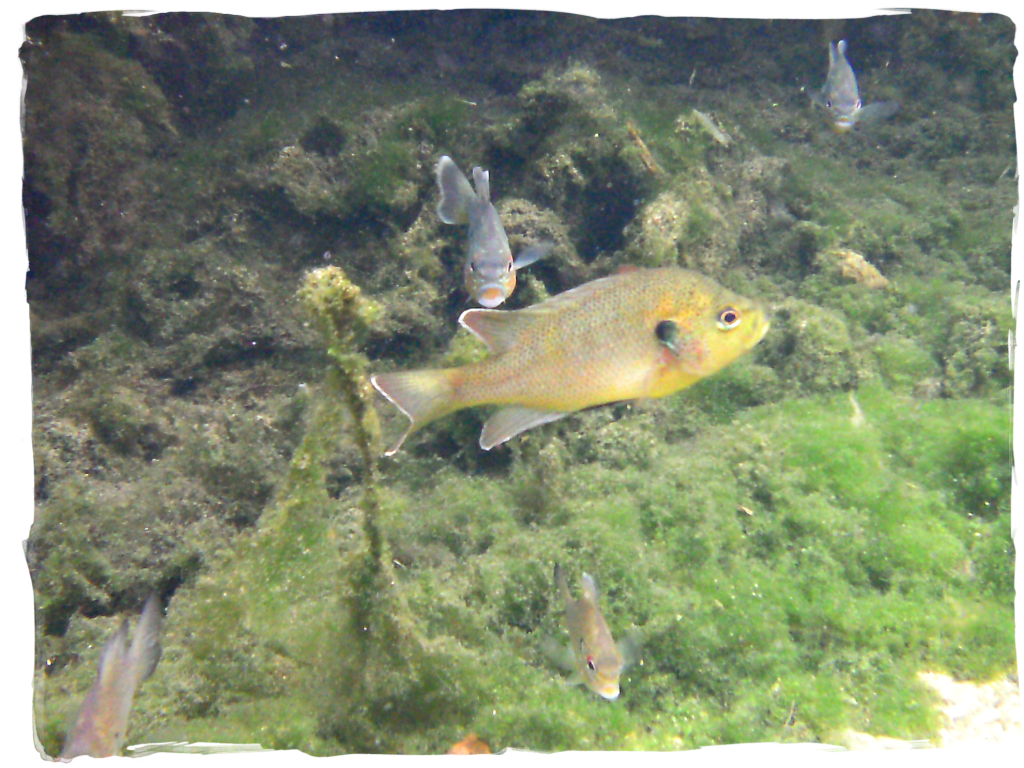 For five bucks a carload, Kelly Park is an oasis just outside the suburban sprawl, the perfect way to escape from the traffic and tourists. Whether you're a local wanting to get back to nature or a visitor looking for "Real Florida" this place is the way to go.
If you go:
Bring cash for the snack bar—typical concession fare like hot dogs, snow cones, and cold sodas.
If you want to claim a grill, get there super early. Pavilions are reserved in advance.
Water shoes are strongly suggested. Masks and goggles if you have some.
Bring an inner tube or raft (anything less than five feet is okay) or rent a tough tire tube at one of the shops by the park entrance.
The park also has Hiking/Nature Trails and a campground that's supposed to be gorgeous.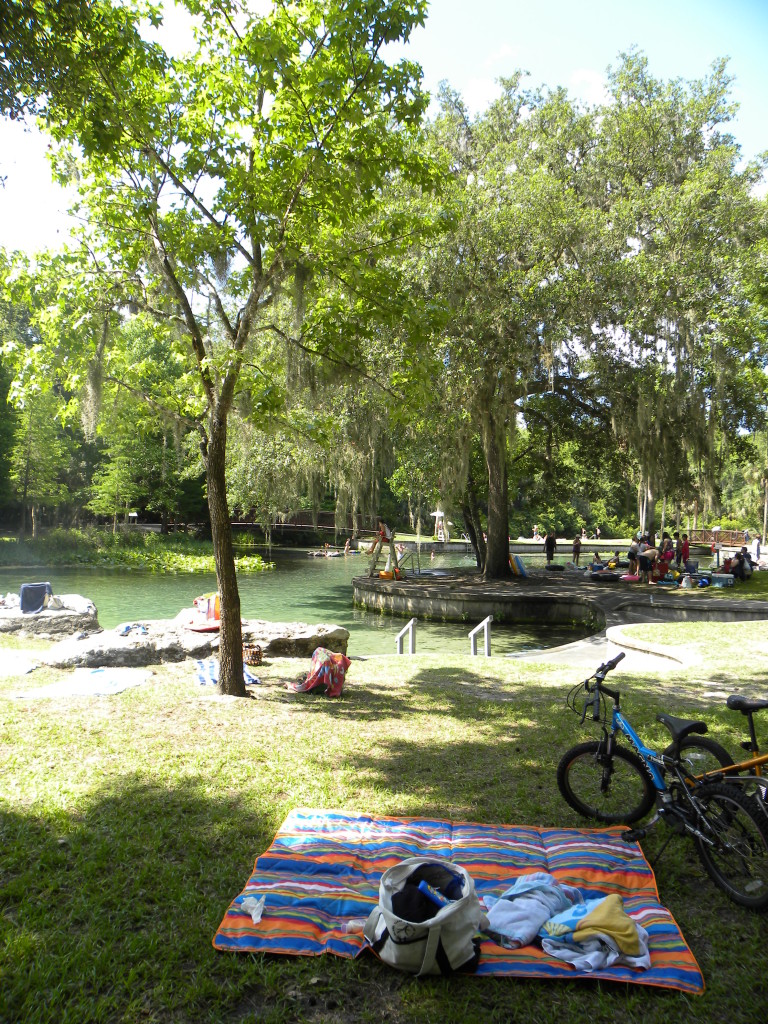 Hours of Operation Summer 8:00 a.m.-8:00 p.m.; Winter 8:00 a.m.-6:00 p.m.
Park Fees
Per vehicle: $3 (1-2 people);
$5 (3-8 people);
Rock Springs Run State Reserve
c/o Wekiwa Springs State Park, 1800 Wekiwa Circle
Apopka, Florida 32712
Phone: (407) 884 2008
Happy Summer, y'all!

   Hooking up with Mama Kat to celebrate the first day of summer 😉