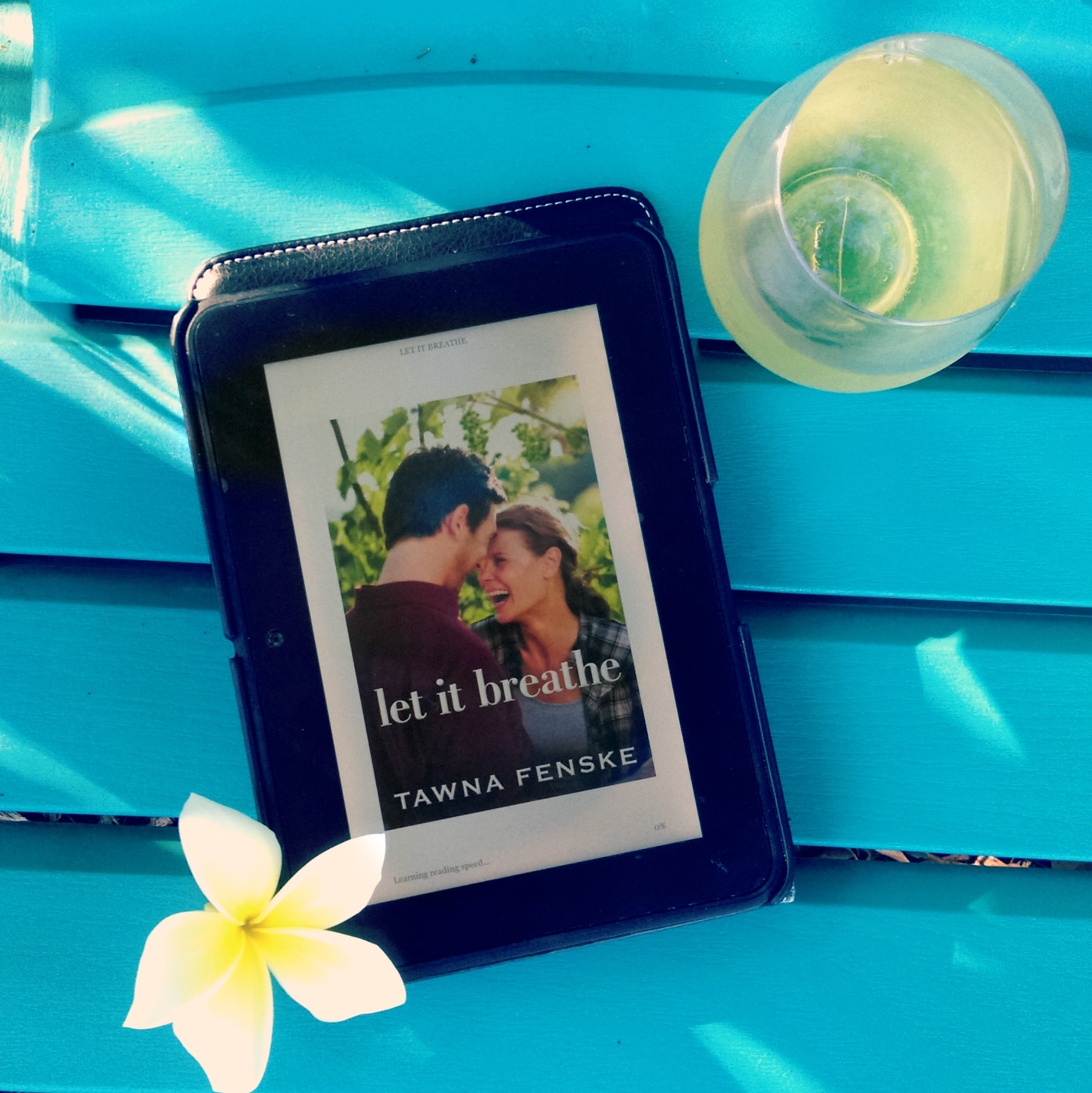 I'll admit, part of me just wanted to salivate over this picture taken on a recent lovely summer afternoon. Hurricane Hermine is currently slinging buckets of sideways rain outside. I'd snapped this pic with solid intentions to share my love of the book. I'm slightly belated.
Let it Breathe by Tawna Fenske is a recommended read–hold onto your funny bone and your heart, because it's a delightfully zany and romantic ride!
The details:
Forbid
den fruit can be downright intoxicating.
Vineyard manager Reese Clark is determined to bring her family's Oregon winery into the big leagues, and she knows building a new tasting room and event pavilion is her ticket there. Having her ex-husband's best friend—and her secret college crush—turn up to head the construction project, however, doesn't pair well with her plans. Between her nauseating lovebird parents; her motorcycle-riding, pot-growing grandfather; and her pet alpaca, fond of head-butting groins, Reese has more than enough chaotic characters in her life.
Back in college, Clay Henderson was more likely to be sprawled over a bar than building one. But even if the new clean-living Clay has matured as deliciously as an oak-aged chardonnay, he's still off-limits. As Reese's well-laid plans for the winery crumble like bad cork, Clay the newly sober gentleman is sweet enough to rescue Reese from a wardrobe malfunction and still spicy enough to play "I Never" with her. Can he overcome his past rep to offer her a love too heady to ignore?
Let it Breathe by Tawna Fenske
Paperback: 304 pages
Publisher: Montlake Romance
Released date: March 22, 2016
**********
I'd heard it was good, but holey sugar nuts, HOW COME NO ONE TOLD ME HOW GOOD?
Yes, I'm late to the party, but what else is new? When I watched the Tony Awards in June, I knew I had to get my hands on the CD. I haven't listened to anything else since my copy arrived.
Few videos of the show exist, at least on the legal internet, (trust me, I've looked) but below is a recording of the Tony performance of Yorktown.

I'm in love with HAMILTON as a writer, as the story flows with wit and clever turns of phrase. It's poetry set to music.
I'm in love with HAMILTON because it vibrantly brings history to life for a new generation (and us old folks).
I'm in love with HAMILTION because it proves that rap can be eloquent and erudite, and through with the nimble tongues of the ridiculously talented Broadway cast, every world can be beautify enunciated and understood.
I'm in love with the catchy melodies that I cannot stop singing. (In my head. You do not want to hear me try to rap with a French accent–I'll leave that to the brilliant Layette.)
I'm in love with HAMILTION because even though the events took place 240-or-so years ago, it feels fresh. Today we're still dealing with dirty politics; immigrant, women's, and  minority rights; and the continuous fight for freedom. Our county is still evolving and trying to figure out who it wants to be.
Lin-Manuel Miranda is a bloody genius.
I NEED TO SEE THIS SHOW.
Alas, I searched for tickets in the oft chance we could take a family vacation to NYC next year. Cheapest seats found: $900 bucks a pop. Maybe not.
Oooh, but there's a touring company! Closest stop: an eight hour drive to Atlanta.
Dear Hamilton Touring Production:

Please, PLEASE bring the show to Florida. We have many bright and shiny new performing arts centers that would love to host your production. We have beaches, theme parks, and outdoor activities galore, and I'm sure your cast and crew would appreciate some down time in the sunshine.

Please, I'm begging you. Give us some culture. We are desperate for entertainment that doesn't involve sports, race cars, or theme park lines. And if you could keep the ticket prices less than that of a decent used car, I'd appreciate it.

Thanks!
Watch the video above. Then buy or borrow the full Broadway Cast Recording. Sit down with a decent pair of earbuds and two hours of quiet time to just listen. Be amaze-balls.
You're welcome.