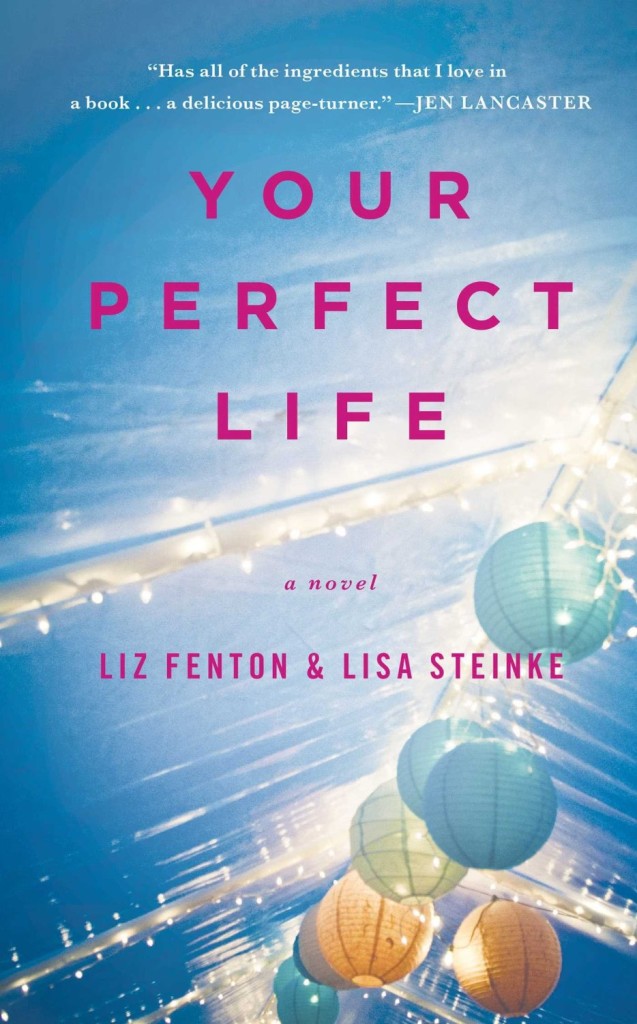 A very happy Pub Day to Liz & Lisa!
The Book:
Best friends since childhood, Casey and Rachel couldn't lead more different lives. While workaholic Casey rubs elbows with celebrities daily as the host of Gossip TV and comes home nightly to an empty apartment, stay-at-home mom Rachel juggles an "oops" baby, two fiery teenagers, and a husband who barely seems the man she fell in love with two decades before. After an argument at their twentieth high school reunion, Casey and Rachel throw back shots to get the night back on track. Instead, they get a life-changing hangover.
Waking up in each other's bodies the next morning, they must figure out how to navigate their altered realities. Rachel is forced to confront the reason she gave up her broadcasting dreams when she got pregnant in college, and Casey finally steps out of the spotlight to face the truth about why she's alone. And they soon discover that they don't know themselves—or their best friend—nearly as well as they thought they did.
Liz Fenton and Lisa Steinke bring humor and heart to every page of this novel that is sure to please fans of In Her Shoes and The Opposite of Me. Your Perfect Life is a story about two very different women, what they didn't know about each other, and how, by switching lives, they each learn to appreciate their own.
The Authors:
If you love ::ehem:: Contemporary Women's Fiction, you're probably familiar with long-time book bloggers Liz Fenton & Liza Steinke's  Chick Lit is NOT Dead. Their fun and fabulous site features book reviews, author interviews, and tons of book giveaways. With the release of YOUR PERFECT LIFE,  Liz  & Lisa have transformed it into their own author site. The duo has been best friends for 25 years and survived high school and college together. Liz lives in San Diego, CA with her husband and two children. Lisa, a former talk show producer, now lives in Chicago, IL with her husband, daughter and two bonus children.
Find Liz & Lisa at:  Their Website  *  Twitter  *  Facebook  * Goodreads
The First Line:
My mouth tastes like ass.
The Good Stuff:
Admit it: you've had that dream where you switch lives—just for a blessed moment—with someone who doesn't appreciate your brand of daily chaos. Maybe it's the friend who doesn't get how you can spend an entire day constructing the perfect paragraph, the Mother-In-Law who thinks you eat bonbons all day while you stay at home with a houseful of kids, or the old college friend who's accomplished her career aspirations and so much more, has a nanny and a wine cellar, a perfect husband, and zero body fat. We always think there's someone out there who has it all together, whose life is so easy compared to our hot mess of domestic and/or professional existence.
Liz and Lisa tapped into our imaginations, constructing the perfect "what if" story. We've all read/watched versions of this story before, but what could have ended up as a hokey cliche becomes fresh and funny in their hands. The characters are extremely likable, slightly sassy, and feel—well, kind of like us. I wanted to invite them over to share a pitcher of sangria by the pool and  dish about our days. (Daiquiris would work, but I couldn't handle the Belvedere and sodas they swig in the book.) Maybe it's because Casey and Rachel are right about my age. Maybe it's because I'm a long-time SAHM who just went back to a "real" job and I relate to both sides of that great debate. Maybe it was just a smart, sweet, and insightful take on how women reflect upon that path not taken—and how with one sharp turn we can find our true direction.
And did I mention it was funny? Just look at that first line. If you're reading this in public, watch out. Snort-worthy.
The Recommendation:
If you enjoy contemporary women's fiction, a good laugh, or need a fun beach read, buy it. Perfect for a flight, long drive, or vacation read. You'll breeze right through it, and wish it didn't end.
The Details:
Your Perfect Life by Liz Fenton & Lisa Steinke

Release date: June 10, 2014
Print Length: 304 pages
Publisher: Washington Square Press

 Thanks to Netgalley for providing me with an advanced review copy. All opinions are my own.