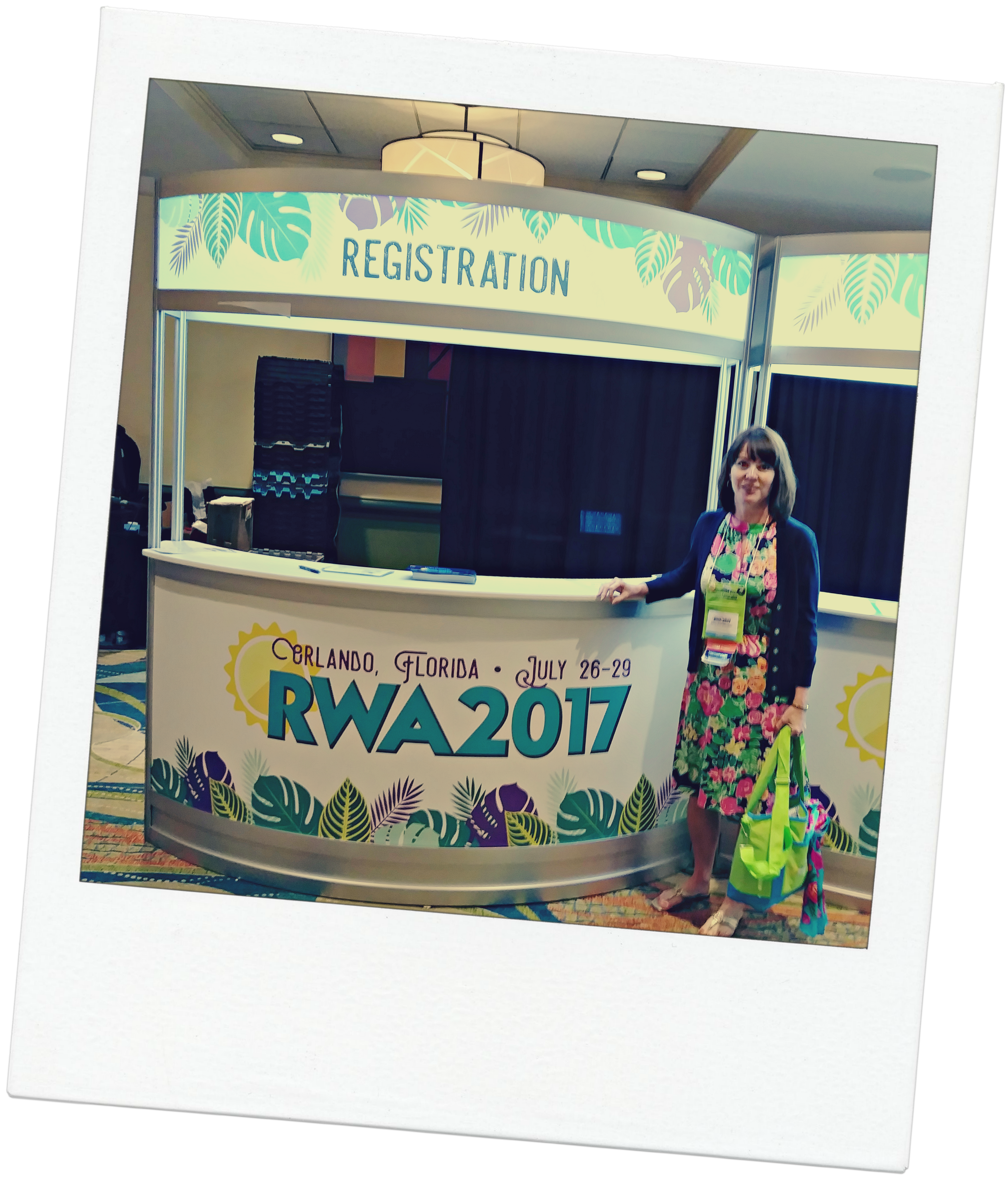 Warning: today's blog post pics are terrible. I attempted to snap discrete pics with a crummy camera phone. You've been warned.
Some writers attend the RWA National Conference for networking, pitching, or parties (which I'll get to in the next post). While that is a huge part of the draw, my main focus was to suck up every scrap of writing advice, tip, and trick I could get near. That meant workshops.
There was a ridiculous number to choose from. Some hours I had to pick between workshops with Sonali Dev, Susan Elizabeth Philips, Jayne Ann Krentz, or Daman Suede, OR social media expert hour, OR book signings with Grand Central, Harlequin, St. Martins's Press, or Random House. All scheduled in the same hour! (Note: these books signings featured dozens of authors including the big names all meeting, greeting and signing FREE books. Ack!) And I didn't even mention the publishing house Spotlight sessions, none of which I attended, but I might buy the audio mp3s.
These workshops were like none I'd attended before. These successful, talented, and hard working authors shared their insights, skills, and stories with honesty and compassion. They wanted us to succeed. They made it clear that means working your ass off.
If you are a member of RWA, you have the opportunity to purchase audio of all the workshops. There's gold in there. I'll be buying the audio of several I missed as soon as the individual recordings are up on the RWA site.
So, without further rambling, a (paraphrased) selection of the good stuff I picked up in my RWA 2017 workshops:
Editors Tell All with Nicole Fisher (Avon), Sheila Hodgson (Harlequin), Katie Seaver (Berkley) and Mary-Theresa Hussey
Don't pay to have your book professionally copyedited before you send it to an editor. A misplaced comma won't make or break your submission.
It's all about the VOICE.
That opening paragraph needs to immediately draw a reader into the protagonist's world. No secondary characters.
First Timers' Orientation with Eliza Knight, Robin Covington, Laura Kaye, Damon Suede, and Dee Davis
Go to the unrecorded sessions (at Nationals). That's where the real dirt is.
Set goals for after the conference. One month, three months, six months, a year. Then MAKE YOUR GOALS.
Ask yourself what do you want out of your career? Now, what are you willing to trade to get that?
Seducing Your Readers in Chapter 1 with Michael Hague
The hero is the heroine's destiny is because he's the only guy to see beneath her identity (the false self one creates to protect one's self from the fear that grew from a long-ago wound) and connect with her at her essence. This is why they belong together. He sees her truth (and vice-versa).
PRO RETREAT Roundtables
Eight PRO RWA members + one rock star author. No holds barred.
When to Move on to the Next Idea with Courtney Milan
Sign up for your own lies. It's branding.
If you are just constantly tweaking your manuscript, STOP IT. Agents/publishers can handle tweaks. Move on.
Revisions with Kristan Higgins
Sometimes it might take 150 pages to get to know your character's story in a first draft. It's okay.
Your inciting incident MUST be big enough to carry through the entire story. And it must grow. (And here's where she mentioned my book!!! SWOON)
Set scenes in emotionally charged places that are hard for the characters.
Set scenes in interesting places (i.e. the pope in the pool).
In scenes with multiple characters, be careful who gets lines and make each line important.
How to Gut Your Readers and Make Them Love It with Kristan Higgins and Sonali Dev
People will forget what you said, but they'll never forget how you made them feel.
The more intense the emotion, the more connection with the reader.
We read romance to be able to experience these intense emotions safely.
Tap into reader's memories–the yearning, the feelings of falling in love again and again.
Readers need to know right away what a character doesn't have and why she needs it desperately.
Treat each character's "wound" as a major trauma no matter how minor it might be.
Building the Perfectly Imperfect Hero with Jill Shalvis and HelenKay Dimon
It takes Jill at least five drafts to nail her characters and story. First is horrible. Each draft gets slowly better and fills in character.
Heroes can get away with so much more than heroines.
Fifty Shades of Funny with Jennifer Probst, Lauren Layne, and Rachel Van Dyken
Don't describe characters as being funny. Show them being funny.
Keep dialog fast-paced. Make them sound better than in real life.
Don't let characters ramble. Shorter dialog reads better.
Write what you think is funny. Don't imitate.
Pull back on humor during dark moments or in sexy scenes. Balance is the key. Don't be afraid to get serious.
Genre Blending: The Sweet Spot between Women's Fiction and Romance with Jamie Beck & Kristan Higgins
Romance is about finding the one; women's fiction is about finding yourself. (attributed to Robyn Carr)
Hitting the Sweet Spot: what do readers want?
Romance with more depth to the story (career, family issues)
More everyday heroes–no alpha-holes, but flawed good guys
Sub-stories/plots can play more of a part
Multi-generational characters
Characters who must overcome their own flaws
Finding the one as a result of finding oneself
Decreased "plotsy" adorableness, increased theme and struggles
Over-the-top humor is played down. If it's too funny, it's missing the emotional depth. (This area is more "sophisticated" than rom com or chick lit.)
The romance could start on page 1 or 200–up to the discretion of the writer.
Game of Desire with Damon Suede
TOO MUCH GOODNESS TO SHARE. If you ever get the opportunity to take one of Damon's workshops, DO IT. Seriously.
A few tidbits:
Don't write ACTIVITIES. Write ACTIONS. (For example, going shopping because you're procrastinating/bored is an activity. Going shopping because you need ingredients for dinner is an action.)
Sex should never be an activity. It is always an action.
It's all about the verbs. Give them power. (adverbs=death)
Killer Clichés: Insider Tips on Escaping the Slush Pile with Mary Altman, Cat Clyne, Courtney Miller-Callihan, and Nicole Resciniti
This was the only workshop I attended that took the wind from my sails. (Yes, that cliché was on purpose.) These well-known agents and editors played a game where they went over all the clichés and tropes that spell "insta-death" for your manuscript. Basically, I learned that they will hate me.
What they do want: fresh stories with strong voices.
NOs:
terrible trifecta: dumped/cheated, loses job, loses house
opening like a bad country song
the heroine is "different" from other girls (aka special snowflakes)
"Girl you need to get laid" best friends
Bambi setups
klutzy cuties
heroes who must overcome disbelief that all women are evil
bitchy other women
mirror, mirror (describing oneself in mirror)
amnesia
rich and bored alpha males
opening a book with the character waking up or hung over
conflicts that could have been resolved if the characters just talked
openings where there's been an accident
electrical currents flowing between lovers
rolling eyes, arching brows, letting out a breath she didn't know she was holding, deep breaths, raking hands through hair, biting lips
So, yeah. If you want to get an agent or publisher, eliminate all of these things.
Power Couples: Making Lovers with Damon Suede
I took NINE pages of notes during this intensive, two-hour workshop. Plus he gave out a six-page handout. Crazy amount of info to digest.
Your brain experiences the same things when you READ as when you DO, whether you're reading about playing tennis for falling in love.
There's only one plot in the world: things are not what they seem.
Don't worry about your character being likable. Make her fascinating.
You can outline an entire story using conflicting verbs.
Cast your characters with conflicting verbs.
Lizzie: Provoke vs. Darcy: Preserve
Katniss: Hunt vs. Peeta: Feed
For more, check out this blog post on Romance University: Add Verbs: Creating Characters that Pop Off the Page by Damon Suede
Want to read more of my RWA 17 adventures? Read And then there was the time Kristan Higgins pulled me aside… a first-timer's RWA Annual Conference adventure (part 1)
Have you attended Nationals or a major writing conference? What workshops did you find invaluable?