The Book: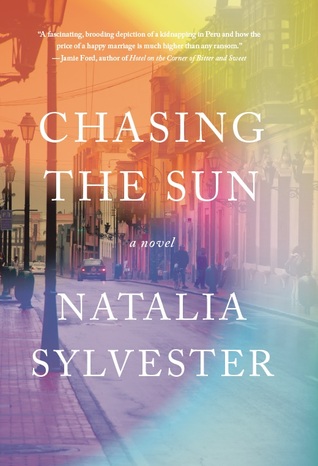 Andres suspects his wife has left him—again. Then he learns that the unthinkable has happened: she's been kidnapped. Too much time and too many secrets have come between Andres and Marabela, but now that she's gone, he'll do anything to get her back. Or will he?
As Marabela slips farther away, Andres must decide whether they still have something worth fighting for, and exactly what he'll give up to bring her home. And unfortunately, the decision isn't entirely up to him, or up to the private mediator who moves into the family home to negotiate with the terrorists holding Marabela. Andres struggles to maintain the illusion of control while simultaneously scrambling to collect his wife's ransom, tending to the needs of his two young children, and reconnecting with an old friend who may hold the key to his past and his wife's future.
Set in Lima, Peru, in a time of civil and political unrest, this evocative page-turner is a perfect marriage of domestic drama and suspense.
The Author:
If you are at all a part of the supportive writer/reader online community, you probably know of debut novelist Natalia Sylvester. Born in Peru, she came to the U.S. at age four and grew up in South Florida where she received a B.A. in Creative Writing from the University of Miami. A former magazine editor, she now works as a freelance writer in Austin. CHASING THE SUN is partially inspired by her own family events. She blogs regularly on her own website and posts each Tuesday on The Debutante Ball.
Find Natalia at:  Her Website  *  Twitter  *  Facebook  * Goodreads
The First Lines:
He is always thinking of the last words he said to her—thank you, see you at dinner, rarely as simple I love you—as if they were status reports to a colleague, a quick memo to see where they stood. Andres always speaks last; Marabela has never cared for last works because her power lies in silences.
The Good Stuff:
CHASING THE SUN is a tense domestic drama that happens to be about a kidnapping. You'd think the plot would hinge on the kidnapping part, but this story is much more about dissecting the crumbling marriage of Andres and Marabela.
Life is tense in Lima, Peru in the early 1990's. Civil unrest fills the streets, kidnapping for ransom is a lucrative business, and the wealthy live in their own walled worlds to stay safe. Through nearly two decades of hard work and dedication, Andres has built a successful printing company. His wife hides in her dark room when not busy with one of her fund-raisers or social obligations, still clinging to bitterness about the photography career that was yanked away from her. Marabela already walked away from the marriage once, and neither seems sure why they remain together.  For their children? Their families?
Those of us in happy marriages can't imagine sacrificing everything—from our money to our very souls—without hesitation to ensure the safe return of a spouse. But once the ransom negotiations begin, Andres struggles with how much more he must surrender to for his wife. The kidnapper's demand is far more than he's worth. If he gives them everything—every penny he's earned, his business, his assets—will it be enough to secure her safety?
Complications arise when Andres learns that his first love, the woman he and his family imagined he'd marry, is at a psychiatric facility recovering from the aftermath of her own kidnapping. Would Marabela also come back broken in spirit and body? Would she come back to him at all? Deep down, does he even want her to?
The Recommendation:
Read it.
I can't express ho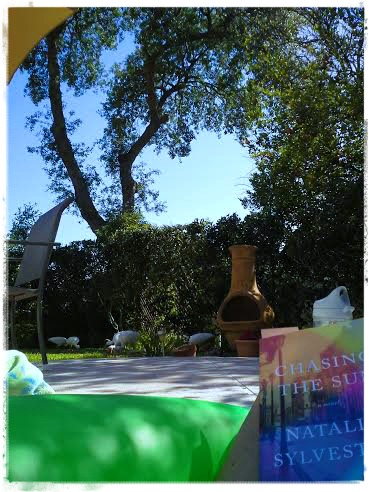 w delighted I was to win a signed copy from Natalia—even though I already had a Netgalley copy downloaded. There's something about reading a print copy (especially one with that extra sprinkle of the author's love) that makes the experience that much more immersive. But even if I had no idea who wrote this, I would have picked up a copy just because of the beautiful cover. That, and the premise for the story is just so unique.
Despite it's eye-catching cover, CHASING THE SUN isn't a light and frothy beach read. I still raced through it in about two days. (Okay, much of it was a "pool read" on a gorgeous Florida day.)
It's challenging to "label" this book, as it could easily be considered literary fiction, Latino fiction or even women's fiction—although the story is told mostly through a male POV. Natalia balances suspense and tight drama, making us weigh how long we must pay for the choices we make and the the half-truths we tell.
The Details:
Chasing the Sun
by Natalia Sylvester
Release date: June 1, 2014  (Kindle), June 3 (hardcover)
Print Length: 306 pages
Page Numbers Source ISBN: 0544262174
Publisher: Lake Union Publishing/New Harvest