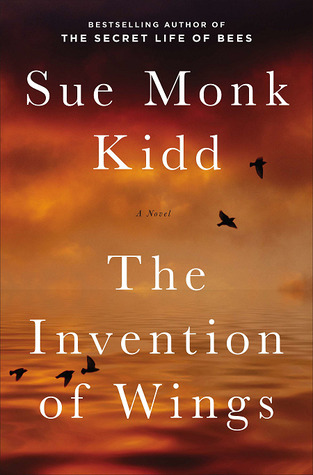 From Goodreads:
From the celebrated author of The Secret Life of Bees, a magnificent novel about two unforgettable American women
Hetty "Handful" Grimke, an urban slave in early nineteenth century Charleston, yearns for life beyond the suffocating walls that enclose her within the wealthy Grimke household. The Grimke's daughter, Sarah, has known from an early age she is meant to do something large in the world, but she is hemmed in by the limits imposed on women.
Kidd's sweeping novel is set in motion on Sarah's eleventh birthday, when she is given ownership of ten year old Handful, who is to be her handmaid. We follow their remarkable journeys over the next thirty five years, as both strive for a life of their own, dramatically shaping each other's destinies and forming a complex relationship marked by guilt, defiance, estrangement and the uneasy ways of love.
******
The Invention of Wings is a tale of two women from vastly different circumstances: a slave and her reluctant owner. Both are bound by their positions, both possess brains ahead of their times. Sue Monk Kidd alternates the narration between Sarah, the daughter of an esteemed Southern judge, and Handful, the handmaid/slave who was bestowed upon her. Even though Sarah lives in a culture where this expected and the norm, she somehow intrinsically knows slavery is wrong, and wants to free Handfull—but it is a power beyond her.
This theme of wanting to free Handful yet being powerless to do so carries on throughout the novel and Sarah's life. She promised Handful's mother, another one of her family's slaves, that she would do so, yet even as an adult, she struggles with her inability to keep her promise. Eventually Sarah escapes North, fleeing her domineering and often cruel mother and her Charleston home—leaving poor Handful behind. Though she strives to rise into the ranks of the abolitionists and Quakers (and is eventually joined by her younger sister) she still can't change the lives of the slaves in her family.  I must admit, this frustrated me throughout the story.
At times I wondered how these characters learned to think this way, rebelling against everything they had been taught and the confines of their times. This isn't a novel romanticizing the South, brimming with gallant plantation owners and giddy Southern belles. It's more gritty Charleston town life, with slaves in the yard enduring punishments for doing such "horrid" things as learning to read. It's not Gone With the Wind, but it's not Roots either.
Having recently read Elizabeth Gilbert's The Signature of All Things, I was caught by the parallels in the stories. Both featured strong female protagonists whose lives did not revolve around marriage and family, something rare in literature and in life. Both characters broke societal molds and strived to make significant impacts on the world beyond running a household and raising children. If you enjoyed Gilbert's work, you should certainly read Kidd's.
This work of historical fiction was inspired by the real Sarah Grimke and her sister Angelina, two of the early suffragists and female abolitionists. The Invention of Wings is the story of two radically different women searching for freedom. You'll have to read it to discover if they ever spread their wings and soar.
The Invention of Wings
by Sue Monk Kidd
Hardcover, 384 pages
January 7th 2014, Viking Adult
This book was provided to me by Netgalley for review. All opinions are my own. Link above is a part of the Amazon affiliates program.