"Of course it hurts, darling. Use it! It's what artists do. Life has a wisdom of its own. It dumps shit on you and stirs you up until your soil is fertile. Accept the challenge and plant some seeds. This is how artists grow."  ~from The Art of Falling
One wrong ste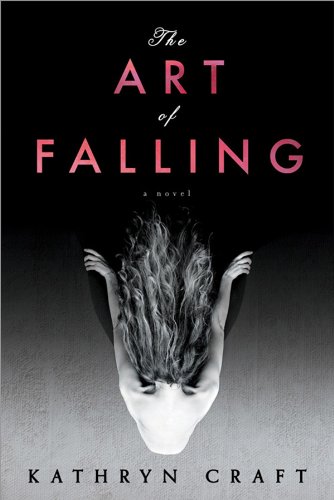 p could send her over the edge.
All Penny has ever wanted to do is dance—and when that chance is taken from her, it pushes her to the brink of despair, from which she might never return. When she wakes up after a traumatic fall, bruised and battered but miraculously alive, Penny must confront the memories that have haunted her for years, using her love of movement to pick up the pieces of her shattered life.
Kathryn Craft's lyrical debut novel is a masterful portrayal of a young woman trying to come to terms with her body and the artistic world that has repeatedly rejected her. The Art of Falling expresses the beauty of movement, the stasis of despair, and the unlimited possibilities that come with a new beginning.
***********
Dreams. Aspirations. We all have them. Some of us dedicate our lives to the fierce pursuit of them. Some of us dabble. Some of us push our bodies and our minds to the breaking point. Some of us just let our dream silently slip like sand through our fingers.
Some of us jump—or fall—like a wounded songbird unable to cling to its lofty perch. Like Penelope "Penny" Sparrow.
When I
was a child, I had a book called A Very Young Dancer
. Through its story and photos I felt the excitement, apprehension, and passion that courses through a dancer's blood. After briefly trying dance lessons, I knew it wasn't in me. I had the grace of a buffalo and the dedication of a hamster. My body and my heart didn't feel that passion—unlike like Kathryn Craft, who spent years as a dance teacher, choreographer, and critic. Unlike her protagonist, Penny, whose lifelong dedication to the often brutal world of dance leaves her broken—both physically and emotionally.
The Art of Falling leaps into some tough subjects: toxic relationships, eating disorders, devastating diseases, suicide, and the never ending quest for self-acceptance. Craft deftly handles each with transparency and grace, following Penny as she comes to terms with her damaged relationships with her dance-mom mother, backstabbing lover/boss, and herself.
Penny Sparrow would never have learned to fly again without guidance from two unlikely new friends. Marty the baker, whose car broke her fall, shows her how food can feed the soul instead of just being a mere source of bare-bones nutrients, something to savor instead of vilify. And new roommate Angela is trapped in a body stricken by Cystic Fibrosis—though she can't control her body's betrayal, she shines with optimism.
The Art of Falling exemplifies Craft's talent as a choreographer of not only dance, but words.  Her background as an editor is apparent as well, her prose tight yet seemingly effortlessly balanced, a feat unusual for the work of a debut novelist.
This novel would be an excellent addition to any book club list.
Connect with Kathryn Craft:
The Art of Falling

by Kathryn Craft
Paperback, 368 pages
January 28th 2014, Sourcebooks Landmark
I received this book free from Netgalley. I was not required to write a positive review. The opinions I have expressed are my own. Links above may be "affiliate links." This means if you click on the link and purchase the item, I will receive an affiliate commission. Regardless, I only recommend products or services I use personally and believe will add value to my readers.I am disclosing this in accordance with the Federal Trade Commission's 16 CFR, Part 255: "Guides Concerning the Use of Endorsements and Testimonials in Advertising."