I often dream of stuffing a couple of suitcases with sundresses and books and escaping to an old farmhouse somewhere in the hills of Provence. I imagine lingering around a vintage table with a glass of local wine, my belly full of some fresh and exotic meal. Later I'd wander along a dirt road to some quaint village, passing fields of lavender and sunflowers.  Every day a postcard: vivid blue skies juxtaposed against green vineyards, basking by the backyard pool after a morning of writing and gardening, a trip to town to procure vegetables still warm from the earth to create dinner…la belle vie.
It's no surprise I fell in love with Peter Mayle's books from the first sentence.
"The year began with lunch."
Provence must be a gastronomic paradise.
If you haven't read Mayle's warm and witty chronicles of his "foray into Provençal domesticity" you should. The charming blend of memoir, travelog, and home improvement manual will make you fall in love with the region—despite the wicked winds of the Mistral, plagues of summer tourists, and the local's proclivity for frog legs and offal. You'll want to buy the 200-year-old farmhouse next door, with Englishman-turned-Francophile Mayle for a neighbor, of course.  His Provence novels are delightful, light reads as well—perfect for a spring day with a glass of  Pastis by the pool.
Zut alors! I just discovered he released a new book in April. Off to buy—Amazon gets all of my money.
Provence in Ten Easy Lessons: From Provence A-Z: A Francophile's Essential Handbook (Vintage Departures)
Mais oui, here in the Sunshine State, spring means a yard overflowing with blooms, beach time, and lazy days off by the pool. It also means the thermometer will start racing towards triple digits, so my oven will be retired until late fall, and some days it's just no fun to hang over a hot stove for long.
It's time for lighter fare—perhaps with a Provençal flair…
We spend every free moment in the backyard or by the water, knowing that the bugs and the heat will trap us inside within a few weeks. Since I'm working outside the home for the first time in years, my meal prep needs to be simple, efficient, and easy.
Time to share one of my favorite meals that fits all those categories: Provençal Beans and Orzo.
It's pretty dang delicious, too.
Made from mostly panty and freezer staples, this is a meal I can whip up on short notice that always has my family saying, "Ooh la la!"  The prosciutto/speck/ham adds plenty of salty goodness, so you probably won't need to add much salt. Serve with some warm and crusty French bread and some wine and you're ready for company.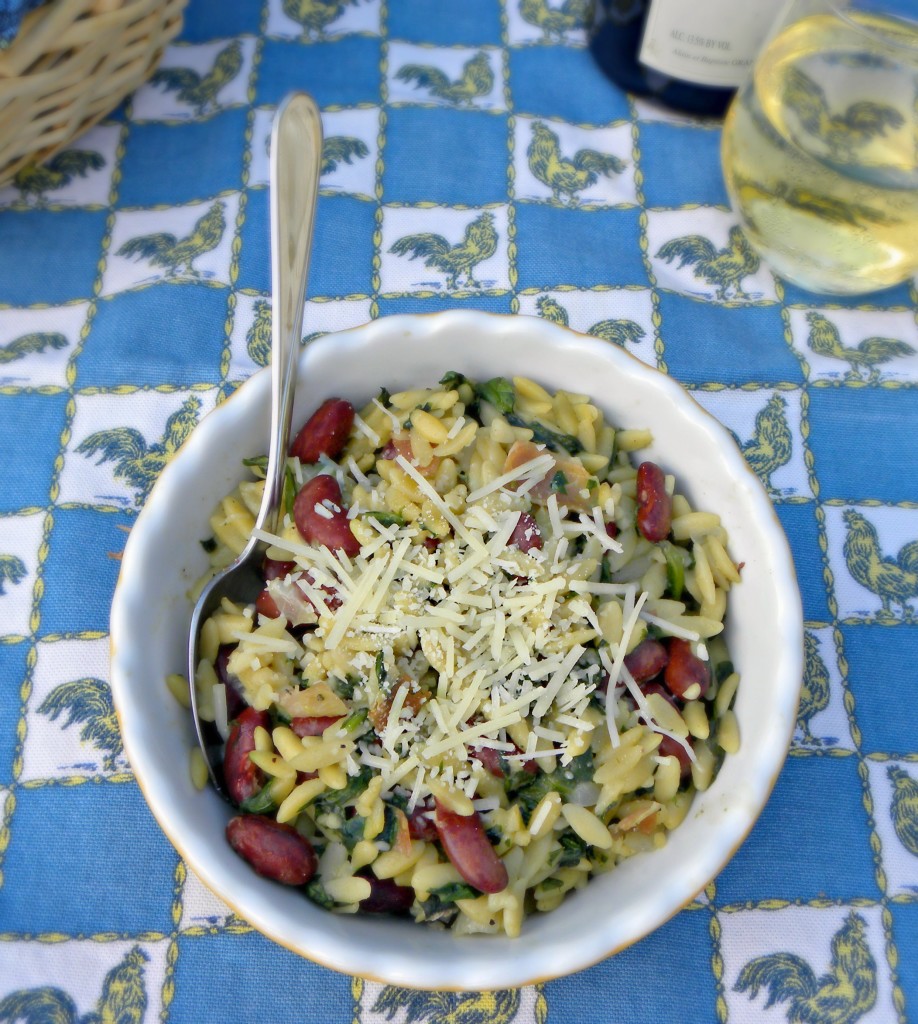 Provençal Beans and Orzo
30 min (including prep) | Serves 4
Ingredients:
1 3/4 cups orzo
3 cups chicken broth (or 1 14 oz can + 3/4 cup water)
1 small onion chopped (about 12 – 3/4 cup)
1 15-oz can kidney beans
1/2 cup (about 2-oz) prosciutto, speck, or high-quality ham, chopped
1 bag fresh baby spinach, chopped (or 1/2 box frozen, thawed and drained)
1 teaspoon herbs de Provence
1/2 cup Parmesan cheese*
splash of olive oil
Directions:
In a large pot, saute onion until slightly translucent, about five minutes. Add chicken broth and bring to a boil. Sir in orzo and herbs de Provence.
Boil gently, covered, for 10 minutes. Stir regularly. (If mixture looks too dry at any point, just add water gradually.)
Toss spinach on top. Cook an additional 2 to 5 minutes or until orzo is tender and most of liquid is absorbed.
Add beans and prosciutto (or ham). Stir until heated through. Season with salt and pepper to taste.
Dish into bowls and top with cheese.*
I've used Asiago cheese instead of Parmesan—délicieux!
Bon Appetite, mon amies!!
For more inspiration, check out some of my favorite Peter Mayle books:
Weekend Cooking At www.bethfishreads.com is open to anyone who has any kind of food-related post to share: Book (novel, nonfiction) reviews, cookbook reviews, movie reviews, recipes, random thoughts, gadgets, quotations, photographs. If your post is even vaguely foodie, feel free to grab the button and link up anytime over the weekend.