The Summer Fun meme from Things I Can't Say just seemed like too much fun to pass up.  Except, well, this summer hasn't been much fun.  We enjoyed a few day trips to the beach but Kiddo spent the long, hot days at camp.  No vacations.  We spent far too much time in the ER or at the dentist, Orthodontist, Dermatologist, and Oral Surgen's offices.  It was too damn hot and buggy to even play in the pool.
So instead of dwelling on this summer's washout I decided to think back to our rocking summer not long ago. It was the summer we decided (or technically fate made the call) we would remain a family of three.  It was our first real family vacation. We decided to go big or go home. We traveled to Costa Rica.
For ten days we traversed the rugged countryside and treacherous roads. We climbed erupting volcanoes, hiked down to breathtaking waterfalls, and surfed on black-sand beaches.
Kiddo proved that 5-year-olds are fearless adventurers.  He zip-lined through a primeval rainforest without an ounce of fear.  He chased and hand fed wild monkeys as he laughed with delight.  He left worrying about the danger up to me.


It was the summer that will linger in our memories like a morpho butterfly carried along the moist and salty breeze.  It will be forever beautiful, wild, and dreamlike…
I only took about 3000 pictures. Below are just a few favorites summer memories.
All photos here are copyright and property of Vinobaby's Voice.  Do not copy without permission (or I'll track you down and stick a rabid monkey on your a$$).
Look!  It's erupting!  @ 5 a.m.
La Fortuna Waterfall
View from our hotel breakfast table
Arenal lava
Sunset Manual Antonio
Wild Red Squirrel Monkeys inside our B&B
All I can think of is the movie Outbreak…"Here Betsy…"
100 ft up in the canopy and no fear
Paradise
To read more about our escapades in Costa Rica: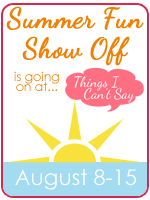 "Link up your Summer Fun for a chance to win prizes from Ubisoft."
Tweet