"I think we all have that sweet spot—the place where the life we want to live and our ability intersect. For some, the trick is finding it.
For others, like me, deep down inside you already know what you want, so it's about finding the courage to dig up that dream and dust it off. It's not too late. Dreams don't have an expiration date. Not even a best by date. If it's still your dream, it's still your dream."                                                        ~Claire Cook

The Book
So many of us are there—hanging in limbo somewhere between the life we fell into and those dreams we've clung to or rediscovered. Maybe you've just figured out what you really want to be when you grow up, even though you're very grown up—30s, 40s, 50s, or more. Perhaps your aspirations were derailed by real life: marriage led to a big mortgage, kids led to spending your time taxiing from school to soccer meets. Your career went on hold, or in a direction that was convenient and manageable.
But it's not what you'd dreamed of once upon a time.
You have an itch—that niggling feeling of what you really want to be doing with your life. You want to write a book, make jewelry, open your own business—some creative outlet that might not work financially (yet) but would fulfill that need within. Your dream. Your passion.
But how do you turn yourself around and chase after that dream? How do your reinvent your life?
You open Never Too Late: Your Roadmap to Reinvention (without getting lost along the way)
and let USA Today bestselling author Claire Cook share her experiences and inspiration.
The Author:

Claire Cook has been called the "Queen of Reinvention." She wrote her first novel in a minivan at age 45 while her kids were at swim practice. Five years later, she strolled down the red carpet at the premier of the movie adaptation of the second novel MUST LOVE DOGS. (Yes, the cute romcom starring John Cusak and Diane Lane.) Now she's the beloved author of eleven charming contemporary women's fiction books—and one inspiring non-fiction debut you'll adore.
Find Claire at: Her Website * Twitter * Facebook * Pinterest
The Good Stuff:
This book is entertaining, enlightening, and downright helpful if you need to jump-start your motivation. Told with honesty and Claire's trademark easygoing wit, NEVER TOO LATE is part memoir, part self-help guide, and a whole lot of fun.
Much of the book bounces around her experiences as a speaker at We Move Forward, a women's conference set on the gorgeous Isla Mujeres, Mexico. The three-day retreat seems to be a deluxe combination of inspirational talks, spiritual soothing, and flat out fun for women from across the globe. Claire shares what she learned from these diverse women, each who found happiness and empowerment in her own unique way.
But before you think this is just another  "You Can Do It Sam"  book or hippy-dippy spiritual guide, let me set you straight. It's not. It's spunky and optimistic, but Claire transparently shares the ways she messed up on her journey and the many challenges she still faces. Her section detailing the disintegration of the good ole publishing machine was an eye-opener, and she candidly writes about why she left her big New York agent and publishers after over a decade of being "the hardest working author in the universe." (You can read an excerpt here on Jane Friedman's blog.)
Claire also spells out practical how-to steps. She details how keeping a notebook handy for all of your reinvention ideas can be just the thing when you hit a speed bump. (I have about 10 spirals scattered around the house and car. Too many?) And she also explains how slow and steady goals can make the journey to success much more achievable. (Read an excerpt here on WriterUnboxed.com.) After finishing the book, I set my goal and took on her two-pages a day come hell-or-high water challenge. Okay, my version is slightly modified to include work schedules and a ten-year-old, but it's working. That blinking cursor doesn't seem so terrifying. It's only two pages. Even if each word is like tweezing errant eyebrow hairs, I can do that, right? Right.
If it sounds like this book would be most helpful for aspiring authors—you're correct—partially. Honestly, Claire's wit and wisdom can be a spark for anyone who needs a charge, whether you dream of opening a dog walking business or climbing K2.
My copy accompanied me on vacation. I kind of felt as if Claire was lounging on a beach chair beside me, sipping on a frozen umbrella drink, and chatting about her experiences. I came back home inspired and ready to get shit done.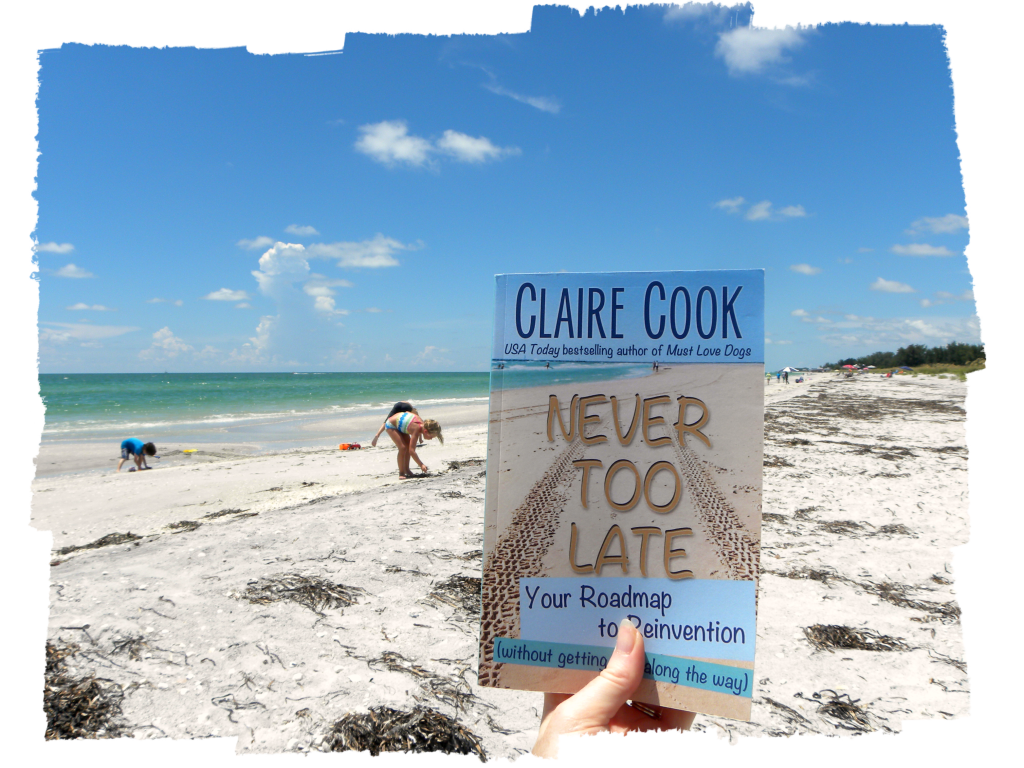 The Recommendation:
If you've conquered your dreams, made billions of bucks, or have shelves full of Oscars/RITAS/Nobel Prizes collecting dust—maybe you don't need this book.  It's for the rest of us.
Read it, recommend it to friends, and discuss it with your coffee klatch or book club.
But if you're one of my friends, you're going to have to buy your own copy. My personalized paperback isn't going anywhere.  I'd like to think that the "Congrats on your win" handwritten inside refers to celebrating getting my ass back in that writer's chair, even if it only is two pages a day. Thanks, Claire.
*Oh, and readers can download a free workbook to help get them on track. Fun. Practical. Fabulous.
The Details:
Never Too Late: Your Roadmap to Reinvention (without getting lost along the way)

by Claire Cook
291 pages
Marshbury Beach Books (July 15, 2014)