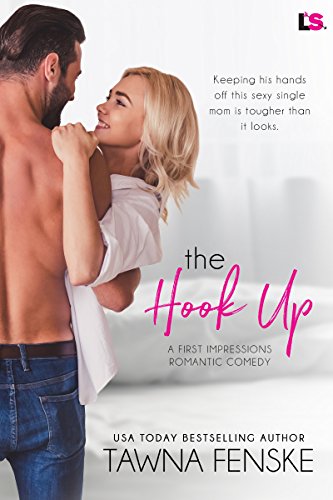 Ellie Sanders is over the fairytale, thank you very much. Content with her booming career as a purveyor of Madame Butterfly pleasure aids, she doesn't need a man for anything—except maybe marketing tips. And, okay, a few fun nights with something that doesn't require batteries.

Love, marriage, and family aren't in the cards for Tyler Hendrix. Period. The Navy helped Ty put his tumultuous childhood behind him, but when a sexy single mom walks through the First Impressions door looking to take her business to the next level, he feels his carefully constructed "never-get-attached" walls crack.

As Ty and Ellie maneuver through a minefield of wardrobe malfunctions, plumbing mishaps, and the world's most awkward accidental dirty talk, discovering they have more in common than scorching sexual attraction threatens to crumble Ty's walls for good…

Each book in the First Impressions series is a standalone story that can be enjoyed out of order.
Series Order:
Book #1 The Fix Up
Book #2 The Hang Up
Book #3 The Hook Up
I had to laugh once I started reading THE HOOK UP. Not only because it was funny. Holey-double-entendre Batman, it was funny. But because I felt as if I knew our plucky heroine, Ellie the sex-toy selling single mom. Really. Many, many moons ago, one of my employees was a young, blonde single mom with an adorable little boy. She too had a crummy marriage and an ex who didn't participate in said kiddo's life.
And she too hosted ladies pleasure aid parties.
Her soiree was the first of the kind I'd been too. Since I was her boss at her regular job, it was a smidge bit awkward. Okay, it was MASSIVELY AWKWARD–I sat next to her MOTHER. But informative. And fun. And this real-life person did indeed have a hook up, but I enjoyed Tawna's story and hero far more than the real-life version.
So back to that. Ty is a videographer with commitment issues. One thing I like about him (and many of Tawna's heroes) is that he's not the typical alpha male. No obnoxious, overbearing testosterone-infused pushiness. Oh, trust me, he's got testosterone flowing, but it's pulsing inside a sizzling hot teddy bear. He makes you laugh. And did I mention he falls for the kid, too? Cuteness. Overload.
Ellie is independent, focused on building her business and raising her son and basically has her shiz together. (It's refreshing to read a romance where neither character is in "need" of the other.) The only thing Ellie and Ty "need" is a hook up. Neither wants commitment, just a few itches scratched.
Of course, it doesn't work out that way. The chemistry between these two is obvious to us the moment they have their first confusingly hysterical conversation. We know they're going to work out, even if takes them a little longer.
I've read that some romance readers don't go for the "single mom" storyline, as it's not a part of their fantasy. (Romances are essentially women's fantasies.) But I do. I'm a mom. Most of my friends are moms. Some are single again. They've been forced back into that complicated dating word and wonder if they will ever find love again. I want to see how these stories can play out. I want to see these women have their Happily Ever Afters.
At 226 pages, THE HOOK UP is just that: a sweet yet sexy and fully entertaining romp. But just like with Ellie and Ty, what starts as a short, no commitment fling will likely lead to something more, and you'll fall for Tawna's books, too.
Publication Date: July 3, 2017