bal·ance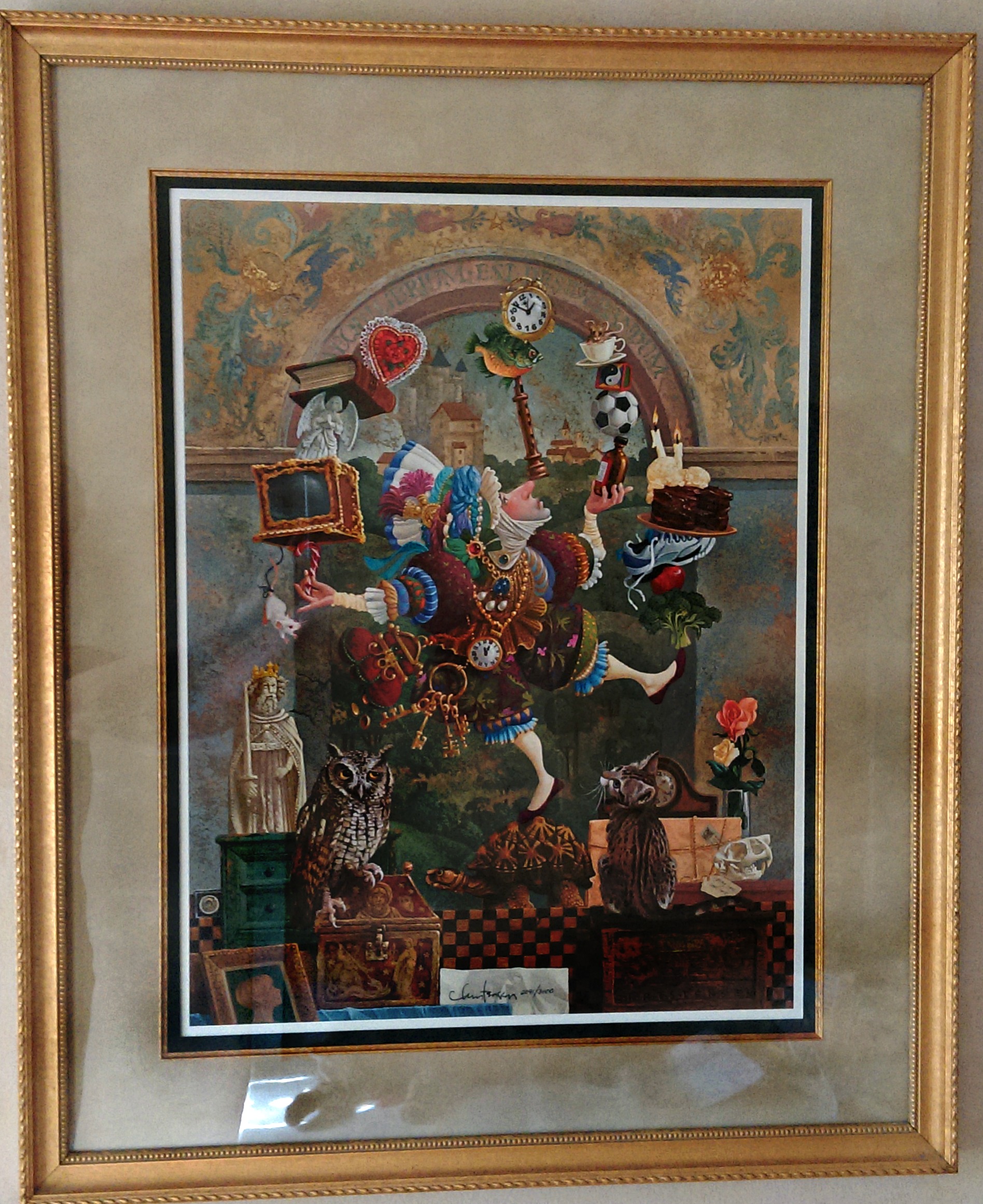 /ˈbaləns/
noun – a condition in which different elements are equal or in the correct proportions.
As I struggled to describe how challenging it can be to find balance in life between work, family, passions, and sanity, my gaze fell on this lithograph by James Christensen hanging in my front hall. It sums the conundrum up perfectly. (Even the cat is a doppelganger of my own big tomcat reflected in the glare at the bottom of the photo. Wait, no, the beautifully rendered feline would have to be allergic to people and trying to lick himself into becoming a hairless Sphynx. See, messy life.)
To find balance in my life, I chose to drop the ball on blogging.
I must allow myself reading time to maintain my sanity. I have stacks of books I want to recommend, to shout their praises from the virtual rooftops so readers everywhere can enjoy them as much as I have. Though I no longer do formal reviews, I still need to share the love, not only to my patrons at the library, but with my friends out there in Internet Land.
This month I've met my writing word count goals (holler!) AND my workout goals, so it's time to step it up with shaing-the-love goals. Expect to see something bookish, be it here on the blog, or on Facebook or Instagram each Friday.
Because you never know where you'll discover your next favorite book or author.
Results May Vary by Bethany Chase

From Bethany Chase—whom bestselling author Emily Giffin calls "a great new voice in fiction"—comes a wise and delightfully relatable novel about a woman's journey to rebuild her life, and her heart, after a stunning betrayal.
Can you ever really know the person you love?

She never saw it coming. Without even a shiver of suspicion to warn her, art curator Caroline Hammond discovers that her husband is having an affair with a man—a revelation that forces her to question their entire history together, from their early days as high school sweethearts through their ten years as a happily married couple. In her now upside-down world, Caroline begins envisioning her life without the relationship that has defined it: the loneliness of being an "I" instead of a "we"; the rekindled yet tenuous closeness with her younger sister; and the unexpected—and potentially disastrous—attraction she can't get off her mind. Caroline always thought she knew her own love story, but as her husband's other secrets emerge, she must decide whether that story's ending will mean forgiving the man she's loved for half her life, or facing her future without him.

Compassionate and uplifting, Results May Vary is a bittersweet celebration of the heart's ability to turn unexpected troubles into extraordinary strength.
I devoured this book in two nights. One might imagine a novel about a woman's betrayal would be a drag, but not in Bethany Chase's deft hands. The well-crafted story is both charming and sweet. I couldn't help but root for the multi-faceted characters on their journeys to not just grow up, but grow into themselves. Beautifully written.
Print Length: 352 pages
Publisher: Ballantine Books
Publication Date: August 9, 2016

The View from the Cheap Seats by Neil Gaiman
An enthralling collection of nonfiction essays on a myriad of topics—from art and artists to dreams, myths, and memories—observed in #1 New York Times bestselling author Neil Gaiman's probing, amusing, and distinctive style.
An inquisitive observer, thoughtful commentator, and assiduous craftsman, Neil Gaiman has long been celebrated for the sharp intellect and startling imagination that informs his bestselling fiction. Now, The View from the Cheap Seats brings together for the first time ever more than sixty pieces of his outstanding nonfiction. Analytical yet playful, erudite yet accessible, this cornucopia explores a broad range of interests and topics, including (but not limited to): authors past and present; music; storytelling; comics; bookshops; travel; fairy tales; America; inspiration; libraries; ghosts; and the title piece, at turns touching and self-deprecating, which recounts the author's experiences at the 2010 Academy Awards in Hollywood.
Insightful, incisive, witty, and wise, The View from the Cheap Seats explores the issues and subjects that matter most to Neil Gaiman—offering a glimpse into the head and heart of one of the most acclaimed, beloved, and influential artists of our time.
My husband first introduced me to Neil Gaiman and his Sandman comics not long after we met. (It's entirely possible he may have every graphic novel, comic, and work of fiction Gaiman's every produced squirreled away in his library/office. He still reverently hand washes his faded and well-loved Sandman coffee mug several times a week.) While I have read and enjoyed several of Gaiman's works, I'm generally not a fantasy or graphic novel novel aficionado. There are always exceptions. Neil is shining one.
View from the Cheap Seats is magic, especially if you listen to the audio book narrated by Neil himself, of course. It's a love letter to the the craft of writing, to artists and creators in a multitude of mediums, and to the pure joy of reading.
Hardcover: 544 pages
Publisher: William Morrow
1st edition (May 31, 2016)
Save
Save
Save