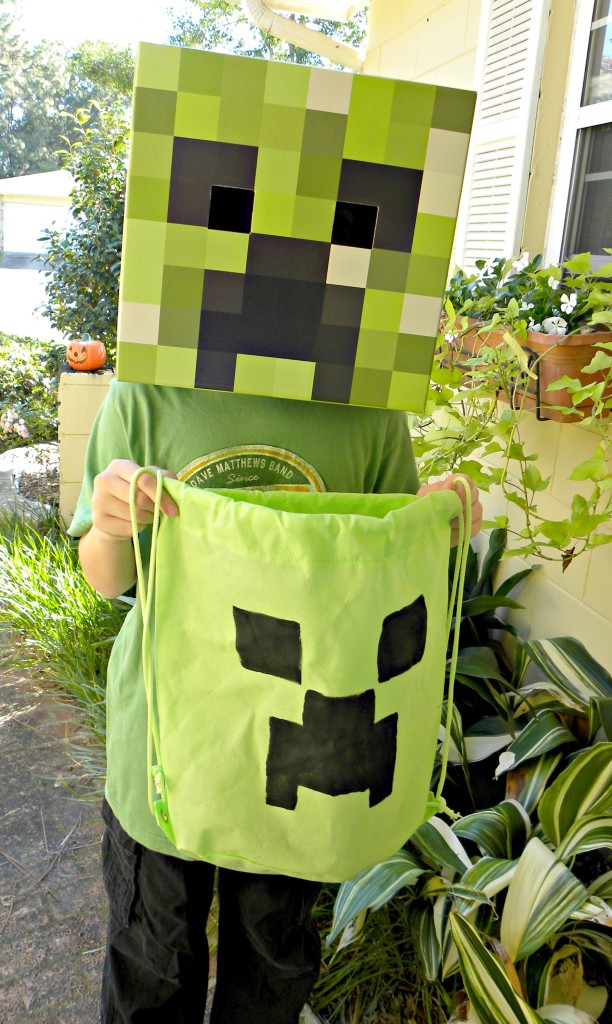 Kids love MINECRAFT. Be it for Halloween or birthday parties, MINECRAFT is the hottest thing going now.
My son wanted a MINECRAFT themed slumber party to celebrate his 11th birthday this year. Since I refuse to do the traditional goodie bags full of junk, I had to come up with something fun, something useful, and something cheap.
Since the party was in October, how about a Creeper Bag? It could be used for everyday activities and as a Halloween trick-or-treat bag. And the kids would think it was pretty cool.
Using a Creeper face template and supplies from my local craft store, I had the materials to make FIVE of these Creeper backpacks for less than $7.50—that's about $1.50 each! Whoo-hoo!
The kids LOVED them.
Price breakdown: 
—Bags: I found "Non-woven Sports Bags" a.k.a. drawstring backpacks at Michael's for $2 each. After a 40% off coupon, they were only $1.20 each. (find similar on Amazon here
and here
)
—Paint: $1 at Michael's, on sale for $0.50 (like this paint on Amazon)
—Brushes: multi-pack at the Dollar Tree for $1
—Cardboard: free from my recycling bin
Now it just so happened that my son received a Minecraft Creeper Box Head
as a birthday gift. All I had to do was find a green shirt. (The one in the photos was only temporary. I don't think Creepers wear Dave Matthews Band concert T's.) Add in the Creeper bag, and his costume is DONE!
I like using a backpack as a trick-or-treat bag because kids can sling it over their shoulder or wear on their backs. All that candy can weight them down by the end of the night!
He'd gone as MINECRAFT Steve years before with a totally homemade costume (See How-to posts for Steve Head here and MINECRAFT diamond sword and pickax here.)  I have to admit —this year's Creeper costume was so much easier.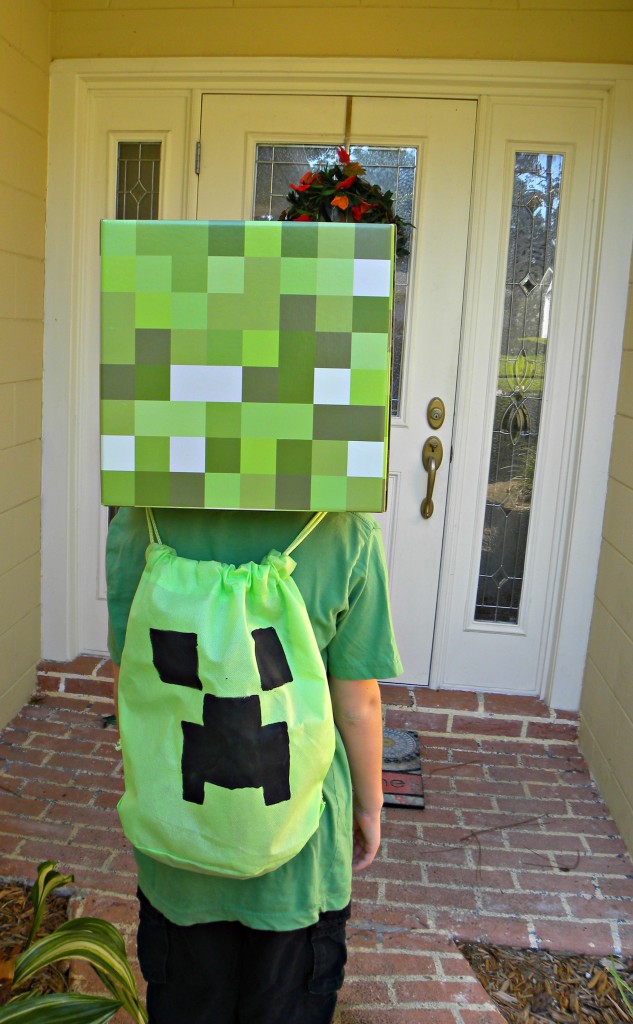 MINECRAFT CREEPER Party or Trick-or-Treat Bags/Backpacks
Materials needed:
green drawstring backpacks(s)
creeper face template (see below)
black craft paint
cardboard (2 12 x 14-ish pieces per bag)
razor
ruler (optional)
foam brushes
For the adults:
Right click on the template photo on the right and save. Print out as an 8 x 10 (don't worry, it doesn't need to be high resolution). Using the template and a pencil, trace the creeper face on one piece of cardboard per bag. With ruler or straight edge, go over the trace marks with a marker or pencil.
Now it's time to cut. Once again, use the ruler or straight edge as a guide to cut the face out of the cardboard. A razor works best—that way you get clean edges.
Make one cardboard template for each bag. (If you reuse them, paint can smear.)
For the kids:
Okay, the hard part is done. Slide one blank sheet of cardboard inside each backpack to prevent the paint from bleeding through. Lay each bag on a flat surface. Place the cardboard template on each bag (you can tape the cardboard to the bag with masking tape if you wish).
Squeeze some black craft paint onto paper plates or disposable bowls. Have the kids dab paint on their foam brushes and paint inside the creeper faces.
When faces are all filled in, remove template cardboard. Let the bags dry completely before moving or removing inside cardboard. (Our paint dried in about a half hour.)
That's it!
Happy Birthday, Happy Halloween, enjoy your special day!