Maybe you kid has his/her heart set on being a Minecraft character for Halloween. Or perhaps you're planning a Minecraft-themed party or just want some props for your kids to play with. It seems like all elementary-aged kids are totally obsessed with Minecraft now, and the cost of the goods proves just how popular the game is now.
My kiddo decided he wanted to be Steve for Halloween. The  Minecraft: Steve Cardboard Head
(just a cardboard box printed with squares) sells for upwards of $25. I figured out how to make my own (see super-easy step-by-step instructions here).
But what about the sword and pickaxe?
My kiddo wanted not just any sword and pickaxe, but the diamond versions. (Something about invincibility? I can't keep up with  all the Mineraft lore.)
They sell on Amazon for around $40 – $50. EACH. Not happening. *Edited 10/14—they used to sell for 40-50 bucks. They're now down to about $20.* (Seriously—I do not lie: Minecraft Blue Diamond Sword
, Minecraft Blue Diamond Pickaxe
)
Time to get creative and make my own.
FPXFGames provides printouts you can download to make 3D folded paper swords and pickaxes. My kid would destroy a paper version in minutes. I created images to print and glue to foam core instead.
How to Make Minecraft Diamond Sword and Pickaxe
You'll need:
Printed images
utility knife/razor
1 20 x 28″ piece foam core board (paper coated, not craft foam)
spray adhesive or glue stick
straight edge (metal ruler or L-square)
Download these images. The sword comes on two pages here and here, the pickaxe one here.
Minecraft-pickaxe-template pdf
diamond sword template 1 pdf
minecraft diamond sword 2 pdf
Print. They should print on 11″ x 17″ paper. For best results (or unless you have an amazing printer) I'd recommend printing at a copy shop. (The shiny paper and high-quality ink looks much better!)
Cut out around (roughly, you don't need to be precise now) one copy of each so they will fit onto the foam board. Lay out the three  pieces of the sword together. Spray each piece of paper with spray adhesive or smear with glue stick (making sure you glue well around all edges. Rearrange onto board, smooth, and press to ensure a good bond.
Now it's time to cut it out. Again, I roughly cut out each item so it was easier to work with. Using a utility knife or razor and a straight edge, cut out each piece. The knife must go cleanly through the foam, so don't do it on top of your dining room table–garage floors work great. Make sure you press firmly so the foam cuts evenly.
Once the pickaxe and/or sword are cut out, you need to cut out the other paper copy. (I had my son practice his scissor work while I worked on the previous parts). Spray with adhesive/smear with glue and align on blank side of each piece. Smooth to remove any wrinkles.
That's it. You're done!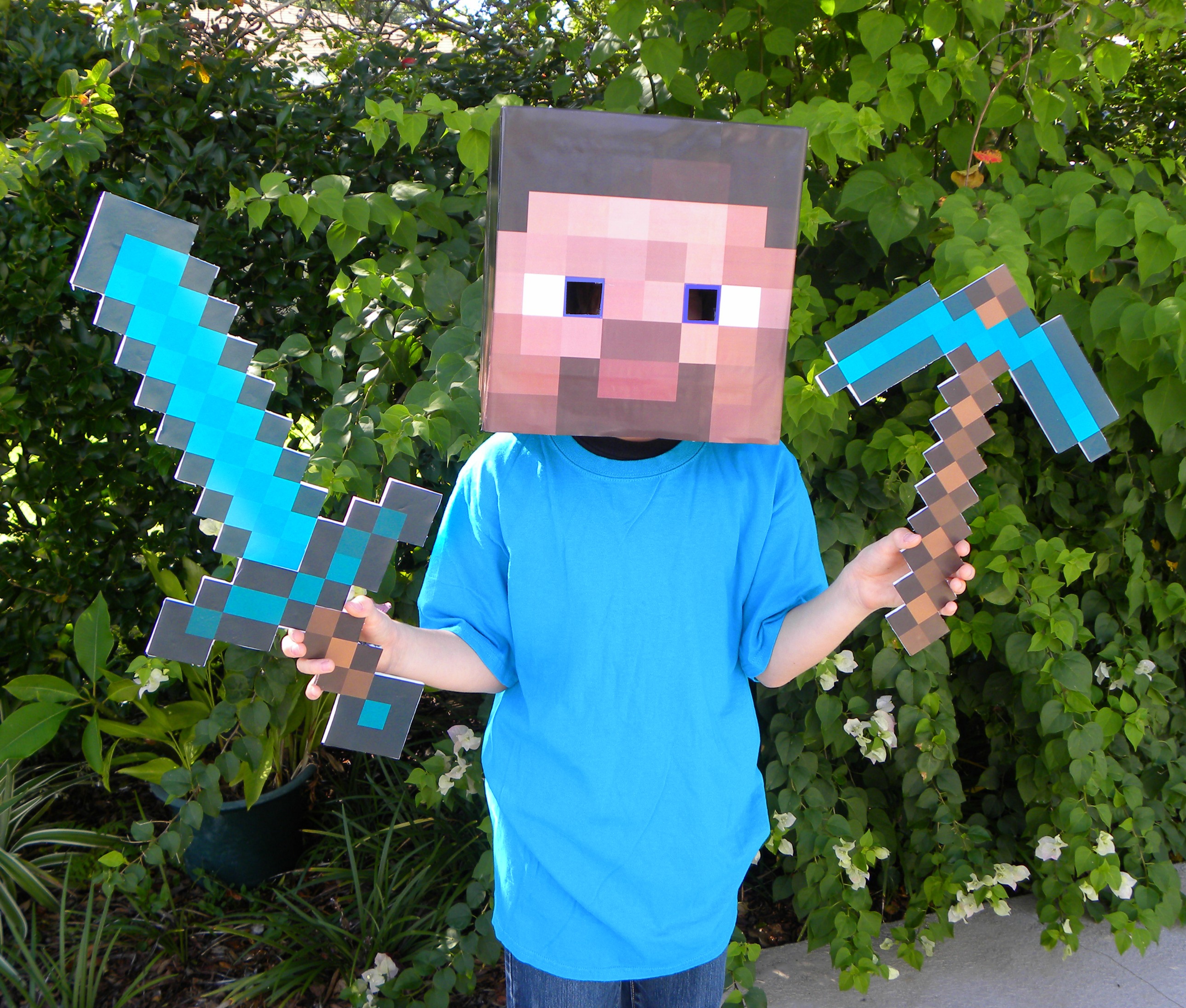 For directions to make the MINECRAFT STEVE HEAD CLICK HERE.
Note: the prices of the Minecraft go up and down. If you don't make your own, I hope you find a great deal!
If still want to check the "officially licensed"  products, here are some more links to Amazon: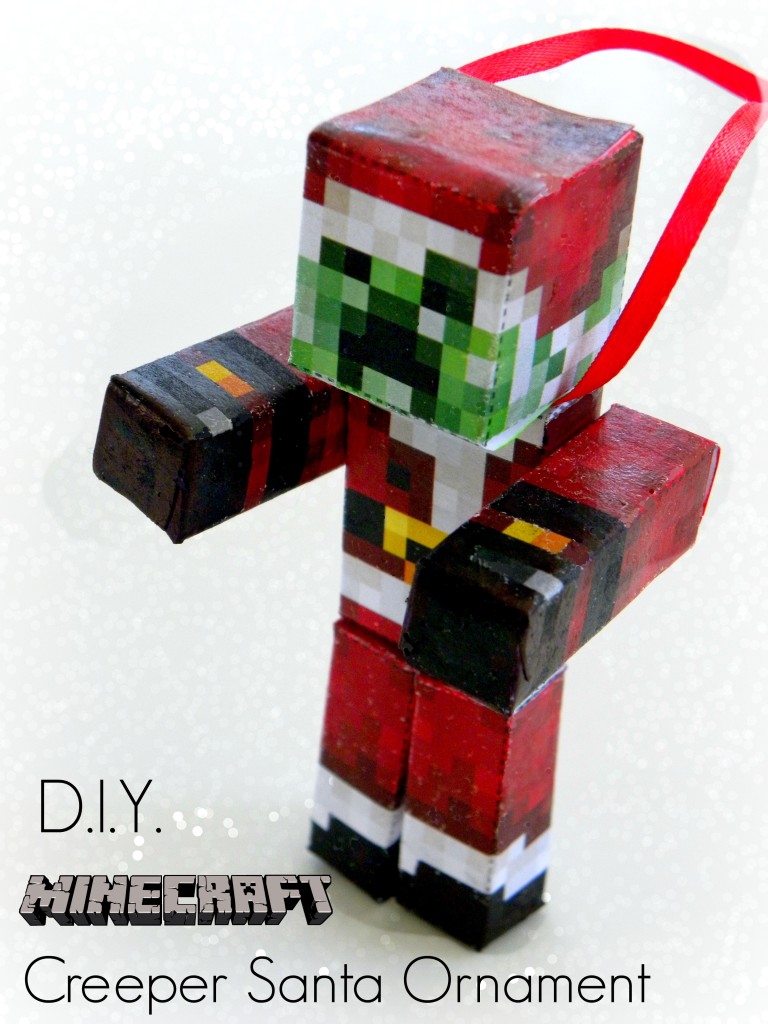 Looking for some gifts for one of the little Minecrafter in your life?
Check out this list of awesome Minecraft books—all librarian, parent, and kid approved!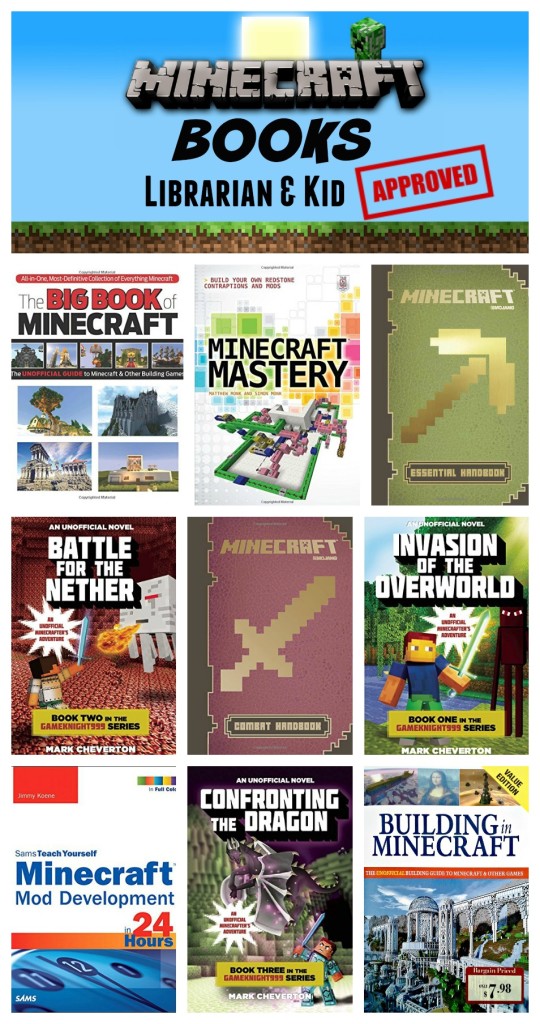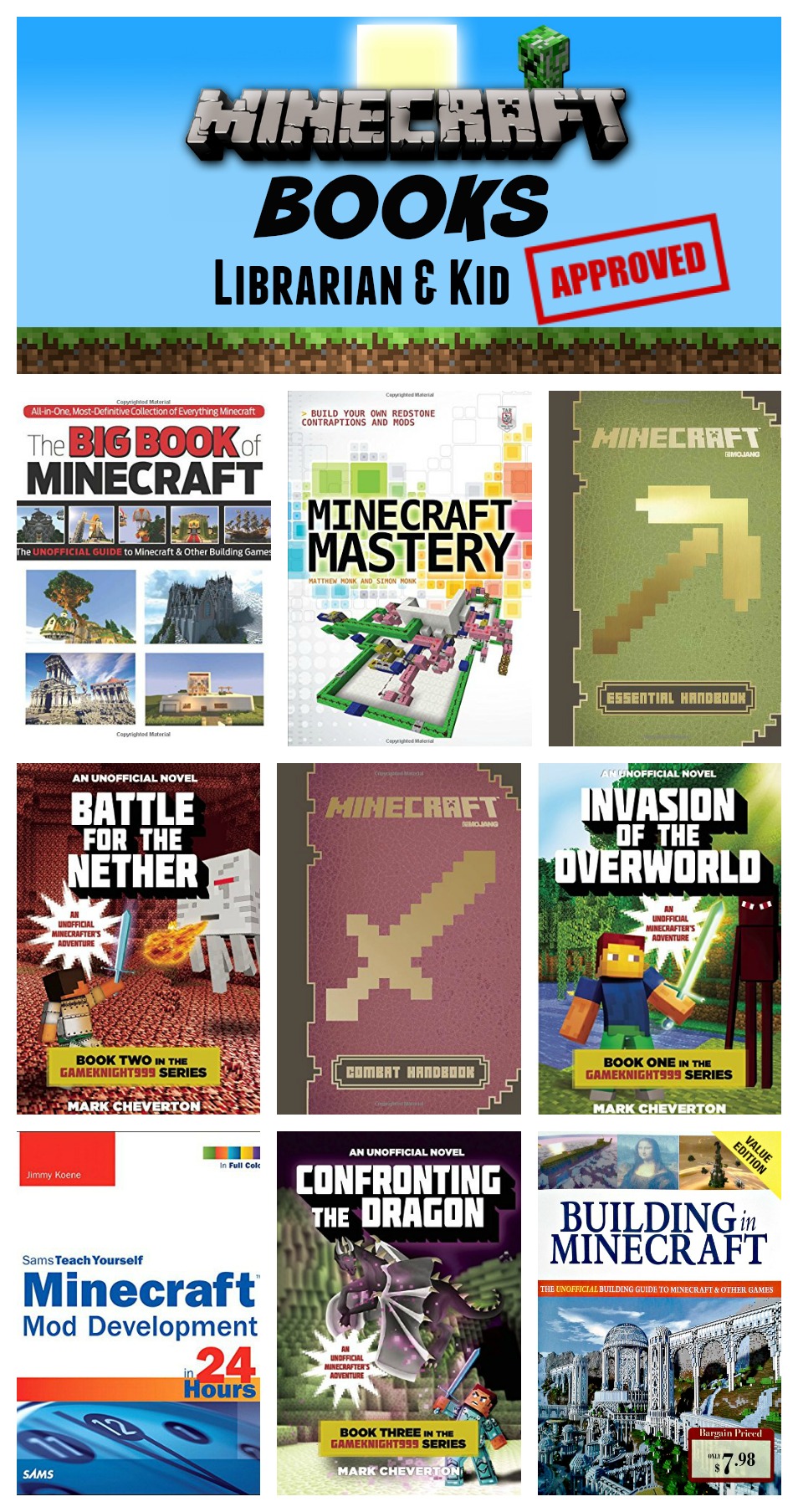 How about a Minecraft party or trick-or-treat bag?
Check out this super easy (and cheap!) DIY Creeper bag:
Disclosure of Material Connection: Some of the links in the post above are "affiliate links." This means if you click on the link and purchase the item, I will receive an affiliate commission. Regardless, I only recommend products or services I use personally and believe will add value to my readers. I am disclosing this in accordance with the Federal Trade Commission's 16 CFR, Part 255: "Guides Concerning the Use of Endorsements and Testimonials in Advertising."