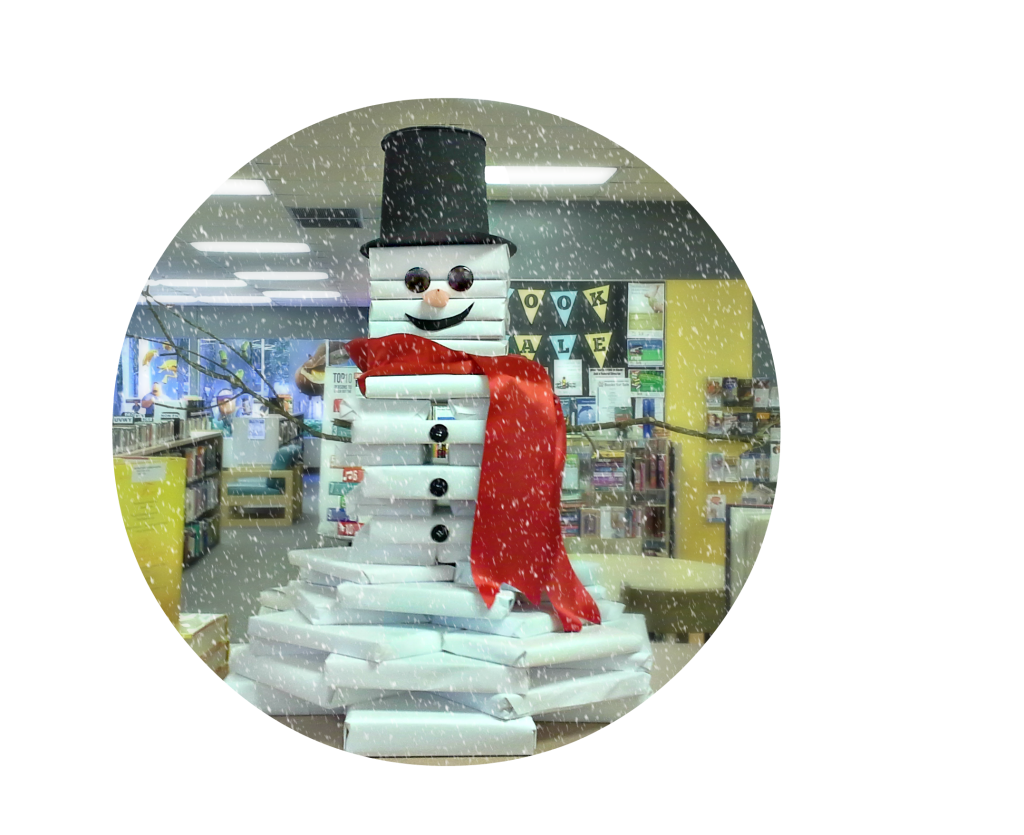 'Tis the season when the door count dwindles and I have a few spare minutes to play on the job. Everyone seems to be hitting the stores, so libraries aren't very busy come December. Time to spruce the branch up for the holidays!  Well, minus the spruce…
This being my first official holiday season in our library system, I had to figure out what decorations were permissible. My first idea to make a book tree was nixed due to its religious affiliation, but I discovered that snowmen are totally allowed.  And since it's Florida, a library full of snowmen might make the 80 degrees outside feel a bit more seasonal…
After perusing Pinterest, I came up with a basic idea how to construct my snowy  bookish guy. Some coworkers doubted Frosty would look like anything but a pyramid of recycled-paper-covered books. I think he looks smashing.
How I made him:
Body: The base uses trade paperbacks while the middle and the head uses regular paperbacks and romance novels. We wrapped the books in recycled flyers and scrap copy paper—I think it would look cool to make white book jackets as well.
Accessories: I found the mother-load of spare snowman parts in the craft closet. Frosty has three buttons on his chest, two buttons for eyes, and a "carrot" nose made from rolled orange construction paper. His hat is made from three small pieces of black craft foam sheets, and I cut his smile from a scrap. Luckily, I dug out a nice wide ribbon to make his scarf, and a coworker grabbed two sticks from outside to make his arms.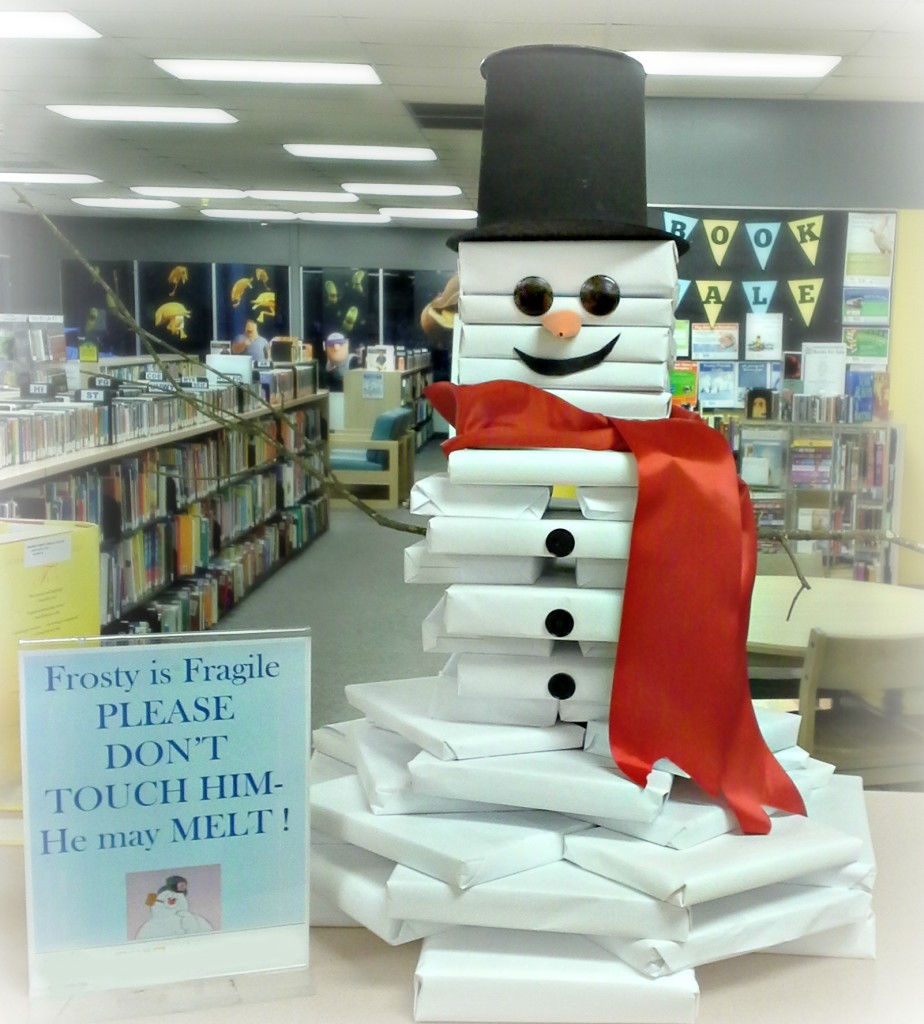 Easy-peasy, uses all recycled/reclaimed materials, and free!
Here's a back view so you can see the way the books are stacked better: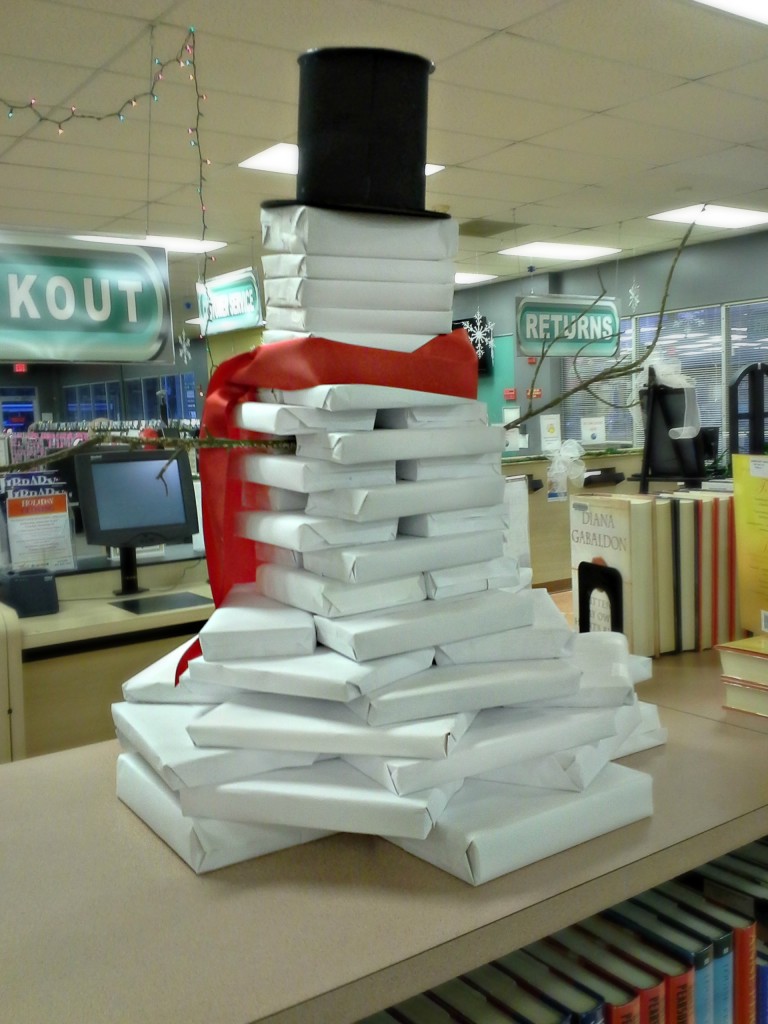 My inspiration: Copy Ream Snowman and Book snowman From the Friends of the New York Mills Public Library in New York Mills, Minnesota.
I just barely had time to create up the children's area display board. I went with an ELF (the movie) theme: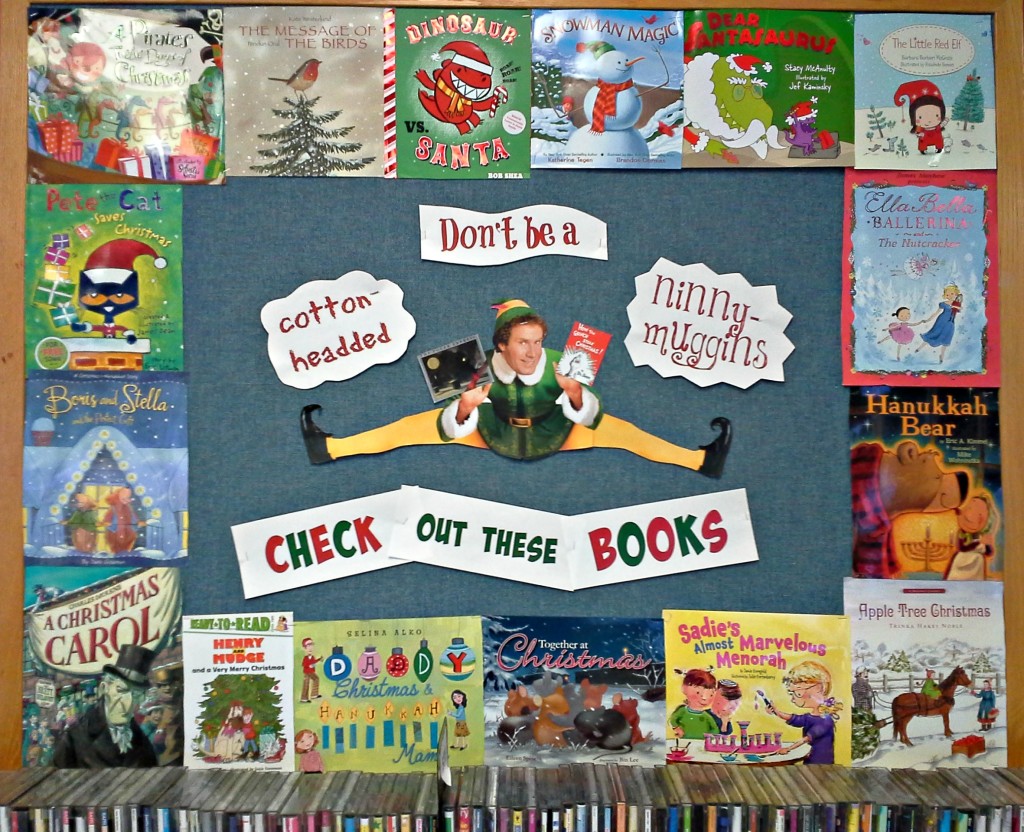 Inspiration: FromtheShortStacks.blogspot.com
It makes me giggle and crave candy each time I walk by.