First, a bit of braggy news: my women's fiction (with elements of romance) manuscript, THE LAST RESORT, is a finalist in the Wisconsin Romance Writers of America's FAB FIVE contest! The Silver Quill Award winner will be announced in June.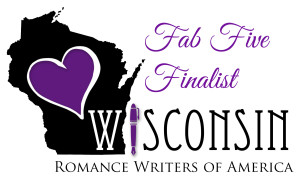 ::fingers crossed::
Speaking of romance, have you heard about LOVE BETWEEN THE COVERS? This feature-length indie documentary film explores the little-known, surprisingly powerful world of women who write and read romance. The film covers the story of five very different authors (whose day jobs include surgeon and Shakespeare professor) as they invite us inside the vast romance community that runs a powerhouse industry on the cusp of an irreversible power shift.
During the three years the filmmakers shot the documentary, they witnessed the largest power shift in the publishing industry in the last 200 years. And it's the romance authors who are on the front lines, pioneering new ways to survive and thrive in the rapidly shifting environment.
I don't know about you, but I need to figure out how to see this film.



I'm also going to check out PopularRomanceProject.org. The site showcases romance novels in a broad context across time and place—with a huge archive of Love Between the Covers interview excerpts, teaching resources, and blogs by romance authors, scholars and industry insiders.
And for those of you who still live under the delusion that romances are just trashy, cheap paperbacks written for those who "can't read a real book", a few stats:
Total Romance Novel Sales in 2013: $1.1 billion
That's roughly one-fifth of all adult-fiction sales.

Voracious Readers
46% of romance consumers read at least one book per week.
In comparison, the typical American reads five books a year.
Romance Readers At A Glance
Age: 30-54
Education: College-educated
Average Income: $55K
Relationship Status: 59% are coupled, 84% are women, 16% are men
*Romance readers are more likely than the general population to be currently married or living with a partner

Top 10 Fiction Genres
1. $1.09 billion, Thrillers
3. $811 million, General
4.$548 million, Literary
5.$442 million, Mystery & Detective
6.$377 million, Fantasy
7.$185 million, Comics & Graphic Novels
8.$156 million, Historical
9.$143 million, Contemporary Women
10.$113 million,Action & Adventure

Reading Behavior
29% of romance readers usually carry a romance novel with them.
Romance readers typically begin and finish a romance novel within 7 days.
On average romance readers read more than one book:
A Week—25.5%
Every Week—20.9%
Every 2-3 Weeks—17.8%
A Month—16.1%
Sources: Love Between the Sheets Publicity, Nielsen, Bookstats, PEW Research Center, RWA,Entertainment Weekly, Author Earnings' July 2014 Author Earnings Report, Harlequin