Audiobooks are my new guilty pleasure. Since you can load them onto your phone, you can have them with you everywhere. They make traffic, housecleaning, and long lines at the grocery store a million times more bearable. And if you discover the right ones, you can challenge your beliefs, eavesdrop on secrets, slip inside another person's life, and laugh so hard the guy in the car next to you will think you're having a seizure.
I have little patience for bad narrators, one of the reasons I'm late to the audiobooks game. Seriously, I've given up on dozens of novels in less then a minute when the narrators sucked. (Over-enunciation does not make up for a complete lack of inflection.) The best way to avoid this: listen to books narrated by the author!
Total. Game-changer.
And when those authors happen to be brilliant comediennes, writers, and performers, the books will leave you circling your block because you don't want to get out of the car before the chapter ends.
Here are five of my recent favorites:
Life isn't exactly a stroll down the catwalk for modern women. They are beset by uncertainties and questions: Why are they supposed to get Brazilians? Why do bras hurt? Why the incessant talk about babies? And do men secretly hate them? With rapier wit, Moran slices right to the truth— whether it's about the workplace, strip clubs, love, fat, abortion, popular entertainment, or parenthood (she has two daughters of her own)—to jump-start a new conversation about feminism.
"Do you have a vagina? And do you want to be in charge of it? If you said 'yes' to both, then congratulations! You're a feminist."

"When a woman says, 'I have nothing to wear!', what she really means is, 'There's nothing here for who I'm supposed to be today."
Caitlin's crude, crass, and almost ridiculously astute. She'll have you saying, 'Yes, oh my God, that's it, that's totally it!' and 'Holy $#@%, I cannot believe she just said that!' between snorts of laughter. Her dirt poor hippie upbringing inspired her British TV show Raised by Wolves and although she had a bare minimum formal education, she landed a magazine job at 16 and launched her television career before hitting 18. She's crawled through the underground music and pub scene, partied with Lady Gaga, and been named one of Brittan's Most Influential Women by the BBC Women's Power Hour. Eclectic, no?
With humor, insight, and verve, How To Be a Woman lays bare the reasons why female rights and empowerment are essential issues not only for women today but also for society itself.
(Note: if you shy away from swearing and blunt conversations about your lady bits, this one's not for you.)
Though familiar with Amy Poehler from Saturday Night Live and her hosting events with her BFF Tina Fey, I'm rather embarrassed to admit I've never watched Parks and Recreation. After listening to Yes Please, I must watch Parks and Recreation. And I need Amy Poehler to be my new best friend. (The sweet, funny one.)
The audiobook sounds like a dinner party. The guest list is star-studded with vocal appearances from Carol Burnett, Seth Meyers, Michael Schur, Patrick Stewart, Kathleen Turner, and even Amy's parents—Yes Please is the ultimate audiobook extravaganza.
Also included? A one night only live performance at Poehler's Upright Citizens Brigade Theater. Hear Amy read a chapter live in front of a young and attractive Los Angeles audience.
While listening to Yes Please, you'll laugh, you'll cry, and you'll become convinced that your phone is trying to kill you. Don't miss this collection of stories, thoughts, ideas, lists, and haikus from the mind of one of our most beloved entertainers. Offering Amy's thoughts on everything from her "too safe" childhood outside of Boston to her early days in New York City, her ideas about Hollywood and "the biz," the demon that looks back at all of us in the mirror, and her joy at being told she has a "face for wigs"—Yes Please is chock-full of words, and wisdom, to live by.
I've never watched The Office either. I've heard it's great. I've heard everyone loves Mindy Kaling, and wants her wardrobe. The title grabbed me, as I've often pondered this question as I sat at home living my oh-so-fabulously social life of reading books and watching HGTV. This audiobook was cute, and I'd like Mindy to be my little sister—as long as I could keep my own family (though hers does seem quite lovely).
Mindy Kaling has lived many lives: the obedient child of immigrant professionals, a timid chubster afraid of her own bike, a Ben Affleck–impersonating Off-Broadway performer and playwright, and, finally, a comedy writer and actress prone to starting fights with her friends and coworkers with the sentence "Can I just say one last thing about this, and then I swear I'll shut up about it?"
In Is Everyone Hanging Out Without Me?, Mindy invites readers on a tour of her life and her unscientific observations on romance, friendship, and Hollywood, with several conveniently placed stopping points for you to run errands and make phone calls. Mindy Kaling really is just a Girl Next Door—not so much literally anywhere in the continental United States, but definitely if you live in India or Sri Lanka.
Once again, I've never watched the controversial and acclaimed HBO show Girls (are you seeing a pattern here yet?). I think I'm too old to slip into the world of single twentysomethings navigating young adulthood in NYC. But I'm not too ancient to appreciate this hilarious, poignant, and extremely frank collection of personal essays by Lena Dunham – one of the bravest writers, producers, and actresses of her generation.
"If I can take what I've learned in this life and make one treacherous relationship or degrading job easier for you, perhaps even prevent you from becoming temporarily vegan, then every misstep of mine will have been worthwhile. This book contains stories about wonderful nights with terrible boys and terrible days with wonderful friends, about ambition and the two existential crises I had before the age of twenty. About fashion and its many discontents. About publicly sharing your body, having to prove yourself in a meeting full of fifty-year-old men, and the health fears (tinnitus, lamp dust, infertility) that keep me up at night. I'm already predicting my future shame at thinking I had anything to offer you with this book, but also my future glory in having stopped you from trying an expensive juice cleanse or having the kind of sexual encounter where you keep your sneakers on. No, I am not a sexpert, a psychologist, or a registered dietician. I am not a married mother of three or the owner of a successful hosiery franchise. But I am a girl with a keen interest in self-actualization, sending hopeful dispatches from the front lines of that struggle."
Before Liz Lemon, before "Weekend Update," before "Sarah Palin," Tina Fey was just a young girl with a dream: a recurring stress dream that she was being chased through a local airport by her middle-school gym teacher. She also had a dream that one day she would be a comedian on TV.
She has seen both these dreams come true.
At last, Tina Fey's story can be told. From her youthful days as a vicious nerd to her tour of duty on Saturday Night Live; from her passionately halfhearted pursuit of physical beauty to her life as a mother eating things off the floor; from her one-sided college romance to her nearly fatal honeymoon — from the beginning of this paragraph to this final sentence.
Tina Fey reveals all, and proves what we've all suspected: you're no one until someone calls you bossy.
Have any other audiobooks to suggest? I need recommendations, please!!!!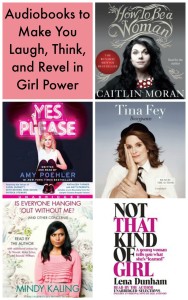 (Sections of these descriptions via back covers or Amazon)