I'm sorry, I'm late, for a very important book date!  ::drum roll please::  I'd like to introduce you to Patti Callahan Henry's latest release THE IDEA OF LOVE.
"As we like to say in the south, 'Don't let the truth get in the way of a good story.'"
Blake is a Nicholas Sparks-esque screenwriter lacking inspiration in the wake of his divorce. He's desperately in search of a love story beautiful enough to translate into big screen success. Disguising himself as a travel writer, he treks down the east coast to sleepy southern Watersend in search of a love story he can borrow.  When he speaks with the young and beautiful Ella Flynn, he's convinced he has his screenplay: Ella's beloved husband died in a tragic sailing accident while trying save her life. It's the perfect love story for his audiences…and it's also a lie.
Reeling from the shock of her very much alive husband's affair, Ella is lost. When she speaks to Blake and dismisses him as a stranger she'll never see again, she creates the life she wants and paints herself as a successful wedding dress designer recovering from her saintly husband's sacrificial death.
In Ella, Blake finds the perfect love story, full of longing and sacrifice. It's the stuff of epic films. In Blake, Ella finds possibility. It's an opportunity to live out a fantasy – the life she wishes she had because hers is too painful. And more real. Besides, what's a little white lie between strangers? But one lie leads to another, and soon Blake and Ella find themselves caught in a web of deceit. As they try to untangle their lies and reclaim their own lives, they feel something stronger is keeping them together. And so they wonder: can two people come together for all the wrong reasons and still make it right?
Read an excerpt of  here.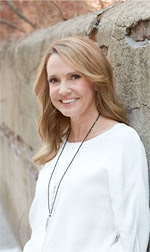 The Author:
Patti Callahan Henry is a New York Times bestselling storyteller of eleven books, including The Stories We Tell, Between the Tides, and Driftwood Summer. Patti lives in Mountain Brook, Alabama with her husband and three children, where she is crafting her next story.
Follow Patti on social media— and be part of the
virtual celebration of THE IDEA OF LOVE:
Facebook | Twitter | Google+ | Goodreads | Pinterest
The Good Stuff:
This is a short, sweet summer read that's perfect to toss in your beach bag for a relaxing day of escapism. I read the whole book in a single afternoon while lazing on a pool float. Since both characters are lying to each other and themselves, it took a few pages to get to discover the "real" characters and bond with them, but don't worry, you will. And Mimi, Ella's neighbor, will leave you wishing you had a wise, old, ex-bookselling, poundcake-pushing neighbor yourself.
If you live in the southeast, check out Patti's book tour dates here. If I wasn't so busy at the library, I'd drive over to the coast for one of her Florida dates this week. Having met her before, I'll tell you she's an absolute delight, and if you live by one of the bookstores hosting her tour, don't miss her!  (Plus who doesn't love a freshly signed book?)
The Details:
The Idea of Love

by Patti Callahan Henry
St. Martin's Press
Hardcover / 256 pages
Pub date: June 23, 2015