Minecraft parties are all the rage now. From toddlers to tweens, just say the word "Minecraft" and you are bound to have a houseful of party-goers or a library program with sky-high attendance numbers.
I've hosted several Minecraft library programs and birthday parties over the last few years, and these crafts and activities have all been hits! With proper prep work, you can run your event with one or all of these actives simultaneously. I break it down into craft tables/stations, each with a (printable) instruction sign, so kids can craft with minimal assistance.
Right click on the signs and templates (if applicable) to save and print them out for your own party or event.
Minecraft Creeper Magnets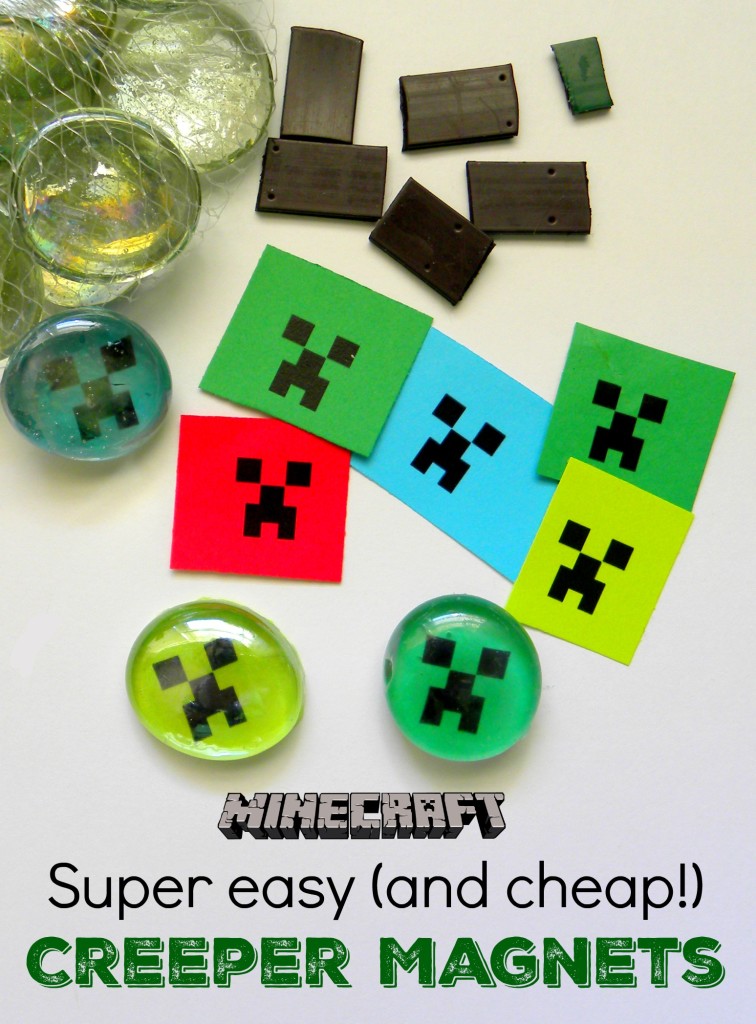 This is E.A.S.Y. and appropriate for any age group.  All you need are Glass Gems

(about 3/4-1 inch glass marbles that are flat on one side & found in the floral section of the Dollar Tree or  any craft store), small magnets (I used a roll of adhesive backed Magnet Tape

, but you can use small round magnets also), good old Elmer's glue, and the faces printed out from the template below. Note: the template is black ink only.
Prep work: Print template on whatever colored printer paper you like. (I find colored paper far cheaper than colored ink!) Cut into squares, then have kids cut to fit their clear gem marble. It doesn't have to be perfect. If you're using magnetic tape, cut into marble-sized pieces.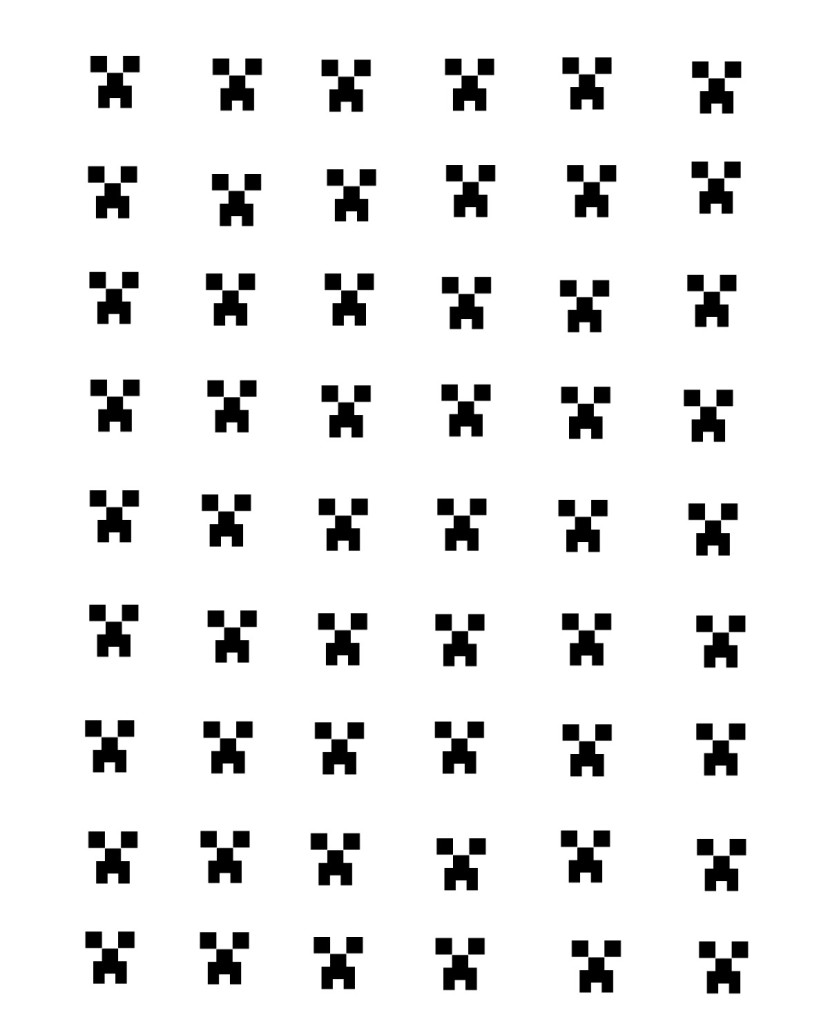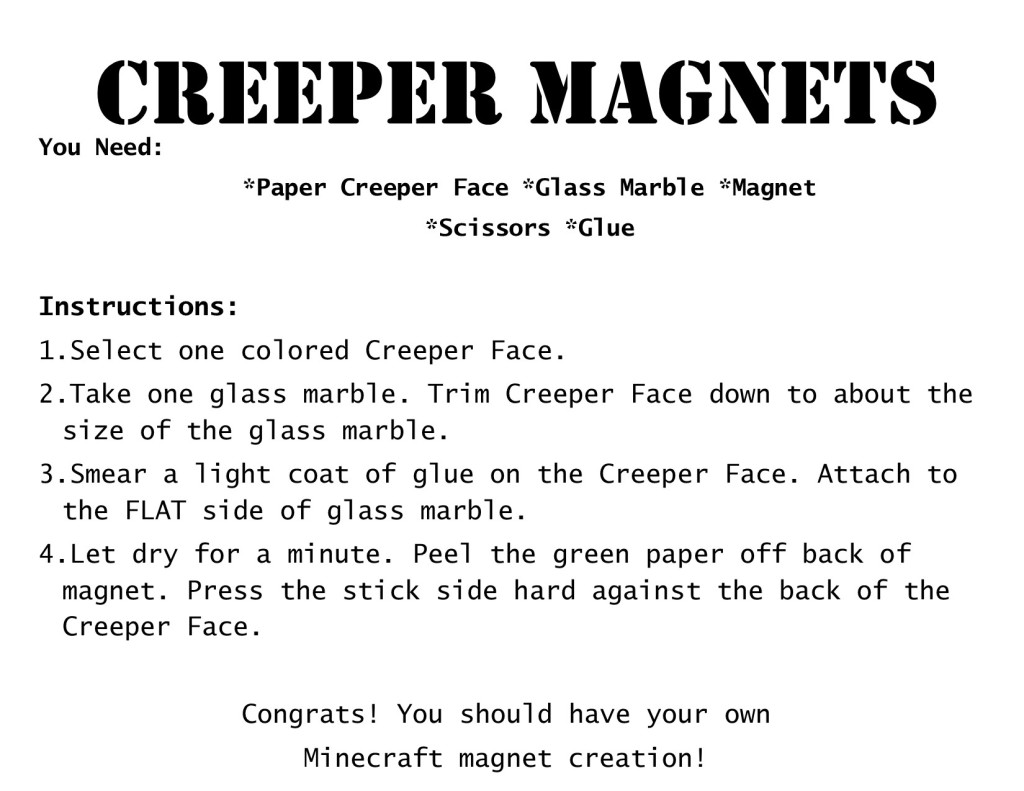 Minecraft Sticker Block Craft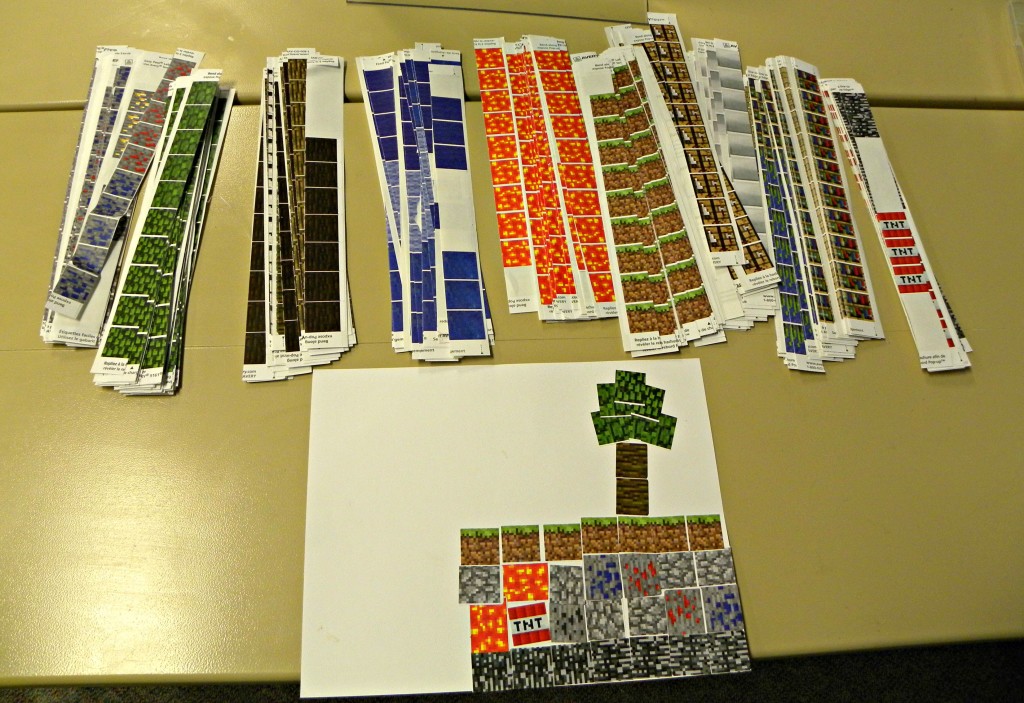 I found this idea on Frugal Family TImes. There you can find the printable templates for grass blocks, trees (trunks and leaves), stone, TNT, and iron/clouds.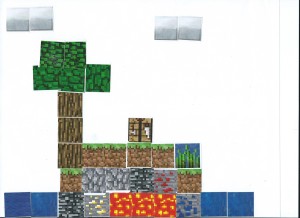 If this is enough variety for you—awsomesauce. But I wanted more. Inspired by my resident Minecraft expert, I created more block templates to give my crafters more building choices.
Printable Minecraft stickers – LIBRARY AND CROPS
Printable Minecraft stickers – STONE AND ORE
Printable Minecraft stickers – LAVA and WATER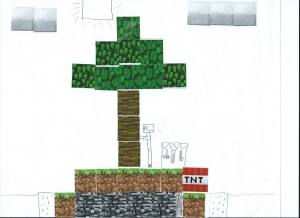 Prep Work:
Get yourself some Avery 5161/8161 label sheets. (Avery Easy Peel 1 x 4 Inch White Mailing Labels 500 Count (5261)
Print a combo of the templates linked above.
Cut. They print eight columns of stickers. I left them in long strips. They're easy to peel and make (somewhat) less of a mess.
Offer colored pencils or markers so kids can draw their favorite characters/skins/creatures.
But unless all the kids are neat freaks, you're still going to end up with somewhat of a mess.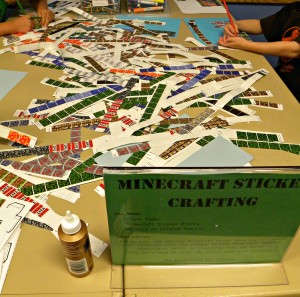 And some really cool pics.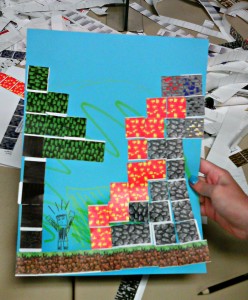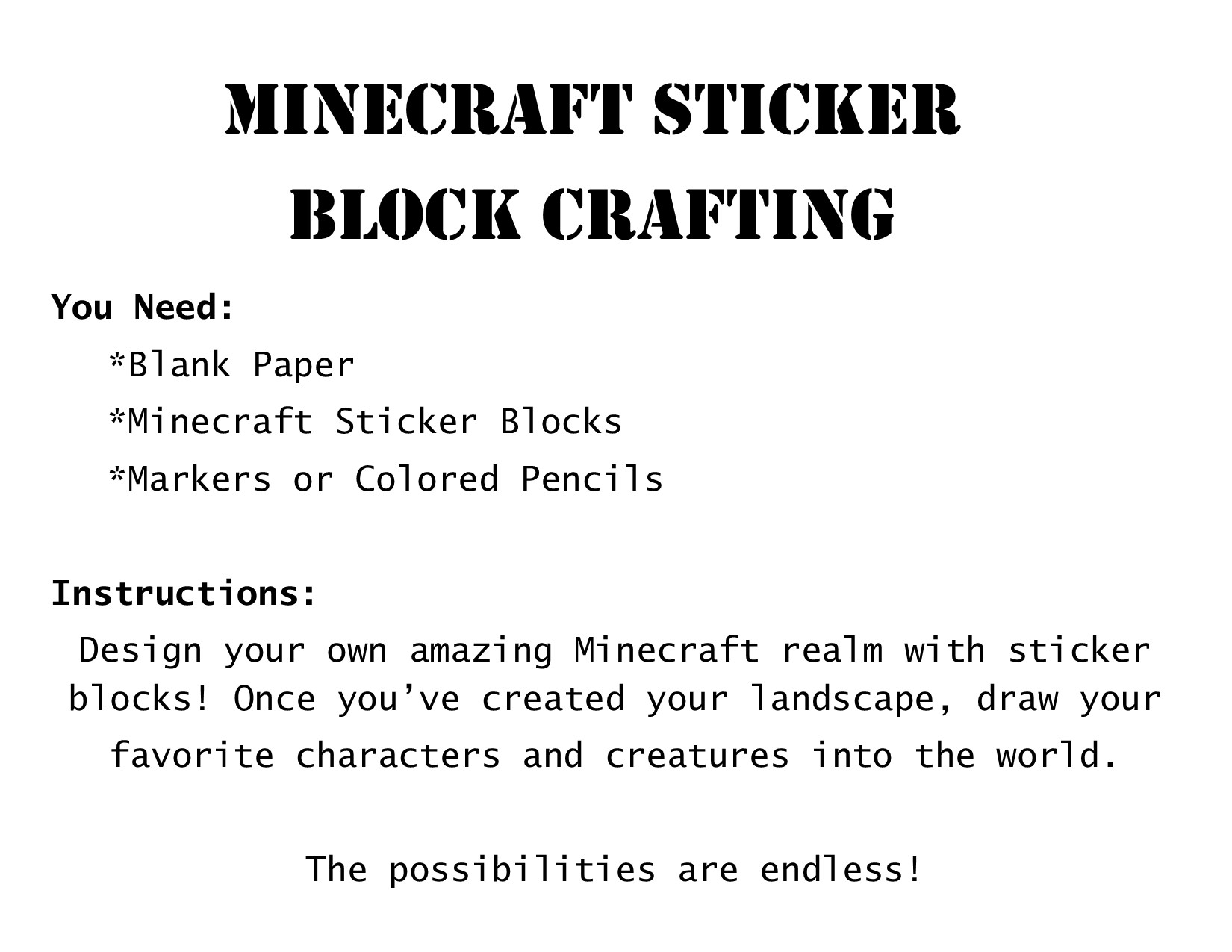 Minecraft Construction Paper Pixel Art

Prep:
Cut 1×1 inch construction paper squares. Use a paper cutter to cut the long strips if you have one, then scissors and a ruler/guide to make the final short square snips. Depending on the size of your group, you'll need dozens of papers sliced into squares. (I lost count how many I used, but I had hundreds of kids!)  Start prepping this activity well ahead of time–days, even weeks if you have the time. Or even better: enlist volunteers!
Next, print out the grid templates: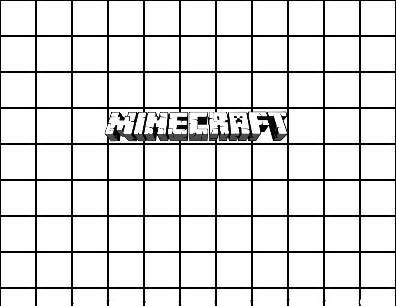 Tips:
Suggest kids lay out the page first, then go back and glue down their design. Elmer's or craft glue applied to the paper works best. Provide them with some template ideas like these: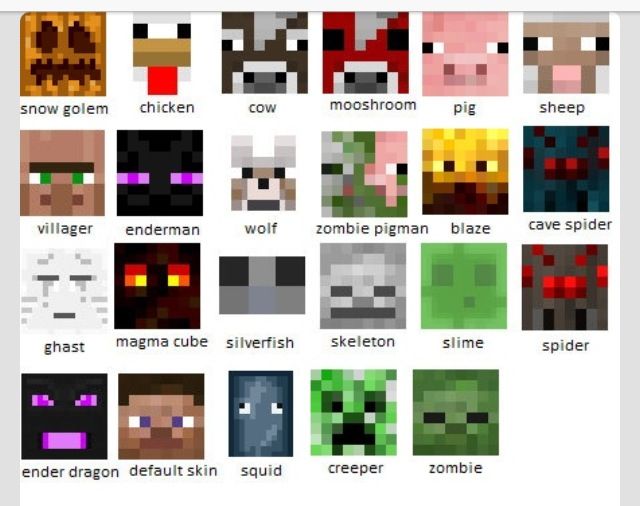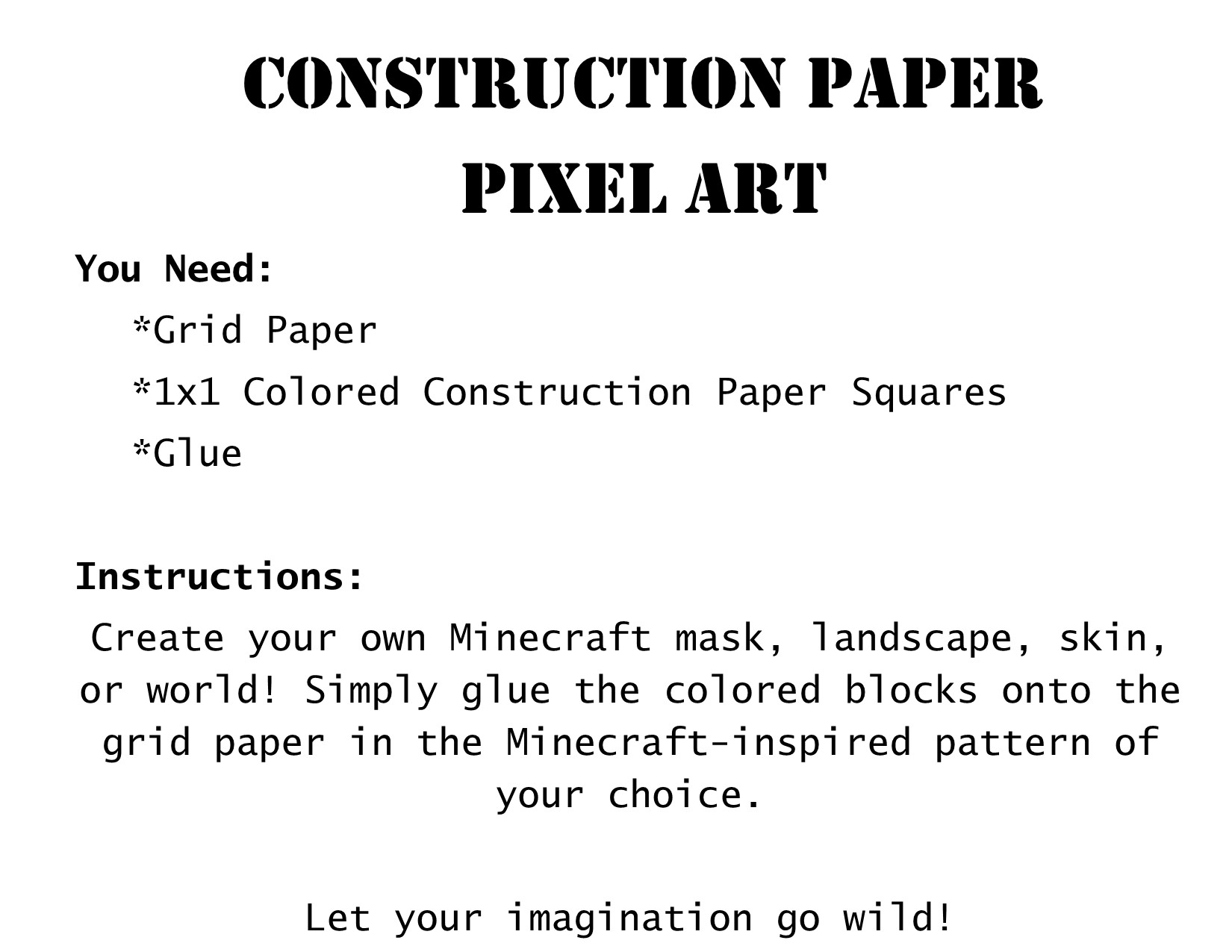 Using this same idea, you can have kids make Minecraft Mob Masks!
Print the grid paper on card stock instead of regular printer paper. (Or you can just glue the regular paper printed grids to a sturdy construction paper baking ahead of time.) Trim the card stock grid to 8 squares by 8 squares. Cut out 2-block eye holes. Have kids design masks as described above. When finished, glue a Jumbo Popsicle stick (tongue depressor) to the back, and voila, you have a Mob Mask!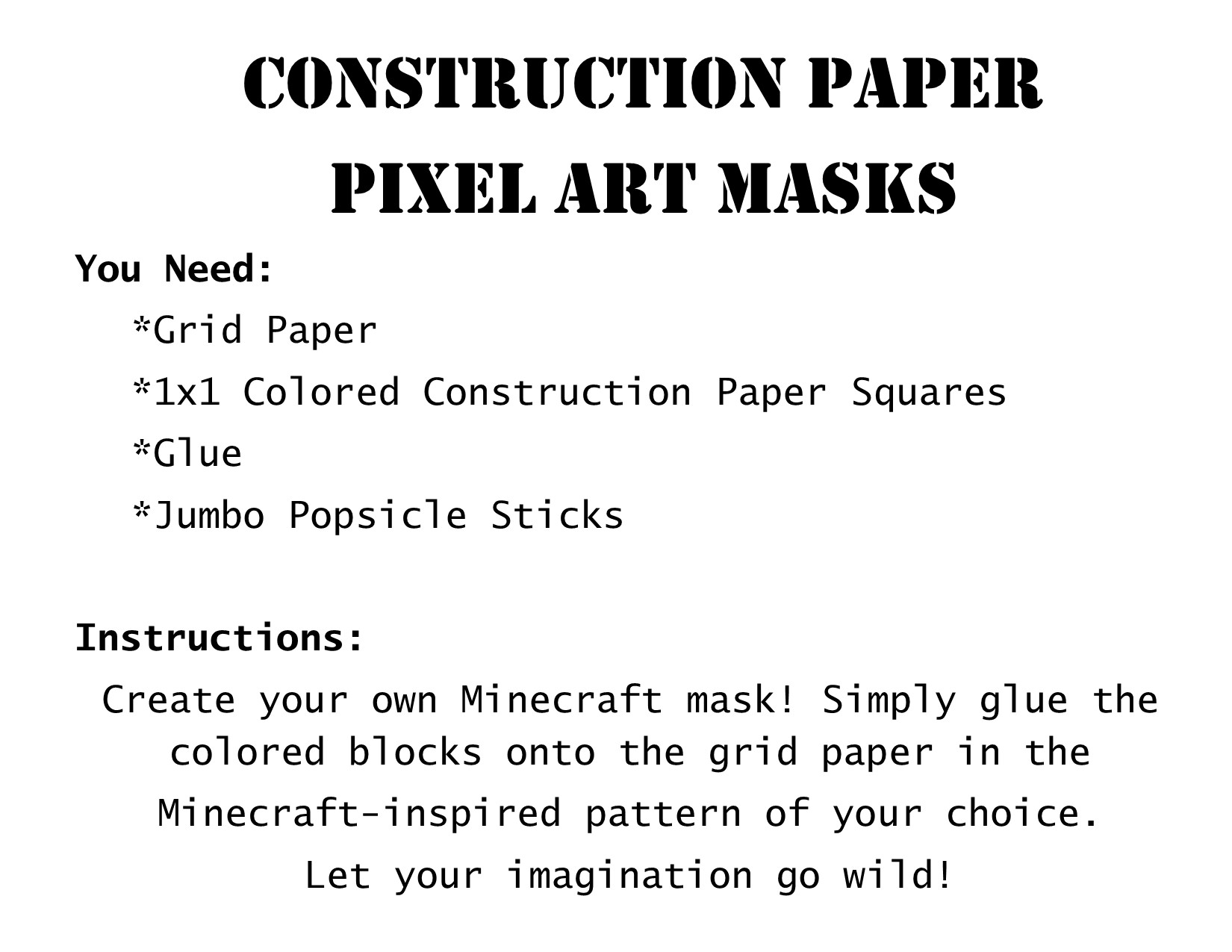 Do you have any favorite Minecraft crafts?  Share or link below!