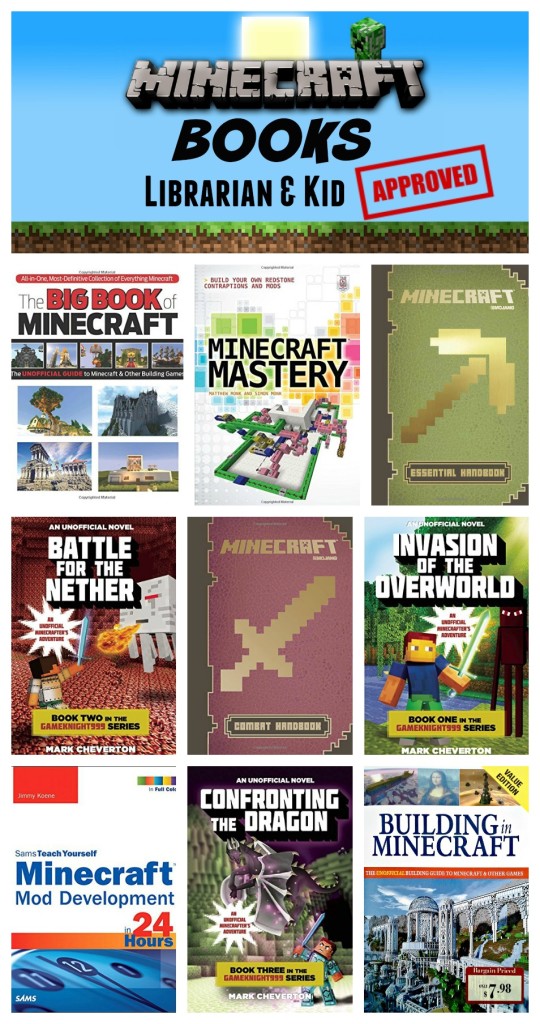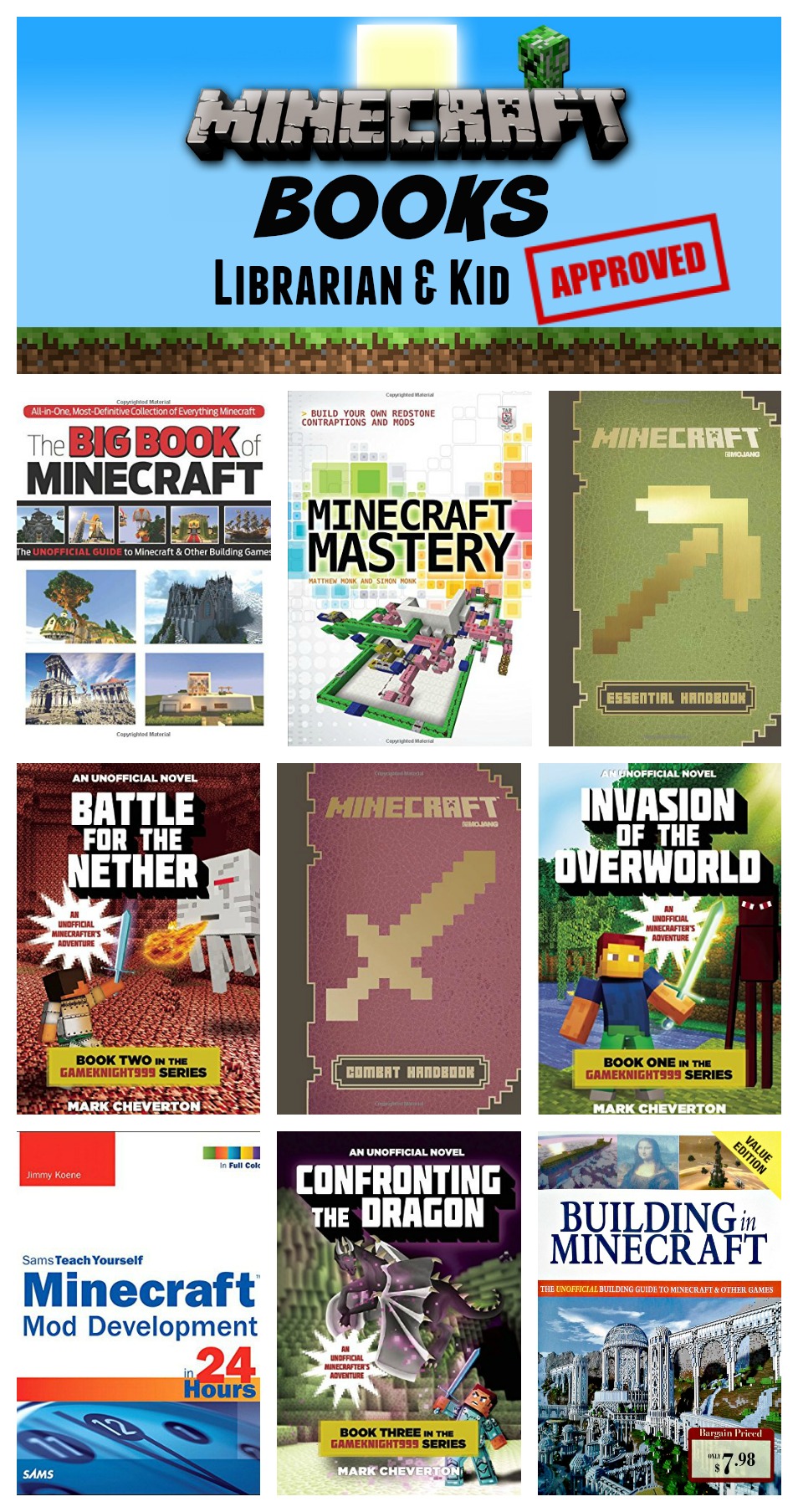 Every parent, teacher, librarian, and kid knows that MINECRAFT is the hottest thing out there for kids 6 to 16. The phenomena has taken the world by storm, and been praised for its ability to stretch users imaginations and skills as they learn how to build, create, collaborate, and survive in their Minecraft world. But if you're like me, you might think your kid plays the game WAY too much—how about trading some screen time for book time?
Buying gifts for kids (especially boys) in this age range can be quite a challenge. With birthday parties it seems like every weekend and the holidays approaching, I've been hunting for some winning gift ideas. I've always given books to younger kids and adults, but kids in this range can be tricky.  Solution: MINECRAFT BOOKS!
But which to buy?
If you browse through Amazon, you'll find pages of Mineraft-related book offerings. Almost all the books are very recently published and few offer reviews. Then there are dozens of free Kindle books, but you have no idea if they are any good.
As a library staffer and parent, I've personally checked out all of the books listed below. My library system now carries all of these titles, so you know they are librarian-approved "real" books, not something a 12-year-old fan wrote and tossed up on Amazon. They range from introductory guides appropriate for elementary-aged beginners to more complex developmental aids for those tweens and teens with an interest in programming.
Essential Minecraft Books
Minecraft: The Complete Handbook Collection
Age Range: 8 – 12 years (even 6-year-olds will love them!)
Grade Level: 2 – 7
Hardcover
Publisher: Scholastic Inc.; Box edition (October 21, 2014)
Amazon  $19.18
Scholastic $22.00
This is the complete collection of the Official Minecraft books written by the game's developers and published by Scholastic. Each handbook contains helpful tips and information from the creators themselves, all of which will prove vital to players survival and creativity as they learn to mine, craft, and build in a world that they control. The graphics and layout make the books easy to navigate and the tutorials are spelled out with step-by-step directions almost anyone can follow. This durable yet beautiful set is considered THE MUST-HAVE set for the enthusiasts and beginners (my son and his friends carry it around in their backpacks at school even!).
The collection includes the four handbooks listed below, but at a better price!
Minecraft: Essential Handbook: An Official Mojang Book
The first OFFICIAL Minecraft book, this one is the #1 guide for any newbie or elementary-aged player. Learn how to find resources; make a shelter; craft tools, armor, and weapons, and protect yourself from monsters. With tips from Minecraft experts, including developer Jeb and creator Notch himself, this is the definitive guide to surviving your first few days in Minecraft.
Minecraft: Redstone Handbook: An Official Mojang Book
According to my Minecraft experts, Redstone is one of the most important substances if you want to build contraptions in the Minecraft world. This second book in the Scholastic/Mojang collection explains how to connect and control the blocks that make up the Minecraft world.
Minecraft: Construction Handbook: An Official Mojang Book
Whether players want to build their own mansion and gardens or dream of creating their own roller-coaster ride, this handbook will give them the confidence and skills to fuel their creative genius. Readers will learn how to construct houses, ships, floating islands, bridges, roller coasters, and more!
Minecraft: Combat Handbook: An Official Mojang Book
Creepers and Zombies and Ghasts, oh my! In this book readers can learn how to defend their home, build forts, fight monsters, and craft weapons. Learn how to survive and thrive in player versus play mode, evade death in the Nether, and battle the Ender Dragon in the End.
Chapter Books
Want to encourage your child to actually read? The series below is librarian and teacher approved, and the perfect gift if you want to get your little gamer excited about taking time away from the game to read.
Invasion of the Overworld: Book One in the Gameknight999 Series: An Unofficial Minecrafter's Adventure
When one of Gameknight's father's inventions teleports him into the game, he is forced to live out a real-life adventure inside a digital world. Stuck in the game, he discovers Minecraft's best-kept secret: the creatures within the game are alive! He will have to stay one step ahead of the sharp claws of zombies and pointed fangs of spiders, but he'll also have to learn to make friends and work as a team if he has any chance of surviving the Minecraft war his arrival has started.
Age Range: 9 and up
Grade Level: 3 and up
Series: Gameknight999 (Book 1)
Paperback: 208 pages
Publisher: Sky Pony Press (August 26, 2014)
Amazon $9
Battle for the Nether: Book Two in the Gameknight999 Series: An Unofficial Minecrafter's Adventure
Epic battles, terrible monsters, heartwarming friendships, and spine-tingling suspense . . . Battle for the Nether takes the adventures of Gameknight999 to the next level in a nonstop roller-coaster ride of adventure.
Age Range: 9 and up
Grade Level: 3 and up
Paperback: 336 pages
Publisher: Sky Pony Press (August 26, 2014)

Confronting the Dragon: Book Three in the Gameknight999 Series: An Unofficial Minecrafter's Adventure (Gameknight999 Minecraft)
An evil army threatens to destroy all of Minecraft in the third Gameknight999 adventure!
Age Range: 9 and up
Grade Level: 3 and up
Series: Gameknight999 Minecraft (Book 3)
Paperback: 352 pages
Publisher: Sky Pony Press (October 21, 2014)
Diary of a Minecraft Zombie Book 1: A Scare of A Dare (Volume 1)
In the first book of this hilarious Minecraft adventure series, we get to read the diary of an actual 12 year old Minecraft Zombie. Take a peek at what is really going on between the hollow eyes, and dead expression that we normally see when we face the dreaded Zombies of Minecraft.
Age range: 7+
Series: Diary of a Minecraft Zombie
Paperback: 90 pages
Publisher: Herobrine Publishing (March 26, 2015)
"Steve Crafter" continues the DIARY OF A WIMPY KID meets MINECRAFT series:
Diary of a Minecraft Zombie Book 2: Bullies and Buddies (Volume 2)
Diary of a Minecraft Zombie Book 3: When Nature Calls (Volume 3)
Diary of a Minecraft Zombie Book 4: Zombie Swap
Diary Of The Legendary Ender Dragon
There are DIARY OF A books for almost every Minecraft character out there!
  Unofficial Guides
The Big Book of Minecraft: The Unofficial Guide to Minecraft & Other Building Games
Up to date for the 2014 holiday season, The Big Book of Minecraft is packed with the most recent training, tools, and techniques to help readers get more out of their favorite sandbox game. 2014 was a pivotal year for Minecraft, and this book captures all the latest and greatest things that have happened to one of the most brilliant and immersive games in video game history. From a brief overview of the game to advanced farming, mining, and building techniques, this guide touches on everything Minecraft enthusiasts could ever ask for. Featuring authoritative and engaging content from our internal experts, The Big Book of Minecraft also highlights some of the most influential builders in the Minecraft community today and examines their creations and techniques that catapulted them to fame.
Hardcover: 192 pages
Publisher: Triumph Books (November 1, 2014)
Amazon $14.99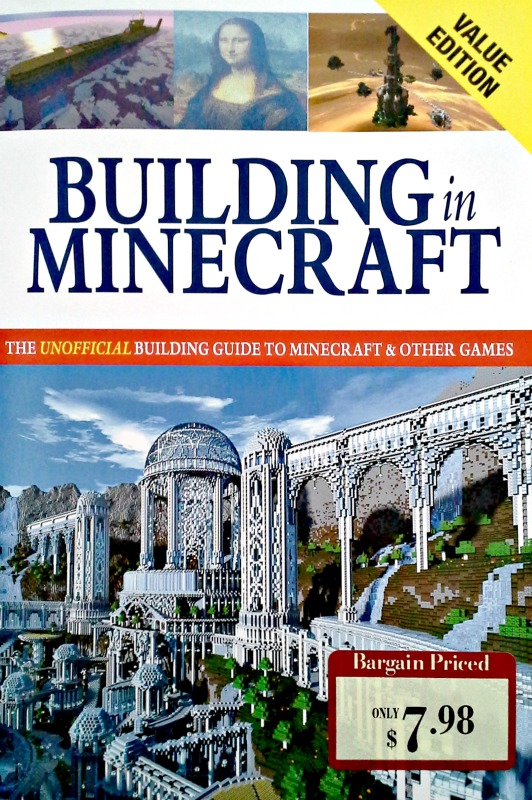 Building in Minecraft: The Unofficial Building Guide to Minecraft & Other Games
This isn't so much a "guide" as a cool idea book. The photos highlight some of the most amazing builds ever created, from nuclear submarines to mind-boggling castles. There are no directions as to how to actually build these complex projects, but crafters will flip through the pages with awe. I've only found this book inside Barnes and Noble—look for it on the display tables up front or ask.
Paperback: 192 pages
Publisher: Triumph Books (November 1, 2014)
Barnes and Noble $7.98 (in-store only)
Programming & Mods (Advanced Users)

Minecraft Mastery: Build Your Own Redstone Contraptions and Mods
This book does start with some basic redstone material, but the bulk of its one-of-a-kind tutorials are for the advanced user. Learn how to create logic gates, advanced mechanisms, and much more. You'll also find out how to host a Minecraft server, use the qCraft and Computer-Craft mods, and develop your own custom mods. Exponentially expand the dimensions of your world with help from this hands-on guide–the only limit is your imagination!
Age: Advanced users—teen & up
Paperback: 192 pages
Publisher: McGraw-Hill/TAB Electronics; (June 5, 2014)
Amazon
Minecraft Mod Development in 24 Hours, Sams Teach Yourself
While this book was just above my own 11-year-old's abilities—a bit of Java knowledge going into this would be helpful—it would be perfect for teens/tweens interested in learning programming.
Learn how to…
Set up the environment where you'll write your mod
Create the basics for your mod with the Forge API
Establish a framework that makes it easier to build complex mods
Work with recipes and other small modifications
Create multiple recipes, items, blocks, and entities at once
Cook up food items that heal your players
Make custom pickaxes, shovels, and completely original tools
Use Tile Entities to create complex and unique mods
Create interesting custom armor for players
Master Java programming techniques you can use far beyond Minecraft
Age: Advanced users (tweens & teens with some programming knowledge)
Paperback: 432 pages
Publisher: Sams Publishing; 1 edition (September 20, 2014)
Amazon $24
Learn to Program with Minecraft Plugins: Create Flaming Cows in Java Using CanaryMod
Write your own Minecraft plugins with CanaryMod and watch your code come to life with flaming cows, flying creepers, teleportation, and interactivity. Follow along with the book and add your own features to the Minecraft game by developing Java code that "plugs in" to the server. You'll manipulate and control elements in the 3D graphical game environment without having to write tons of code or learn huge frameworks. No previous programming experience necessary.
Age Range: 10 and up
Series: The Pragmatic Programmers
Paperback: 284 pages
Publisher: Pragmatic Bookshelf; (November 8, 2014)
Amazon $20
And Just for Fun…

Amazing Minecraft Activity Book (Volume 1)
This fun and engaging activity book is packed with 75 different puzzles and games to keep Minecraft fans entertained for hours! Wind your way through a mineshaft maze, play Minecraft parkour, unscramble secret messages and more. Clues and answers are provided. Each page can be colored in, too!
Paperback: 82 pages
Publisher: CreateSpace Independent Publishing Platform (January 13, 2015)
Minecraft 2015 Wall Calendar
Format: 2015 Wall Calendar
Size Closed: 11.5″ W x 11.5″ H
Size Opened: 11.5″ W x 23″ H