Halloween will be here before we blink. And it seems like every kid is currently obsessed with Minecraft. (If you don't hear about this game at least 50+ times a day, you obviously don't have a 5  to 15-year-old). Trust me: Minecraft is HOT.
Problem: if you stroll down your local big box store or seasonal costume shop, you will NOT find any Minecraft costumes. What? You will find them online—to the cha-ching of $25 and up: Minecraft: Steve Cardboard Head
. That's JUST for the printed cardboard box.
You want the official Minecraft Blue Diamond Sword
? $50 and up. The Blue Diamond Pickaxe? 45 buckaroos. You can find the regular Minecraft Foam Sword
and Pick Axe
for around $25 —but they're just pieces of foam.
Don't know about you, but I'm far too cheap to shell out $75 for a cardboard box and a couple of pieces of foam.
Solution: make your own! I am about the un-craftiest mom in the world, and I made one pretty easily. And I'll show you how so you can make your kid(s) do Minecraft happy-dances, too.
After some online research, I found this post at SteveLange.net which gives a link to a free Steve face PDF.
How to make a Minecraft Steve Head for less than $10
You'll need:
PDF pattern
11×17 printouts from PDF
11x11x11-inch box
glue stick or spray adhesive
scissors
tape (not necessary, but handy)
Download the PDF from this link via SteveLange.net.
Save the PDF to a thumb drive and take to your local copy shop to print out. My home printer can't handle the paper size or quantity of ink, but my local Office Max/Kinkos/whatever can. Tell them to print it in poster setting with tile scale 100% and 0.005 overlap. I had to walk the employee through it. The Steve Head PDF makes 5 11×17-inch color prints and the Steve Hair PDF makes 2. The pages cost me $1.19 each. 
Trim off the white edges.
Prep your box. The pattern is scaled for an 11 x 11 x 11-inch box (can buy at Kinko's, etc.). This box actually will measure 11.5 x 12 x 11.5.  I didn't want to buy a box, so I cut down a beer case to about an 11-inch cube. (There's some room for overlap in the printed patter, so it worked just fine.)
Glue the hair on top of the box first for a nice overlap. I was going to use my can of spray adhesive, but it was giving me fits. (Yes, I did spray myself in the face. No, it wasn't fun.) I broke out a glue stick, and it worked perfectly.  Note: I did reinforce the bond with clear tape around the edges—the face pages will cover, so no worries.
Glue on the rest of the head printouts. I did a rough placement to make sure it all lined up correctly before I slathered the papers with glue. On my box, I had several inches of overlap on the back of the box (hair) but it still looked perfect!
Cut eye holes. Yeah, your kid might want to see (he had to remind me).
That's it. You should now have a kick-ass Steve head for less than $10.
***UPDATE*** I've had many people ask how to keep the box centered on the wearer's head. I first used bubble wrap and newspaper padding (yes, it kind of worked). I also tried using a plastic play construction hat that fit neatly inside and anchored the box to the head well. BUT, the best option came from checking out a "real" Creeper head. See this simple device? It doesn't look pretty (neither does wadded up newspaper) but it works great and is EASY to make.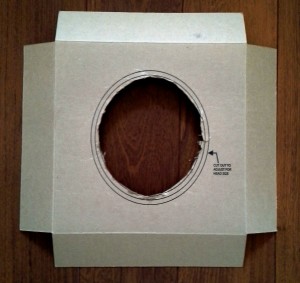 Cut a cardboard square about 4 inches     larger than your box head. (So, if your box is 12 x 12, cut it 16 x 16.)
 Measure about 2 inches out from each side and draw an inner square to use as a folding template.
Score cardboard along fold line, if necessary.
Cut out squares along corners.
Cut a rough oval in center so it can sit on your child's head. (This one measured 6 x 7 inches)
And guess what? You can make the diamond sword and pickaxe too!  Check out my next post for download PDF and easy instructions. (check them out HERE) I made both for less than $5 total!
According to my Minecraft Expert, Steve wears a blue T-shirt and jeans. I picked up the proper aqua/blue shirt at the dollar store (score!) and paired it with some jeans.
Entire costume (Steve head + diamond sword + pickaxe + shirt) for $13!!!
Happy Kid + Happy Mom = HAPPY HALLOWEEN!!
Need a cool Minecraft trick-or-treat bag?
Check out this super easy (and cheap!) DIY Creeper bag:
These bags are perfect
for Halloween trick-or-treating
or Birthday party goodie bags.
And the best news:
each one costs less than $1.50!
Super easy (and cheap!) DIY Creeper bag
Looking for Minecraft-themed crafts for a party or program?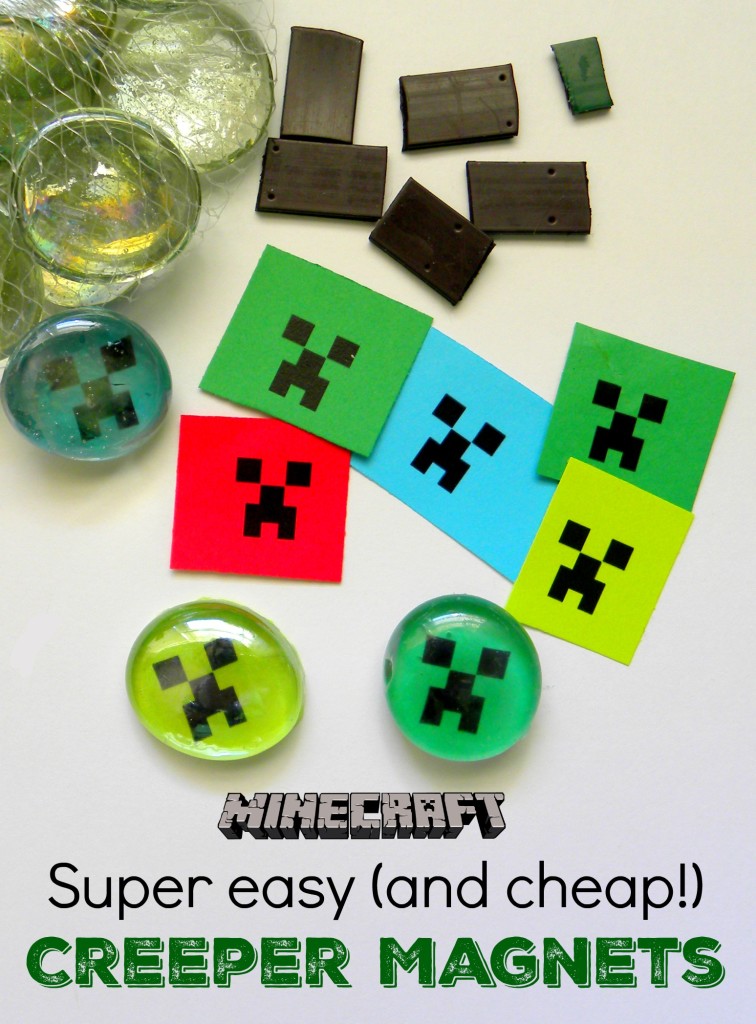 Check out this post with 5 crafts/activities including full instruction and downloads for Minecraft Creeper Magnets, Construction Paper Mob Masks, Minecraft Printable Stickers, and more!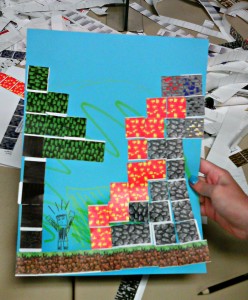 Need a gift for a little Minecrafter? How about a book?
Check out this list of awesome Minecraft books—all librarian, parent, and kid approved!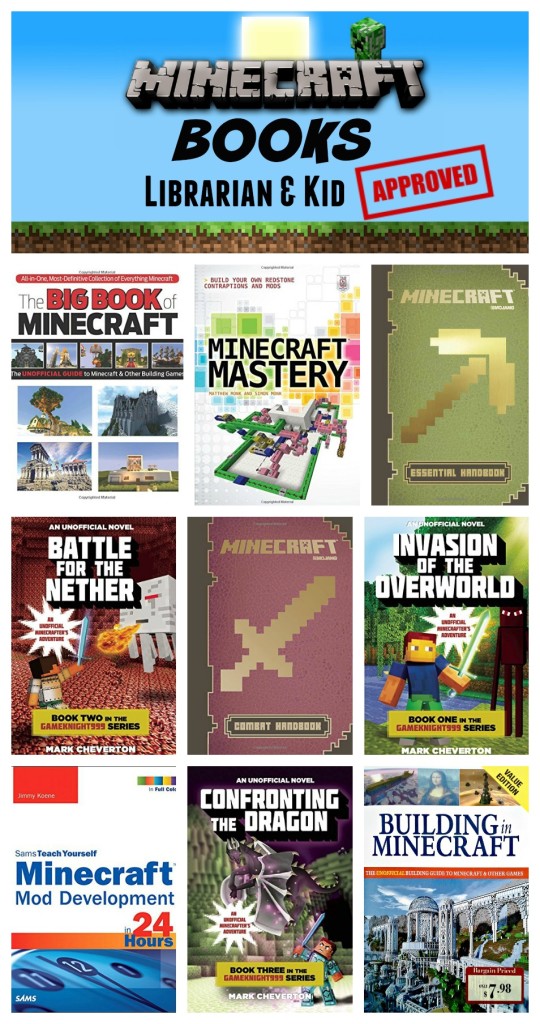 Update:  As of 3/14 the prices of these "official" products seems to have gone down.
If you want to check out of the "real" products:
Disclosure of Material Connection: Some of the links in the post above are "affiliate links." This means if you click on the link and purchase the item, I will receive an affiliate commission. Regardless, I only recommend products or services I use personally and believe will add value to my readers. I am disclosing this in accordance with the Federal Trade Commission's 16 CFR, Part 255: "Guides Concerning the Use of Endorsements and Testimonials in Advertising."